Warnings Against the Feminization of America
Warnings Against the Feminization of America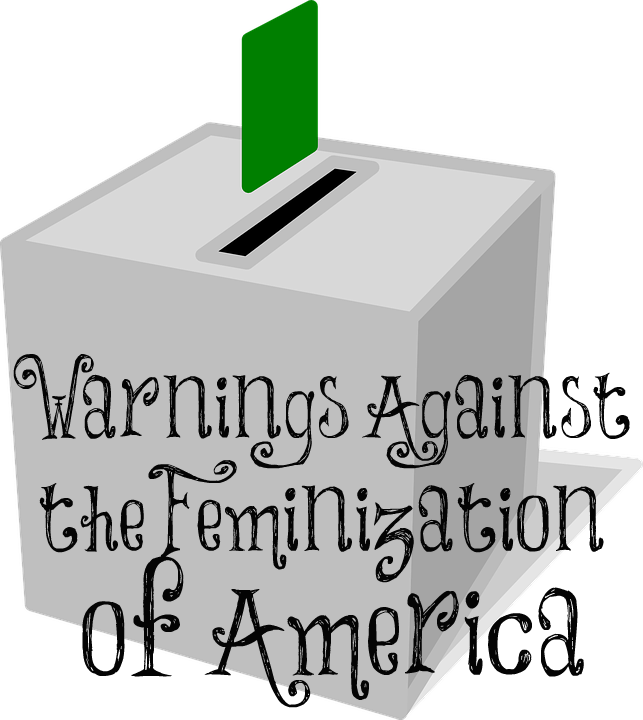 Women proclaim that people had to fight and die for women to have the right to vote as if this were a God-ordained right. This isn't true. There was never any civil war over this issue nor is it a God-ordained right. Women "fought" (meaning they left their homes, raised their voices, and shouted for their "rights") for the right to vote since they felt they knew better than men. They didn't trust men to lead them in the right way. They wanted to be leaders and run things.
In 1920, this poster was made by the Southern's Women's League For Rejection of the Susan B. Anthony Amendment against the Women's Suffrage Movement. Remember, this poster was being spread around by women who opposed the right for women to vote and they sure did have wise insight into the catastrophe that would ensue.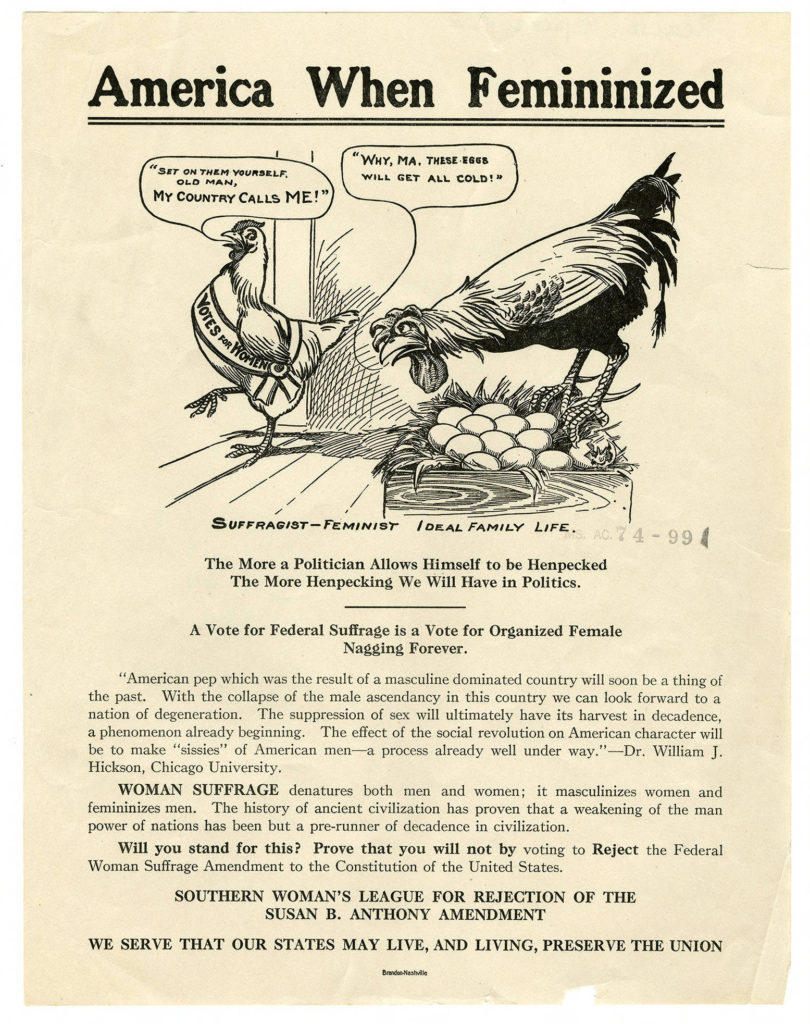 "A vote for federal suffrage is a vote for organized female nagging forever. American pep, which was the result of a masculine dominated country, will soon be a thing of the past. With the collapse of the male ascendancy in this country, we can look forward to a nation of degeneration…The effect of the social revolution on American character will be to make 'sissies' of American men – a process already under way. Women Suffrage denatures both men and women; it masculinizes women and feminizes men. The history of ancient civilization has proven that a weakening of the man power of nations has been but a pre-runner of decadence in civilization."
Elaine Weiss, author of The Woman's Hour: The Great Fight to Win The Vote, wrote, "'But it also goes deeper than that, because these anti-suffrage women are saying the vote is going to disturb the American home. It's going to alter gender roles in a way that is disruptive and unhealthy,' Weiss explains. 'It's going to make women compete with men—the anti-suffragists argue there will be more divorces because husbands and wives will argue about which candidates to vote for—but even deeper, it unsettles the idea of what the family is.'"
This is exactly what has happened. The family is no longer clearly defined as roles have become blurred. Ask yourself, have women stopped nagging and wanting their way since they achieved the right to vote? NO! In fact, I saw a poster recently that Iceland has complete gender equality but I am sure it hasn't made women any happier and less complaining. Women are louder and more demanding (example: the Women's March) than ever before even though they have more rights than ever. It's a deep pit that is never satisfied. The further women go away from God's calling on their lives, the unhappier and more discontent they become. God is their Creator yet they outright reject His will for them.
Let's look back at the beginning of time and see who God created to be the leaders. The first human begin He created was Adam, a man, and he was to be the leader. He named all of the animals. Then God created Eve to be Adam's help meet to support Adam in his work, not to usurp it.
Then God chose men to be the leaders as priests, kings, prophets, patriarchs, apostles, elders, deacons, and husbands. It seems clear to me that God made men to be the leaders. Jesus could have easily chosen a female disciple but He did not.
What are my thoughts on women voting? I have been asked this frequently. I am not a fan at all. Women overwhelmingly vote Democrat. They vote for big government to take care of them which means higher taxes and more laws and regulations which means less freedoms. They vote for free health care and abortions. They vote for leftist policies which are highly destructive to the family and culture. Socialism hasn't worked any where that it has been tried.
Do I vote? Yes, I vote to support my husband's vote and try to overturn a vote that is against all I believe in. I encourage conservative, Christian women to vote for life-affirming principles, smaller government, and more freedoms. I know that voting or not voting is not a sin in any way and each vote is not that meaningful. I am saddened by what our country has become. The Southern Women's League was right in trying to prevent the Women's Suffrage Movement. Men are becoming more feminine and women are becoming more masculine. What good can possibly come from this? Men were created to lead. Women were not.
As for my people, children are their oppressors, and women rule over them. O my people, they which lead thee cause thee to err, and destroy the way of thy paths.
Isaiah 3:12