The Devil Lives in Our Phones and is Wreaking Havoc on Our Children
The Devil Lives in Our Phones and is Wreaking Havoc on Our Children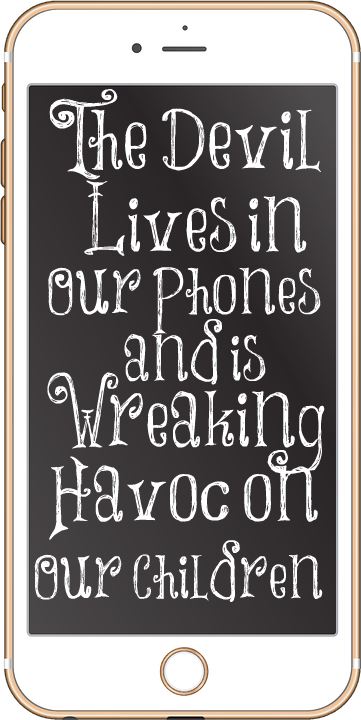 Parents are wondering how to handle screen time with their children. We all know that screens, whether they be computers, smart phones, iPads, or televisions are highly addictive. We know they are taking us away from real live interaction with others. Who knows what the long term impact of them will be?
From an article in The New York Times entitled A Dark Consensus About Screens:
"Athena Chavarria, who worked as an executive assistant at Facebook and is now at Mark Zuckerberg's philanthropic arm, the Chan Zuckerberg Initiative, said: 'I am convinced the devil lives in our phones and is wreaking havoc on our children.' Ms. Chavarria did not let her children have cellphones until high school, and even now bans phone use in the car and severely limits it at home…'On the scale between candy and crack cocaine, it's closer to crack cocaine,' Mr. Anderson (the former editor of Wired and now the chief executive of a robotics and drone company) said of screens.
"Tim Cook, the C.E.O. of Apple, said earlier this year that he would not let his nephew join social networks. Bill Gates banned cellphones until his children were teenagers, and Melinda Gates wrote that she wished they had waited even longer. Steve Jobs would not let his young children near iPads. But in the last year, a fleet of high-profile Silicon Valley defectors have been sounding alarms in increasingly dire terms about what these gadgets do to the human brain. Suddenly rank-and-file Silicon Valley workers are obsessed. No-tech homes are cropping up across the region. Nannies are being asked to sign no-phone contracts."
What is all of this technology doing to our brains? These are questions that need to be answered. There were no smart phones when my children were in high school and I am thankful. They came out the year after my youngest graduated high school. My sister said that her two oldest children, who were close in age to my children, would come to her home with their friends and would sit around laughing and talking for hours. By the time her youngest was a senior in high school, almost all of the kids had smart phones. When his friends would come to her home, they would all sit around looking at their phones.
Do you know how much easier it is for your children to be exposed to porn and all types of evil with smart phones? If they go to school, any child with a smart phone can easily show your children this perversion. Many parents aren't putting Covenant Eyes or some other filter on their phones and computers. This makes another important reason to homeschool your children, mothers. They need your protection from this wicked and adulterous generation which is only growing darker. Satan's goal is to kill, steal, and destroy and he can easily use the smart phone to accomplish his goals.
Recently, I watched a YouTube of a mother who has eleven children. She is a wise woman and many of you would love learning from her. They don't have a television nor do her children get to watch any type of screens. They play, learn, and work! My children mostly played, read, and worked. Yes, we had a television but I didn't let them watch it much. I didn't like how mesmerized they would become while watching it. I knew it couldn't be good for them!
Mothers ask me how they can entertain their children without a television. Mothers, you don't need to be responsible for entertaining your children! Let them use their imaginations and creativity. My children were often making up plays, dances, played with balls, puzzles, games, and always found something to do. Teach them to work along with you as soon as they are able. Let them play outside as much as possible. I go outside in the front yard with my grandchildren often and soon many of the neighborhood children come outside and play, too. They have a great time riding bikes, playing with balls, and making up games. Let your children color, read to them, and play with blocks. Teach them to make their bed after they wake up, clean up after themselves, and work hard. Make sure they develop a love for reading by reading good books to them.
Think twice about allowing your children to have screen time. Don't let it be a convenient way for you to have your children babysat by a screen. Don't model to them an addiction to it. It's heartbreaking to see teenagers and younger children walking around the park near us in a group with other children and all of their heads are buried in their phones.
Is the Devil in your phone? Does it keep you away from real life with your children, your husband, and others? Does it control you? Does it show you inappropriate and even evil images? Can you walk away from it and enjoy life without thinking about it? Is it stealing time away from the LORD and His Word, prayer, and from keeping your home clean and tidy?
Don't allow Satan to be in your phone or anywhere else in your home. Discipline yourself for the purposes of godliness and you can because God's Holy Spirit lives and works mightily within you if you are a believer in Jesus Christ. You can do all things through Christ who strengthens you! Don't allow it to control you and keep you from real life. Raise your children without the addiction of screen time. It will not only benefit their mind, but it will benefit their overall health and relationships. There is an all out war for the souls of your children, women. Put on the full armor of God every day and stand steadfast in the faith.
All things are lawful unto me, but all things are not expedient: all things are lawful for me, but I will not be brought under the power of any…But I keep under my body, and bring it into subjection: lest that by any means, when I have preached to others, I myself should be a castaway.
1 Corinthians 6:12 and 9:27