Was Eve Created Just to Meet Adam's Emotional Need For Companionship?
Was Eve Created Just to Meet Adam's Emotional Need For Companionship?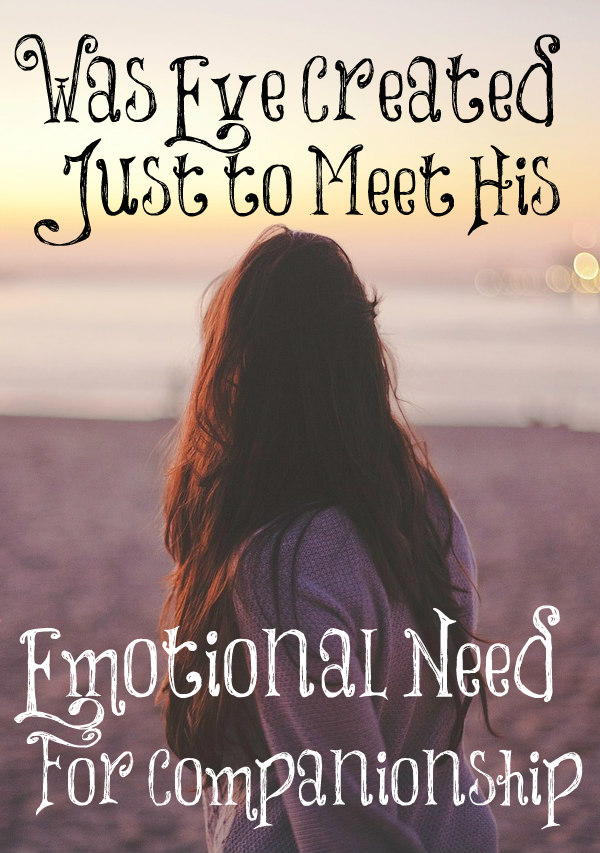 A woman named Mary made the following comments under an article on Facebook: "I can't get over the idea that Eve was created just to meet Adam's emotional need for companionship (along with others) like she's his birthday present or ancillary to him or something…How do I interpret 1 Corinthians 11:7? I mean, I get she's created in the image of God, but it would appear that she's also just supposed to refract the glory of Adam too, and that just galls me on sooooo many levels. She just exists to shine for Adam and meet all his needs, etc.
"God put Adam and Eve on the planet with the ability to think and feel and speak and reflect Him in all sorts of other ways too. Adam and Eve were supposed to rule over the whole planet with wisdom and care, mirroring how God rules over the whole of existence with wisdom and care. The oneness and harmony between Adam and Eve reflected the oneness and harmony God has with Himself in the trinity. Adam and Eve each reflected God in different but complementary ways and had different but complementary jobs God gave them within a marriage relationship. It was all perfect and unspoiled, a beautifully poetic microcosm of God.
"I struggle with seeing it this way instead: It was a captive situation from the get-go. God is like a creeper holding humankind in a basement demanding they love Him. God put Adam and Eve on the planet with the stipulation that they mirror him and they love him and they do what he says or else. Eve got the shortest end of the stick. She was made to meet Adam's emotional need for companionship, to be his assistant and aide, to do all the mundane chores around the house, and to just kind of hang around and be ancillary in general. Plus, her jobs within the marriage relationship were the absolute worst."
So, was Eve created simply to meet Adam's emotional need for companionship and all of the others things she listed? Does she think it's better to work for a bosses' beck 'n call 9:00 to 5:00 five days a week or for someone else? What does she think is a better plan for woman than God's? Is being a woman a captive situation from the get-go? Yes, this what the Serpent tried to convince Eve by going over Adam's headship and directly to her in order to deceive her, and look at the results.
God created men and women differently for different roles. Our bodies, emotions, and minds are different. God created women to be in submissive roles to their husbands for this reason. Orders of authority create order. If Mary works for a boss, her boss is over her. Does she feel like a captive to her boss?
Does God keep us in a basement and demand that we love Him? The only ones I know living in basements are teenagers or young adults who haven't left home yet, but I seriously doubt that Mary lives in a basement. Doesn't she enjoy God's creation and all of the blessings from Him just as much as everyone else? I am sure she does. God doesn't demand anything from us. He gives us free will. What's love if  there isn't a choice? He wants us to choose to love Him just as we want our husbands to choose to love us? We certainly couldn't demand they love us. Love doesn't work that way.
Did Eve get the short end of the stick and is her job within the marriage relationship the absolute worst? This is what Satan and feminism wants her to believe, and she's bought the lies and deception hook, line, and sinker. I love being a woman. I loved being able to bear children and be home full time to raise them while my husband worked incredibly hard to provide for us. Was I the one to get the short end of the stick? I don't think so! You see, Mary thinks that women being denied the curse of "toiling in the soil" as was given to men after the Fall, is the better end of the stick. Many women beg to differ. We LOVE being wives, mothers, and homemakers! Stop listening to the lies of feminism.
And be not conformed to this world: but be ye transformed by the renewing of your mind, that ye may prove what is that good, and acceptable, and perfect, will of God.
Romans 12:2