God Doesn't Conform to the Culture of Our Time
God Doesn't Conform to the Culture of Our Time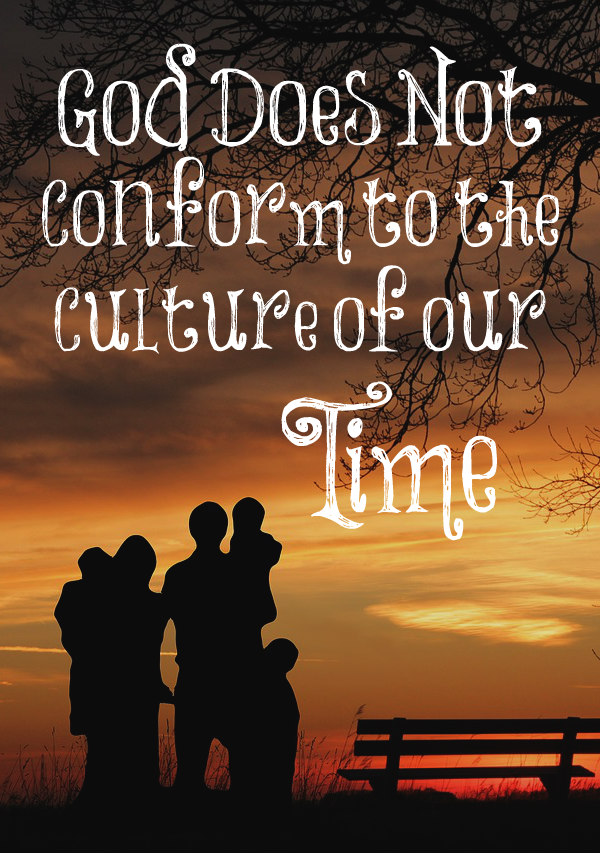 Lisa told me I hate women. I am told this often as I have recently shared. She believes that teaching biblical womanhood is hateful. She then wrote this on one of my posts: "You're entitled to your beliefs and I am entitled to mine. Your teaching doesn't correspond at all to what I was taught in the Baptist church I grew up in, but I'll respect it."
A woman named Kristyn responded to her:
Lisa,
I used to think like you. (If this is not how you think I'm sorry. I'm not trying to offend, just reading in between lines from your comment at the top about hating Lori.)
I'm saddened for you. I needed a career to consider myself successful. I needed to put my kids in daycare all day because I needed to climb the ladder. I needed to call the shots in my household. Yet, I never found the satisfaction I was looking for. I needed more, more, more. But yet, more never satisfied. I would ignore the Proverbs 31 woman because I didn't think it was attainable. BUT GOD worked on my heart and has been conforming me to His likeness daily.
I'm not perfect. I know that. I still sin, unfortunately. But what I learned over the last several years is this: Jesus died FOR ME. He took my place on that cross and paid the price for my sins past/present/future. He did this so I could be forgiven of all my sins, because He knew there was no way I could save myself. He loves me. He loves all who believe in Him and what He did for each one of us (read that line again -"EACH" one – He excludes no one – ALL are welcome to believe). I now see everything differently. I am so thankful to God that He did this for me.
I kept digging into scripture and came across Proverbs 31 again. I read it over and over again. What I realized is that it IS attainable IF you don't work a 40-50 hour a week full-time out-of-the-house job. I have since quit my teaching job in public school and became a stay at home mother. (Yes, we do have to budget, budget, budget! It wasn't/isn't an easy switch because my husband doesn't make six figures). But what I used to think was below me, I have now humbled myself to do. What materials I thought I needed, I don't actually need. God provides.
This is not a job for the fainthearted or weary. It is a full-time job to raise your own kids and take care of your husband. BUT IT IS SO SATISFYING! My husband and I used to fight a lot and my kids would have never grown up to call me blessed as I was not! I was a complainer, entitled, worn out, grouchy, and running on empty constantly. I am now able to teach my own kids the right way to live rather than leaving it up to the failing public school system to do that. I am able to take care of my husband and allow him to climb the ladder in his job. I've never seen him happier or as satisfied. I've never been so satisfied and as an extra benefit – happy. Wow, what a difference.
I am so thankful for teachers like Lori to teach the truth. It may seem crazy to you, but I wouldn't destroy the idea if you've never given it a real shot. Genuinely pray for God to open your eyes. God's ways are always the right ways even when they seem contrary to how you grew up or to the culture. Remember, God doesn't conform to the culture of any time. It is ever changing. If people see nothing different in you than the non-Christian next door, you should take a look at your beliefs again. I suggest you read scripture and pray on it. God loves you. Pray to be given wisdom and discernment.
I will pray for you.
Jesus Christ the same yesterday, and to day, and forever.
Hebrews 13:8