What is Your Definition of a Full Life 4 a Mom?
What is Your Definition of a Full Life 4 a Mom?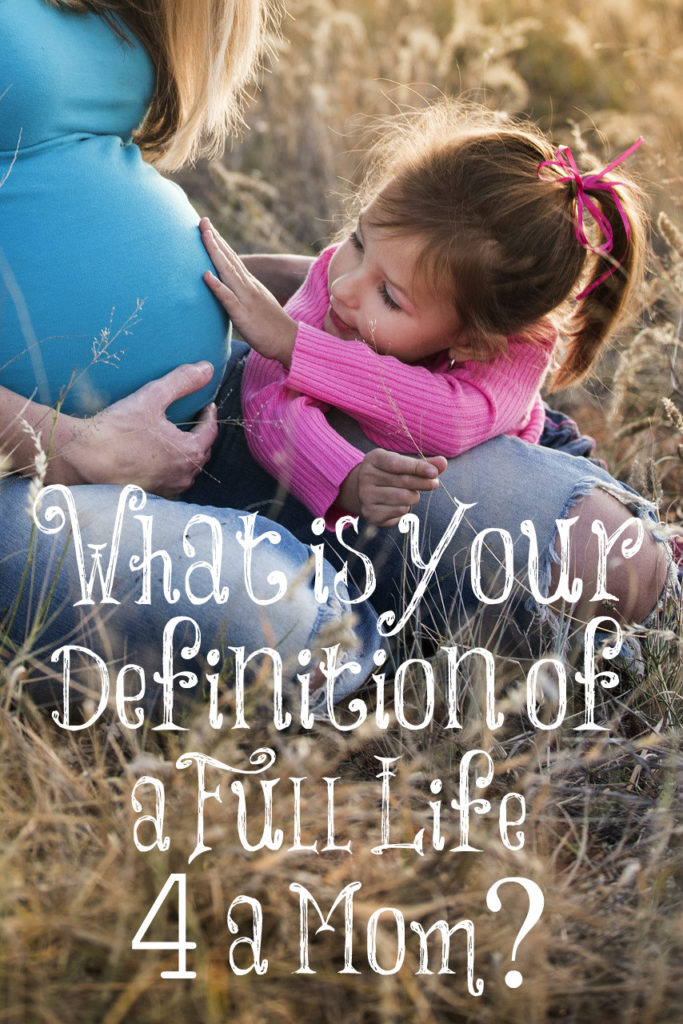 "Tonight we are celebrating the love of a chosen family & the fact that being a mother is a privilege & the most important thing you can gift your child is a mother who is not defined by being a mother but who has followed her dreams & who never has to apologize 4 being at work. To show your kids a mom with a full life without them is the only way to celebrate their full lives without us someday. Here's to the brave mom's out there. What is your definition of a full life 4 a mom? #Imwithyousister"
This is a tweet by an actress named Vanessa Marcil. Her definition of a full life as a mom is doing what she wants to do. Period. So children are blessed by having mothers who aren't defined by being a mother but by a woman who bore them then left them in the care of others to raise them? She believes children who are abandoned by their mothers are "blessed" and that mothers who show their children that they have a completely different life apart from their children is good since it prepares them for a life without them. A life without a mother in childhood prepares them for a life without a mother in adulthood?
I don't know about you but I was blessed because my mother didn't abandon me for her "dreams." We were her dream! Vanessa's comments are so completely backwards that it's hard for me to even comment on them but I can tell you what, women were thrilled with her very strange comment on Instagram and here are some of their responses.
"Full life for me is to take care of myself. To feel free and spontaneous. To not worry about everyone else around me …there are times I feel guilty for wanting that. It's not easy being a mom and having to deal with the struggles and all the BS that comes with it. You tend to loose yourself because being a mom is rewarding but at the same time can also be a permanent 24 hr job that you just want to quit."
"Now that I have had time to think about it my life is just all about my family, and helping others, maybe I do need something more."
"Thanks to my loving, supportive husband, I been able to continue my education and have an Ed.S. My daughter knows how hard I worked for my education, and she know how much I gain (on a personal, emotional level) from teaching students. I am a better mom because of my career in education, and I think she understands that more and more."
"Wow! You are truly an inspiration as a mom and a woman. Marry a man with money? ? two things- 1. Cause those women seem so happy. ? 2. The men I have been with who have money were the cheapest mfers on the planet. Cheap and petty. You marry for love and you work for love to set the right example for our kids. Martyr moms who 'gave up their dreams for us' raise needy children who also give up their dreams. ?No thank you."
I asked the women in the chat room this same question and here were some of their answers:
Tammy: "That's a loaded question but for me it's being able to spend every day being loved by the father of my children. It's seeing their joy and wiping their tears. It's being the one who teaches them the alphabet, how to read, and what God does and who He is. It's not giving anyone else the privilege of teaching them, protecting them, and having their greatest admiration and love. It's having their company while we explore the world around us, see new things and cuddle. It's embracing children as a great gift and joy rather than an interruption in life."
Sarah: "Being home with her children, and thus constantly in the presence of the Lord (because without unceasing prayer this very full life will run us into the ground!) and providing for them a clean and comfortable place to grow, play and be truly, deeply loved. Having the freedom to provide a home environment that seems almost otherworldly so that my kids and husband come home and find the peace that isn't at work or at school (though the freedom and privilege of homeschooling is also another part of full motherhood living in my opinion). The stability that comes from the fact that we can live this full, rewarding life without ever leaving our front porches is the icing on top ☺"
Sarah: "My toddler needed a nap, and my 11 year old wanted me to read to him. We snuggled up in my bed, read 4 chapters of Winter Danger (a wonderful book for boys) and the toddler drifted off to dream land, while my teenager does her work, and the 9 year old helps his dad stake tomatoes. That, is my definition of a full life."
Nicole: "To find the will of God and to do it wholeheartedly. (Maria from the Sound of Music)"
Chelsea: "Waking up everyday getting to spend the entire day with my kids. Watching them play, hearing them laugh, making memories with them. Cooking them homemade meals and hearing 'you're the best cook in the world, mommy.' Impatiently waiting to hear my husband's truck pull into the driveway every day, peeking out of the window every few minutes with butterflies, hoping it's him! Sitting down at the table together to eat the meal I cooked for the people I love the most. Hearing my children say grace in the sweetest tones with the most beautiful words that would make anyone proud. Laying in bed with my kids, telling wild tales and stories until they fall asleep, Getting to shower & go to bed every single night with the man of my dreams, talking and laughing until we drift asleep too.
"But it's not just the 'perfect' moments that fulfill my life, it's the chaos too. My three year old son, dumping a bottle of dirt and rocks on the counter I just cleaned and saying , 'Here mommy, I got these for you!' Ketchup somehow in their hair even after they just had a bath, watching my husband and the boys wrestle (a little too rough for my heart to handle); it's all the moments that I know are moving way too fast. My life is full and I wouldn't trade any bit of it for the world. I now have tears of happiness in my eyes ??"
Cassie: "A full life for a mom is to have the privilege of having a huge influence in such a special person's life. The ability to influence that life to live to their fullest potential while seeking out God's will for their lives."
Dolly: "A full life is a life that is dedicated to serving others. Jesus Himself came to serve others. Mothers are constantly serving and sacrificing for their husband and children. I believe there is no greater act of love."
Johann: "I would respond being a real woman, it teaches me everything that being a feminist would not teach me: to be humble, patient, loving, selfless, to do things well and for the glory of God and not brag about myself. I could mention many things that feminism would not teach me. I'm really free doing everything for which God designed me. Being a feminist makes you unhappy."
Kylene: "A full life is a life dedicated to the bigger picture: not what the mother wants and feels in the moment, but what will benefit her children and future generations over the decades. Will a career make her feel fulfilled in the moment? Maybe? But it means her children are being raised by daycare and schools instead of her. What will that mean in the long term? Children raised by people who don't love, but are merely paid to 'look after' them while she seeks fulfillment elsewhere."
"As for her, like most women, she had but one ambition. To be a good wife and a good mother, and to be beloved by her husband and children, was all she asked. [She was] a busy, affectionate, cheerful little housewife, whose voice would never be heard in the streets, but whose memory would always live in a few faithful hearts."
~Elizabeth Prentiss
She looketh well to the ways of her household, and eateth not the bread of idleness. Her children arise up, and call her blessed; her husband also, and he praiseth her.
Proverbs 31:27, 28