Ways to Save Money to Stay Home
Ways to Save Money to Stay Home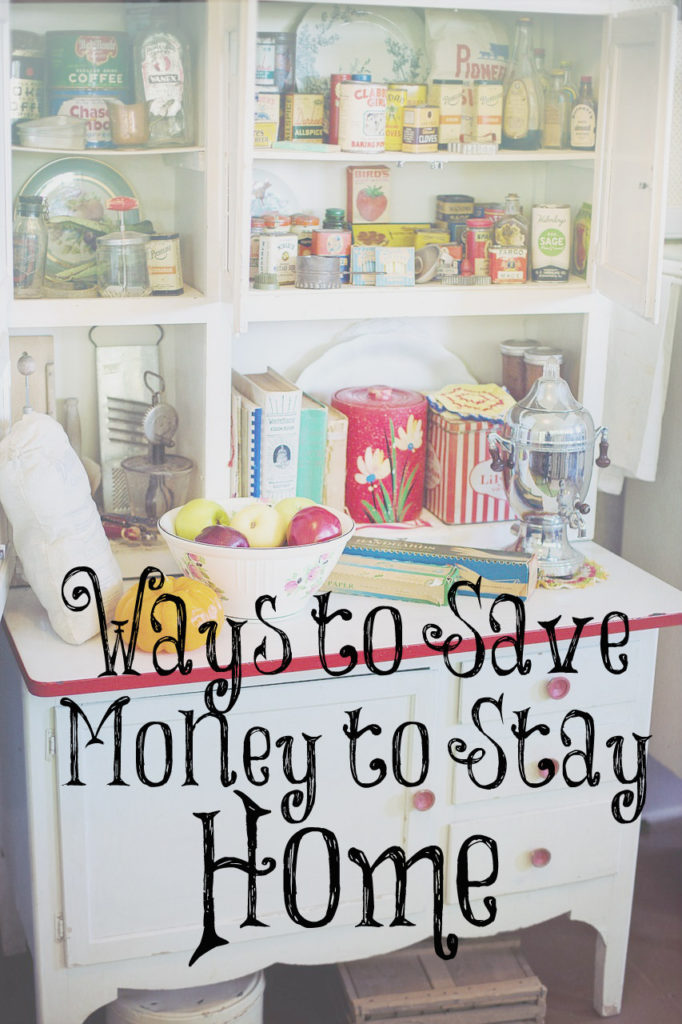 This post was written by a woman named Nunya who commented on my post Making It On One Income.
The biggest expense is the home. Don't get a mortgage; don't buy a large house. Buy a used mobile with cash if you can, fix it, live in it until you can afford to buy land, and then move your mobile onto the land until you can afford to build a home.
Use it up and go without. Don't eat out. Grow your own veggies as much as you can.  Trade. We use one cell phone, whomever leaves the house takes it. I ditched cable when it went up to $50 a month. Repair your clothes and re-sole your shoes/boots at a cobbler. Have chickens if you can – use eggs to feed other animals/pets and yourself. I mix scrambled eggs with canned cat food for my cat. It stretches the canned food (earthborn), is healthier, and an egg is a complete protein for them.
Don't vaccinate; it causes health problems in all animals. Eat healthy without chemicals. We buy used clothes. Make things, sell on Etsy – every little bit helps. Take fewer car trips for supplies. Borrow items that you cannot afford (wheel barrow, chain saw, lawn mower, etc.) Cut back on electricity and don't use air conditioning unless you MUST. Heat with wood.
Do it yourself (fix it or learn how; YouTube is a great source). Do your own oil changes and vehicle maintenance and build your own things. Cut back on gift giving, trust me, people understand – make gifts or buy small gifts. Housing and heating is where we save the most $$. We never go to the movies. Hiking is free, so are many other activities.
Kids don't mind used toys. We buy used video games and movies. We homeschool; my kids don't have cell phones and they are never bored because they HAVE CHORES to do. Go to the library; don't buy books or magazines. Play cards/board games/play outside. Price check around before you buy anything major, if you cannot buy it used. We get second hand stuff from family too, especially for the kids. Strive for self-sufficiency; aim for how they did it in the 1800s!
Count your blessings. 🙂
Wealth gotten by vanity shall be diminished: but he that gathereth by labour shall increase.
Proverbs 13:11