Working Hard in My Kitchen
Working Hard in My Kitchen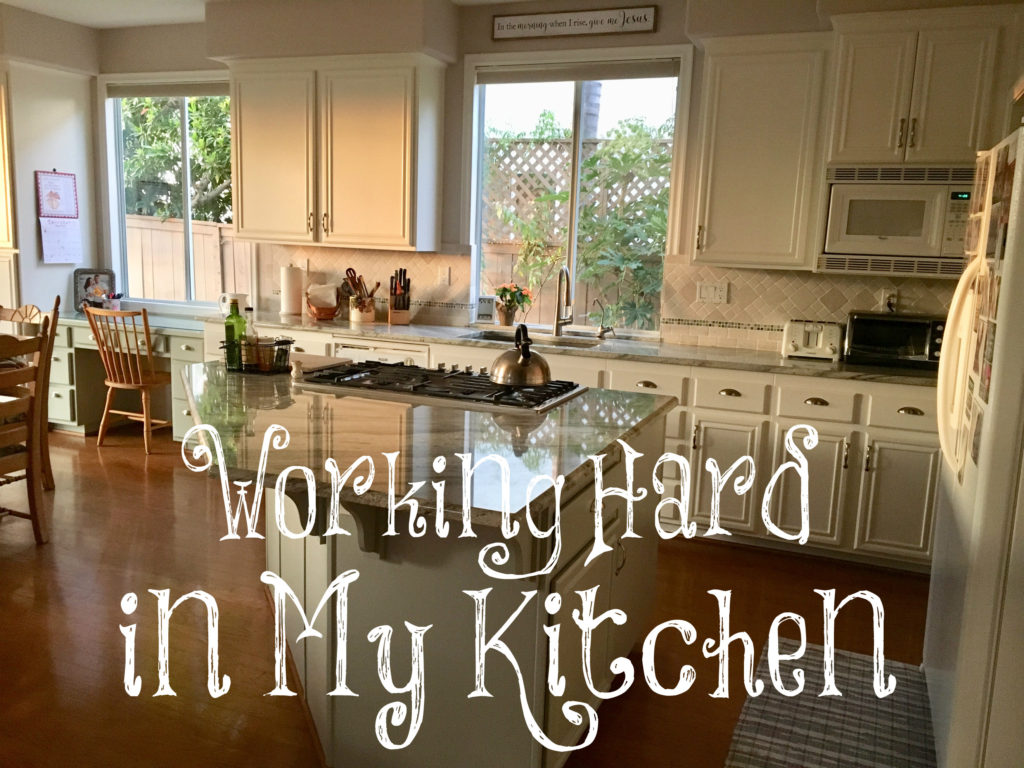 As keepers at home, one of our main ministries to our family and others is learning to cook. During the 60s and the feminist movement when women left their homes to go out and pursue careers, fast food restaurants and packaged foods became popular; anything to make the working mothers' lives easier. Now, we have several generations of women who don't cook at all or don't like to cook and our nation's health is suffering as a result. It's important to learn to enjoy working hard in your kitchen!
My sister didn't like to cook at all when she was raising her children but she did it a bit to keep her family fed but it certainly wasn't something she enjoyed. Then she got malignant melanoma and radically changed her diet. Now, she loves cooking nourishing food in her kitchen and we all love eating at her house. It was all simply a change of attitude, she told me. She puts on praise music and prays over the people she is preparing food for since she has learned to love it. (She made the most wonderful Thanksgiving dinner!) She has this hanging on her oven: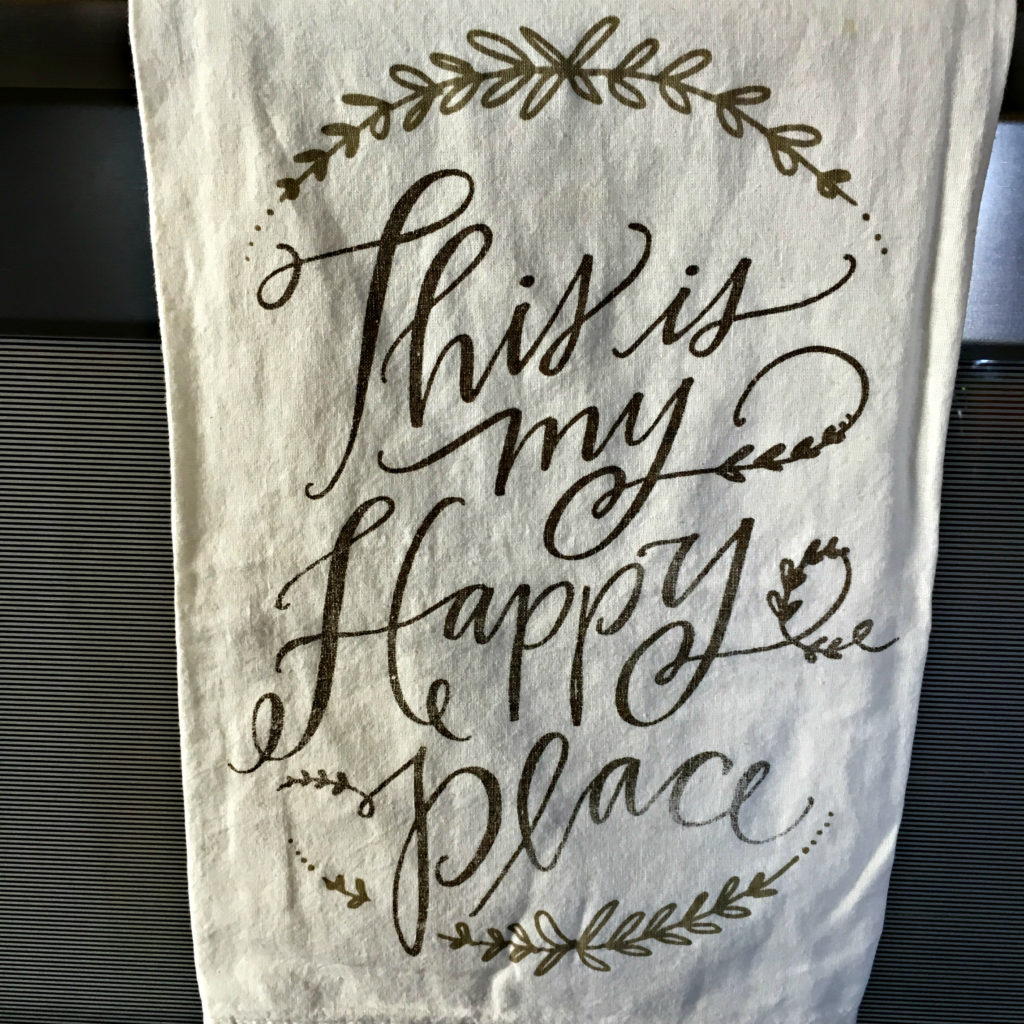 This Christmas our entire family will be together, Lord willing, so I'm getting ready for their arrival. I will be making my Organic Einkorn Bread every day this week to store up for them. My son-in-law, who can't have gluten, LOVES it so I want to make sure that I have plenty for him. (It really is easy to make, women. It looks complicated but once you start going, it doesn't take much time at all and it's so much healthier than anything  you can get in the store.) It is a labor of love but I love making healthy and great tasting food for my family.
For breakfast, I have my homemade kefir that is so easy to make and full of healthy probiotics, calcium, and protein. In fact, Dr. Marshall, who I listened for years, and Dr. Axe believe it is one of the most probiotic-rich foods on the planet! I much prefer making it than buying it since the homemade stuff is much less expensive and so rich and creamy like yogurt. I add a bit of stevia and frozen or fresh berries with it. On other mornings, I will have some of my Einkorn bread slathered with raw, grass-fed butter, topped with pastured eggs. I love my breakfasts!
About every four days or so, I make a large salad that we eat every night. On top of it, we put roasted chicken, avocado, a tablespoon of fermented vegetables (great for gut health which is imperative for good health), steamed beets (great for your blood), and anything else we feel like putting on it, then top it off with my homemade salad dressing that is loaded with healthy fats. I know that I have felt a lot better since I've added a lot of healthy fats and proteins to my diet. My sister taught me a delicious way to eat sardines since they are one of the healthiest fish you can eat and are the highest source of omega-3 fatty acids on the planet!
For dinner, I have a large mug full of my soup made with chicken broth and lots of vegetables. (I cooked a lot hardier meals for my children when they lived with us. Both of us like to eat lightly for dinner since our children have all married and have their own families.)
My very favorite dessert in the entire world is my healthy chocolate that is made with coconut oil, walnuts, and raw cacao so it actually builds up our body instead of tear it down. I like it best with raw, organic honey. I have a piece almost every single day and enjoy every single bite.
I also research and learn ways to keep my family healthy without drugs. I believe building up the immune system and using natural means of healing gives better results without the side effects of drugs. Our bodies were created to be able to fight most illnesses if nourished on good food. I make elderberry syrup for colds and flu and so far, it's worked amazing. I also have other things I use in my arsenal to fight colds, flu, and all types of infections.
Teach your daughters to help you in the kitchen. From a young age, teach them to clean off their plate and put it in the dishwasher. As they grow older, you can have them right by your side helping you cook and clean your kitchen. Their future husband and children will appreciate the time and effort that you put into them teaching them to enjoy working hard in their kitchen.
Yesterday, I made a big salad and salad dressing, roasted a chicken and made chicken broth, made the sardine salad, and two loaves of bread. Yes, I worked hard in my kitchen and I didn't mind one bit!
And whatsoever ye do, do it heartily, as to the Lord, and not unto men; Knowing that of the Lord ye shall receive the reward of the inheritance: for ye serve the Lord Christ.
Colossians 3:23, 24
***The picture is our newly redone kitchen. We never thought we would want white cabinets until we found out how much they cost to replace. No, thank you! Now, we both love white cabinets. It's the first time in my life that I've had a back splash (and it's made of stone) and I love it! I also love having granite counter tops. Man can't beat what God creates, that's for sure. They are so easy to clean and care for.  We will gradually replace our appliances with new ones when our old ones are no longer fixable. I haven't heard many people like stainless steel appliances so the verdict is out on this one. (My sisters don't like theirs at all!) We put the wood floors in when we bought the house almost 20 years ago and they still look great. Wood flooring is definitely my favorite! (Yes, God made wood, too. 🙂 )