Finding a Way to Come Home Full Time
Finding a Way to Come Home Full Time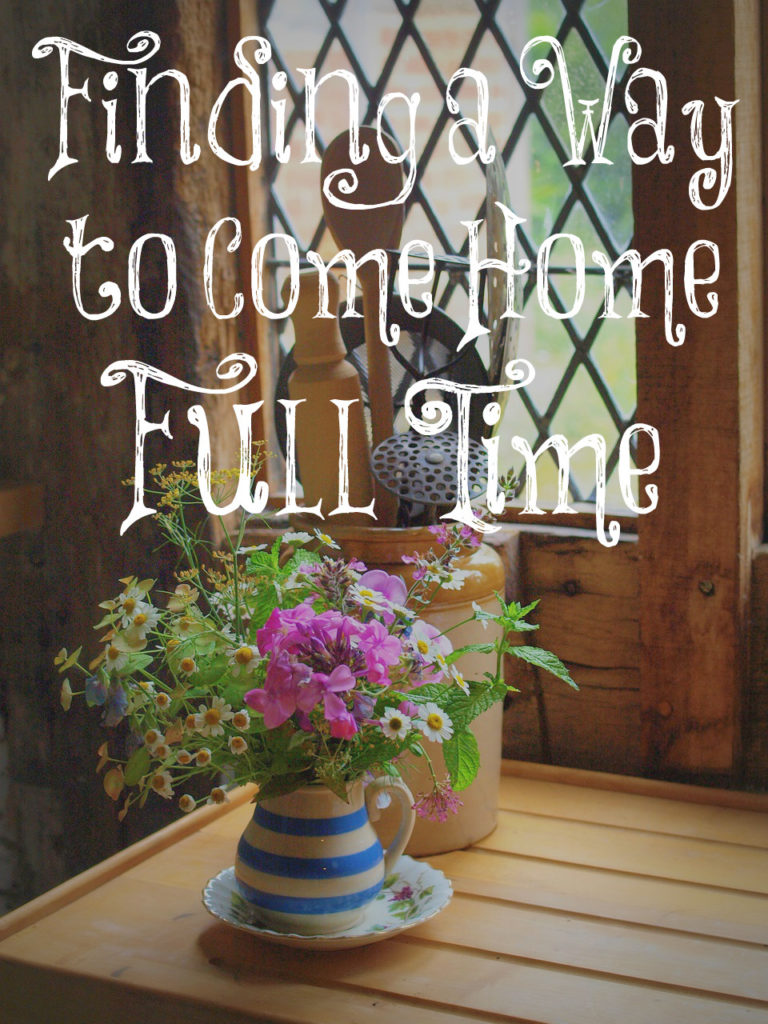 Written by Genevieve Greenwood
It's funny how life works out sometimes.
I had been in the work force since I was about 12. My first job was babysitting my little cousin full time. Later, fast food then management, then call centers and eventually banking. I had a decent job dealing with credit card identity and transactional fraud.
My oldest child has autism, Tourette syndrome, and a host of other medical issues. I've always dealt with his medical needs personally, and it did make me a far less reliable worker. I had taken on this role of his primary medical advocate because it felt natural and because my husband's more lucrative career was far less flexible.
After my second child, I went back to work when she was just seven months old. Honestly, before going in for my first shift back, I thought I would do fine! My own feelings of anxiety and missing my baby girl who was still nursing caught me completely by surprise. I felt a sadness, almost grief, from being forced away from my baby girl so soon, beyond what I can describe. It lasted a moment, during which I couldn't breathe but perceived necessity pushed me forward so I trudged on.
Eventually, caring for a special needs child, a young baby, being away from the children, and postpartum depression took a huge toll on me. I suffered burn out and had to leave my job. I firmly believe the separation from my young baby was the trigger of my postpartum depression.
At first, my husband and I both fought the idea of me staying home. I worked all weekend at a corner store up the street. I had a cleaning gig. I took in extra children. I groomed dogs with my amazing mother in law. I did all kinds of things to bring in money at the detriment of my home, my children, and my relationship with the most amazing man I've ever met.
But especially when my son started going to public school (both children are home schooled now), we started really understanding that we needed a parent at home full time. Our son was very often sick and couldn't go to school. He always had (and still has) numerous appointments with doctors, and has a lot of "bad days". Some days, his emotional state made it too difficult for him to leave home. I had to be there for him.
For what it's worth, I don't think I started to really recover from my burnout until I came back home to my little girl and my little man. Even though I'd been seeing a doctor and getting treatment for my illness for months prior, it's only when I'm home and being their mother FULLY that I had those healing moments. I'm not good at reading all the messages God sends me, but I think this is where He wants me to be.
But what about money?
We had gone from "this is impossible" to "now we have to do it."
We had already declared bankruptcy. We weren't making it from month to month. How can we possibly make this work?
First thing about that: We don't have it all figured out. We have it way more figured out than we used to, though! And I want to help other families who think they just can't afford to live on a single income. And I really want to share the lessons God has been teaching me through this process.
1- Organize your life. Do your wife job, let him do his husband job, and never the two shall meet. Being organized in your roles will help you both immensely feel respectively less burdened. Once you both know exactly what you have to do, then nothing gets forgotten or neglected. A husband feels better about coming home when he knows he won't be ambushed at the door with a list of chores. A wife will feel better about doing her chores if she knows she doesn't have to work 10 hours the next day. Each of you should have ONE JOB. There should be a wife/homemaker and a husband/provider. If you both have too many jobs, you'll get overwhelmed all over again.
2- Simplify. Take the kids to the park: it's free! Play in the yard. Take on projects to make your house a home. The more stuff you have, the more stuff you have to clean. Get rid of the excess and only bring into your home the things you truly need. Find joy in living a simple life and having a simple routine. Children thrive on routine, too. I really believe it helps them develop their sense of family stability. Kids don't need stuff; they need your time.
3- Make and eat your own food. So many women I know, even housewives, say they have no time to cook. I firmly believe this happens from lack of cooking practice, and having typical things baked or cooked for the family on a regular basis. I can prep cinnamon rolls in less then 10 minutes (30 minutes cook time). I can prep bread for rising in about five minutes. Throwing meat, veggies and potatoes in a pot takes no time and often it's really good if you cook it all at once! I'm terrible at meal planning (I know, I'm working on it), but it helps a lot with finances if you only buy what you'll need for the week. And honestly, watching my daughter so excited to watch me make what we need is a reward all on its own.
4- There are usually places where every family hemorrhages money. We tweaked our Internet/Cable bill (Netflix is cheaper, if you like that sort of thing). We're careful with the heat and lights. Aside from my "just mommy" outings, I make my coffee at home. Look over your bank statement and chances are there's something.
5- This one is super important: FOCUS ON HIS CAREER. This is a recent lesson for me. My husband had been without work for a while, since his last contract ended. But with me not being out there playing Mrs Provider all the time, I was able to make it easier for him to look for better jobs. I was able to make our home a place where he was able to tend to applications and leaving for interviews. I made sure he had interview-clothes ready at a moment's notice. There is a lot that us wives can do to support our husbands in being better able to provide for our family.
I'm the farthest thing from a perfect wife. And I have to repent often for mistakes I make. but I think God has been teaching me through this. Unlike back when I was working outside the home, I feel like I'm actually moving forward spiritually in my role as a wife and mother. I'm actually learning and making progress. I've been able to correct some profound character flaws in my parenting and my submission to my husband's direction, even if I have a long way to go.
God put me on this path, even when I stubbornly fought it. I think when we accept God's direction and go the way He wants us to, we start to grow.
In Christ,
Genevieve
Now unto him that is able to do exceeding abundantly above all that we ask or think, according to the power that worketh in us, Unto him be glory in the church by Christ Jesus throughout all ages, world without end. Amen.
Ephesians 3:20, 21