Feminist Sisters Who Mock and Attack Me
Feminist Sisters Who Mock and Attack Me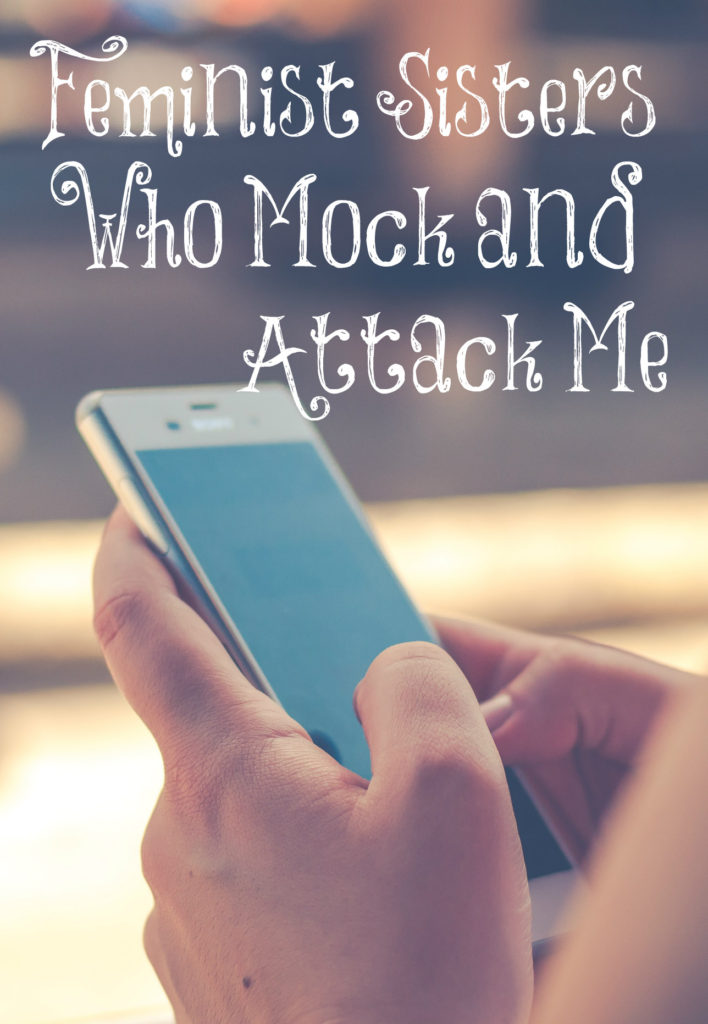 Do you remember my post that went viral in June? (It's gone viral again with over 17 million hits now.) It was shared so much on Facebook that the UK Daily Mail  did a story about it and so did US Weekly. I just looked at the UK article a few days ago and scrolled down to the comments. This is the last comment posted: "She's happily married. I wonder how many of the feminist sisters who mock and attack her for her opinions can say the same thing?"
As most of you know, I have had a lot of people viciously attack me with their words ever since I began blogging almost six years ago. I have found out that they are mostly feminist women who hate what I teach. It's rather funny since when I write against feminism, they try to tell me that feminists only want women to get equal pay, be able to vote, and a few other benign things. They don't even realize how much feminism has destroyed their values, changed their worldview, and in the process has made a mess of their lives.
They were taught that hook-ups are better than the commitment of marriage and birth control makes it much easier for this to happen. They were taught that having higher education with a ton of debt was what they must pursue and having careers was better than bearing children and being home to raise them. They were taught that if they got pregnant by accident, have the baby murdered since it's only tissue and will inconvenience their lives. Then when I and many others come along and teach the truth of God's Word, they fail to see the correlation of disobeying the Bible and how miserable their lives usually end up being.
I shared this viral post again on my Facebook page the other day and Amy responded,  "What I'll never understand are the wives whose marriages are a mess and they feel at the end of their rope, so we teach them these simple principles and they simply will not give them an honest try because of their entitlement attitude. If you're miserable in your marriage, instead of complaining or remaining miserable, why on earth wouldn't you give the biblical marriage principles a fair shot? So many marriages are being transformed!"
Then Ken responded, "You are so right, Amy. Many people are not looking for solutions to their misery because they get a sense of satisfaction from feeling justified instead looking for peace and harmony in their marriage."
Megan added, "Pride is definitely a factor. It takes a humble person to serve another joyfully even if you feel they don't deserve it or treat you unfairly. And most of the world doesn't want to admit God's ways really do work!!"
I do wonder how many feminists "sisters" (I love how they included this word) who attack me have strong marriages and are committed for life. I am not thinking many of them since shacking up and not committing for life to anyone is the cool thing these days since most pursue elusive "happiness" instead of being a vow keeper. If the going gets rough, they get out since they aren't happy or they don't "feel" in love. They have no concept of loving others enough to deny themselves and spend their lives serving others as Jesus modeled for us in His Word.
On the bright side, however, I have had some of these feminist sisters of mine email me and tell me how much they hated my blog when they first began reading it but now they love it! They regret their past mistakes and are doing everything they can to turn their lives around. They want a solid, strong marriage with children and staying home. What sounded ugly and atrocious at one time, now sounds wonderful! Their blinders have come off of their eyes, praise the Lord. This is the power of the Word so never underestimate it and never fail to speak or teach it when the opportunity arises.
O taste and see that the LORD is good:
blessed is the man that trusteth in him.
Psalm 34:8