A More Likely Way That Leads to Marital Satisfaction
A More Likely Way That Leads to Marital Satisfaction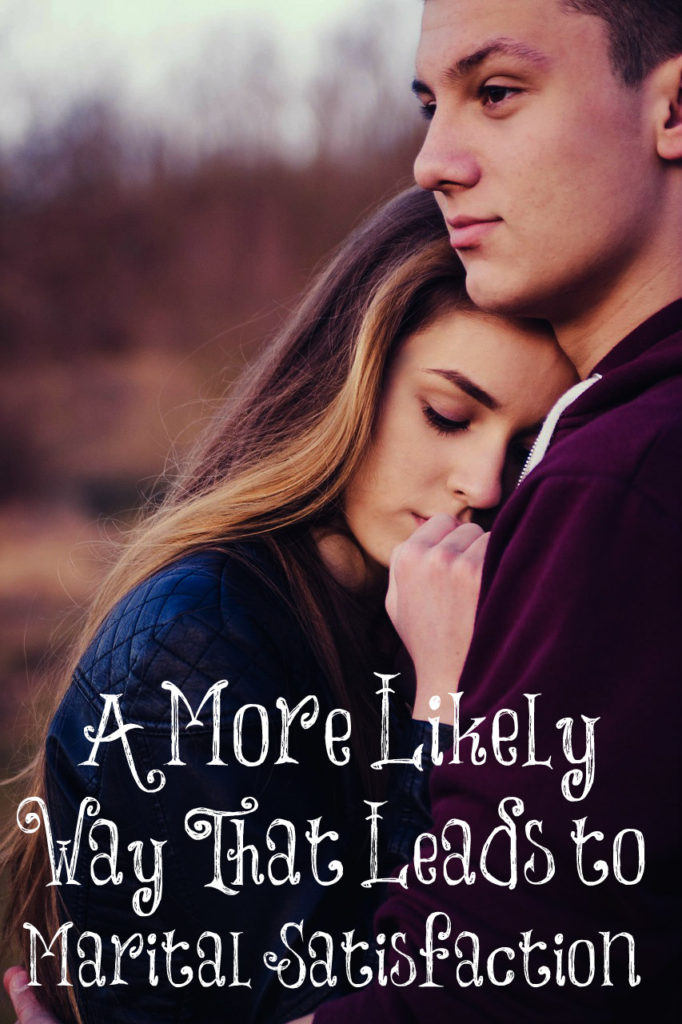 A few months ago, my dad listened to Gary Thomas on "Focus on the Family." My dad liked what Mr. Thomas had to say so much that he bought Thomas' book "A Lifelong Love" for all of his children and their spouses and all of his grandchildren and their spouses. I was the first one he gave the book to and I'm very skeptical about marriage books but this book is fabulous! Both of my sisters think it's the best marriage book they've ever read, although I still believe "Created to Be His Help Meet" by Debi Pearl is the best marriage book for wives since it clearly explains their role in marriage.
We are going through this book in the chat room but I wanted to make chapter six into a post because I believe it is that good. The title is "A Monk's Marriage." I will give some quotes directly from the book but I encourage you all to buy it! It's rich with great marriage advice.
"Fourteenth-century Augustinian Canon Regular Walter Hilton mimicked many classical writers when he urged believers to pursue the spirit of detachment, to the point where we literally 'put no kind of trust in the possession of any worldly goods, or in the help or favor of any worldly friend, but principally and entirely in God. For if he does otherwise, he binds himself to the world, and therefore he cannot be free to think about God.'
"Isn't it true that many marital arguments result from disappointment with our spouses? We want them to be something or do something or catch something and they aren't or they don't, and we feel sorry for ourselves. We really do want them to love us like God loves us.
"But what if I sought a 'monk's marriage'? What if I decided that I would depend on God alone, expecting nothing from my spouse but depending entirely on God for all my needs, including emotional and relational needs?
"Then, instead of resenting what my spouse doesn't do, I'll be overwhelmed (in a good way) by every little thing he does do. I'll be filled with gratitude instead of resentment…expecting nothing, depending on God, and genuinely grateful for whatever my spouse chooses to bless me with.
"I realize we can take this too far. God won't fertilize your yard when your husband is watching the game. God won't meet our sexual needs. There are duties that seem reasonable that we want our spouses to meet, but put this in another context: Do you expect a spouse who has a broken back to fertilize your yard? Do you expect a woman in a severe state of Alzheimer's to meet your sexual needs? The time may come when your spouse simply can't meet those 'legitimate' needs, and what will you do then?
"Now, let's ask if it's 'can't meet those needs' or 'won't meet those needs,' does it really matter, as far as our call to love them is concerned? Aren't we allowing them to hold our contentment hostage in either case?
"Do I live to please humans, to be noticed by them and appreciated by them, or do I live to please God? Reread Galatians 1:10 and see how important this is. We think the problem is our spouses' insensitivity, apathy, even cruelty. Time and again, both Scripture and the Christian classics point us back to our pride as the real enemy of marriage and Christlikeness.
"What is more likely to lead to true marital satisfaction – getting a fallen spouse to change his or her ways, or changing your own focus so that you draw your affirmation from a God who never disappoints, never turns you away?"
For do I now persuade men, or God? Or do I seek to please men? For if I yet pleased men, I should not be the servant of Christ.
Galatians 1:10