A Testimony of Healing After An Affair
A Testimony of Healing After An Affair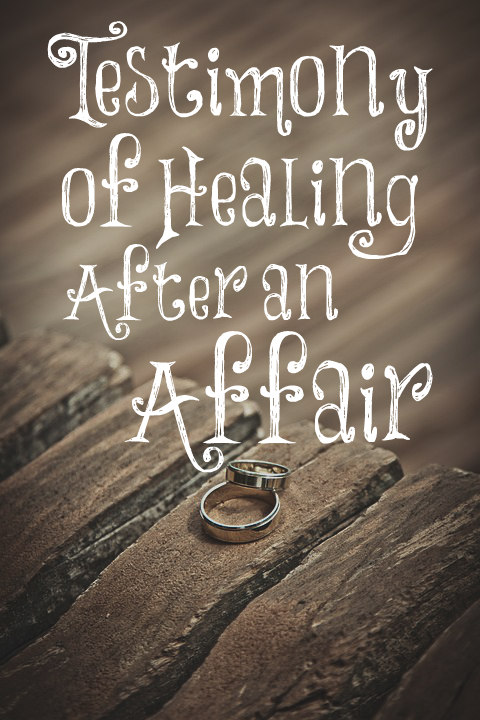 A comment from my post "Wives Cheating on Their Husbands"
Lori, this may be too long to post and I know I am late to post on this, but I read through many of the responses and I feel compelled to add some of my story, not just for the men asking for stories of marriages redeemed, but also for women who are dipping, or are tempted to dip, their feet in the same sin of adultery, as I was that strange woman as well – and a dip quickly changes to a slippery slope into hell without you ever realizing it. Please, DON'T DO IT.
I recall during those times of my affair telling myself, "I don't care" about what I was doing, because I didn't feel like my husband cared either. I became more and more dead to doing the right thing. I increasingly only cared about myself and my own needs. It's a time I look back on with more shame and regret than I could ever truly express.
Thankfully, though, God was present and working behind the scenes. Through a series of unexpected events, I came to repentance in my heart, but it wasn't enough. The shame and guilt of what I had done ate at me every day. All I could think was that my husband didn't know who I really was, and it was unfair for him to be married to me not knowing the truth. Although I had confided separately to two persons during those years of my affair, and they told me to end it long before I actually did, they both advised me to never tell my husband. Yet, God was clearly pointing me to confession.
So finally, almost a year after I ended the affair, in terror and despair I confessed it to my husband. This began the hardest time of my life to date, but I believe my confession out of love for him and believing he should know the truth was one of the major factors of my husband's forgiveness. In fact, he has admitted this. I don't think I've ever experienced a pain so absolute as watching my husband's trust in me disintegrate before my eyes and the utter disgust he had for me, knowing I had caused it, and that my marriage was forever stained with the filth of all I had done in the name of my own self-love.
But God manifested His grace to us even during this horrific and painful time. When I feared my husband would divorce me, when I finally uttered that question in dread, I watched his face change from uncertainty to wonder as he told me he heard at that moment a voice inside him that was not his, clearly shout at him, "NO!" to a divorce. I still believe this was the Holy Spirit. Then my husband asked me to do something he never had before – he asked me to pray with him. Together we knelt and prayed to God for His guidance, and we asked His will to be done.
It has been almost ten years since that day, and we are still married and have been blessed with a family. I can not express how thankful I am that my husband heeded that voice not to divorce, when he had every right to do so. For a long time, it was one day at a time. There were ugly periods, sometimes after years of peace, when the past and hurt would surface and we would have to deal with the same horrific pain all over again, groping our way through the dark. At these times of feeling so low and so lost, we have to turn it over to God, because there is just no way to carry the pain alone and survive. The knowledge of what I did those years, I still carry with me. It still knifes into my gut and soul, and I know that it still does to my husband, too. But we continue to carry on despite the pain, because we still have love for one another.
Our relationship is not perfect. It never was. WE are not perfect. We never were. We still screw up, we still struggle with sin. We still struggle to forgive. But by the grace of God, we are still here for each other. I give thanks to God Almighty that He has not thrown the first stone at me, when He is completely righteous. God is a God of mercy and compassion, the Author of Love itself. And His Word teaches that love covers a multitude of sins.
If any of this puts me in a position to offer advice, it would be this: No matter your situation, no matter how dire it seems, GIVE IT TO GOD. HE CARES, even for the worst of us, even despite the worst things that we do. Repent and do not lose faith, and do not try to take matters into your own hands without first seeking Him. If you feel you are not being loved, that does not give you the right not to love. Jesus commands us to love those who don't love us, and to pray for them. Whether we are the ones who need forgiveness or whether we are the ones called to forgive, Jesus calls us to put others' needs before our own. We should place ourselves last, even when it's unfair.
Jesus on the cross is the ultimate example of that. I will wish for the rest of my life that I did not make the choices I made back then, but I can not change the past. I can only change the present. I can be a voice to others. I can point the way to our most compassionate, loving, and merciful God. He is Sovereign, He is in control. And He will not leave those who love Him orphans. Trust in God! He is mighty to save.
What therefore God hath joined together, let not man put asunder.
Mark 10:9