The Cultural Train Wreck Coming to a Church Near You
The Cultural Train Wreck Coming to a Church Near You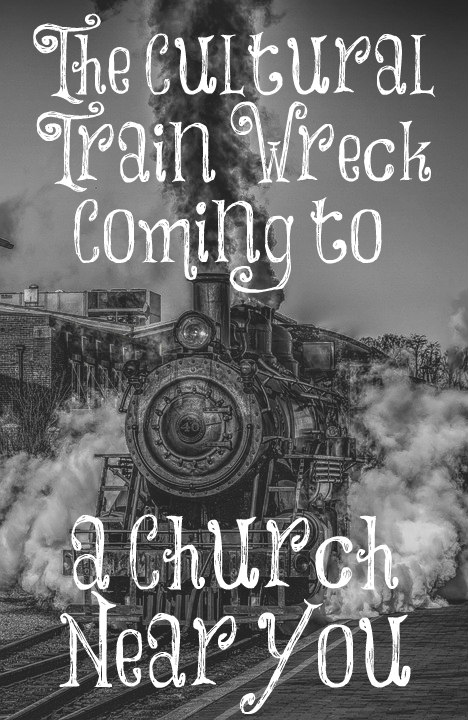 Written By Ken
Dear Pastor,
Unfortunately, the church cannot be the salt of the earth if you keep sugar coating God's Word. This has become so apparent to me over the past few months as we see and hear of more and more pastors and evangelical leaders falling into the slippery slide of culture and dragging their unlearned church along with them. Coming to a church near you is a teaching time that will make any mature believer's spirit jump out of their skin and plunge them into despair for the modern-day American church. Things being taught by your pastor may be things your parents in their Bible believing church would have never been taught  but now it is a cultural train wreck where scripture becomes interpreted through the lens of relevancy to the world.
In an effort to be relevant and empower women, your pastor may be trying to walk a fine line in his mind and teaching between holding firm to what the Word of God teaches and making sure that his church has open arms for those evangelicals who hold other more "open" cultural views. The new third principle of hermeneutics (how to interpret the Bible) is now to take what the text actually says, examine the context and culture of the time, then read modern day culture back into the text to make it relevant. If culture is strong enough on any one issue, it is allowed to trump the first basics of hermeneutics by claiming that what the Word actually says was only for "that church," the Corinthians, or Ephesians, but no longer applicable for today.
Your pastor may teach that in today's modern Church, women are so much more educated than they were back in the days when Paul had to forbid them and shame them into not speaking in church.  The letter to the Corinthians is now taught to be a "one off" issue that was not a problem in any other ancient church, just the Corinthians. These women were special as they believed that because they were free in Christ, they were allowed to fully participate in church services and they were shouting out ignorant questions and being disruptive instead of learning in silence. So, of course, we can all see why the apostle Paul would write, "Let your women keep silent in the churches, for they are not permitted to speak" (1 Corinthians 14:33).
Pastor, I have a question and I am not an uneducated person, so can I ask it? Didn't you just say how important context is, and how the Bible was written with no chapter headings, verse numbers, or even punctuation marks? Okay, so if that is true, why did you not read the phase right before "let your women keep silent" where it says, "As in all of the churches of the saints" (1 Corinthians 14:32)? Would not the context and text itself in this case shed some light on whether or not "women keep silent" was just for the Corinthians, just for the ancient Church, or for all churches of all times? What could "All the churches of the saints possibly mean"?
For that matter, why did you not explain the second half of the verse and the verses following the words "let your women keep silent… but to be in submission, as the Law also says." Was this submission spoken of by the apostle unique to this church? Why is the apostle appealing to the Law when he makes this command?
Now go a few verses later and what does it say? Yes, another part of the text and context you left out of your sermon?
"If any man think himself to be a prophet, or spiritual, let him acknowledge that the things that I write unto you are the commandments of the Lord. But if any man be ignorant, let him be ignorant." (1 Corinthians 14:36,37).
And why is God trying to make things so clear in the text? Oh, could it be as he told us in the context before the command, "For God is not the author of disorder but of peace, as in all of the churches of the saints, let the women be silent."
Pastor, there cannot be a passage of scripture that is more clear in its text and context than this one, but by the time you get done with it, we are all confused. You tell us to look at the context, but you do not read the verses above and below the verse you want to talk about. What you really want to do is isolate the context to this one church of the Corinthians so you can try to prove an unprovable hypothesis that some loud and boisterous women carried their freedom of new life in Christ too far, creating disorder in the church gatherings.
I am just curious, Pastor, but how do you know that these women were uneducated chatter boxes? Does not the text itself, here, and in the 1st Timothy sister passage, both give some of God's reasons why women are to be silent in the church?
"Let the woman learn in silence"
"…with all subjection"
"…as the law says"
"…for it is shameful for women to speak in church"
"shall not usurp authority over a man"
"for Adam was formed first, then Eve"
"Adam was not deceived, but the woman was deceived."
Do you realize, Pastor, that the reasons given in 1 Timothy 2 predate culture, and form a much larger context then simply the church at Corinth and Ephesus? Is the apostle giving his opinions or the inspired Word of God? It's not a hard question to answer because the one thing you have to love about the apostle Paul is that when he is giving his opinion he tells us, and when He is speaking a command from the Lord he tells us:
"As in all the churches of the saints, let the women be silent. For they are not permitted to speak, but should be in submission, as the Law also says" and "acknowledge that the things I am writing to you are a command of the Lord."
I guess the bigger question, Pastor, is why are you going against what the church universal and what your own church has taught from the beginning? Your own church still may still hold to having no women preachers, although you allow every other type of speaking in the church by women from leading singing, prayer, announcements, to the little mini-sermonettes that often happens when a woman has the mike. I think most of us are okay with allowing women to speak in church with the 1 Timothy 2 understanding that it applies exclusively to: "I do not permit a woman to teach or to exercise authority over a man" (1 Timothy 2:12). But the verse is followed by "rather, she is to remain quiet." So maybe we shouldn't be so modern thinking as we are.
But should we not draw the line some place, Pastor? Did our purposeful, omniscient, and sovereign God allow His Church to get His Word all wrong for 2,000 years? But now that feminism has infiltrated all of society and the Church, is God now okay with us understanding these passages are no longer applicable and women can now teach men and exercise authority over them? Is the whole one godly concept of submission to be placed on the altar of feminism as we read modern day culture back into the scriptures to arrive at our modern-day convenient conclusions that match our culture? Even as Jesus Himself warned us strongly to be different, set apart from this world, and set apart for God to walk in His ways, not the ways of the world.
Pastors, when you teach that the these passages are only for the Corinthians and Ephesians, just two early churches and not "all of churches of the saints," you undermine all of scriptural authority. You make up hypotheticals and make believe stories trying to explain away what the actual text and context say. Your whole basis of truth and ability to trust God's Word are undercut, and your own authority called into question.
Why should we believe you, our elder teacher, if we too are new creatures in Christ and not in need of spiritual authority in our lives? Would it not be better to go back to the days of Corinth and we all come to the church gathering with a Psalm, Word of Knowledge or Prophecy? We, one by one, express what God has placed on our hearts, and if one speaks in tongues, someone must translate? Why listen to you when you do not believe the Word of God is authoritative, but rather God's book of suggestions that must be read through each culture's lens? Sure, you will try to draw the line at clear sins, but what happens when you are gone and the next pastor moves a little bit more down the road into accepting society's sins, "so long as they are married" of course!
When we went to seminary, it was drilled into our brains that when we preached and taught the Word of God, we have an audience of One. God Himself is listening with high expectations that we would "rightly divide the Word of truth." This means that no matter which way culture or our church drifted, we were never to drift along, but rather stand firm and clear on the things that were indisputable from God's Word. But now this important theology of women is in dispute in almost all of our churches. Some are still holding the line on the traditional view, some have adopted the feminists' view, and yet others are somewhere in between, teaching that good Christians can disagree on these non-essentials and still love each other and be a part of the same church.
I totally agree! I do not need to have the person next to me have all my same theology and understanding of the Word to love them, care for them, and share life in the body of Christ with them. But what I cannot see is how I can live with a teaching program that wants to be ecumenical by showing all the different points of view on this important matter, yet not stand firm on God's Word and what it actually says and teaches. Love and acceptance are fine, but embellishing the records of ancient Christian women, leaving out the immediate context of the text, and ignoring the text itself and what it says by playing guesswork, none of these things are in keeping with doctrinal purity nor rightly dividing the Word of truth.
You think this is not coming to your church? We are regularly told to "be alert," "be on guard," and to "watch" for the thief is coming disguised as an angel of light. Who would not want to empower women in the Church!?! We know that women form the backbone of the Church in many ways, as without them the service of the church could not exist, but now they want more. This idea of living in submission is foreign to this culture as a cry for "equality" is what many believe the Church needs. And how does one gain equality? Women must be more up front, be able to preach and teach men, and exercise authority in the Church! After all, it is the only way they can feel empowered, and isn't empowerment what God is all about? Didn't God send His Son to rule and reign from Jerusalem, or did He send Him as a Suffering Servant who modeled for us both the roles of the Godhead and how one gives up their rights to equality to sacrificially serve the needs of others?
If our pastors are going to be relevant to try and create a "safe place" for our young women, they too often give up the solid principles of interpretation to adopt the feminist talking points. They listen to scholars like NT Wright and become enchanted with his guesswork and story telling on these important scriptures. Their goal is to show how open they are to dialogue and unity in the body of Christ, so let's entertain the idea that the first sermon of the church was  spoken by women as they excitedly explained to the disciples what Jesus told them to say. To be relevant, these pastors may personally hold the line on a wife's submission to her loving husband, but forget 1 Peter when it asks wives to be submissive to a husband who is "disobedient to the Word." After all, what women wouldn't willingly follow a loving husband? Well, how about my bride for 20 years as she waited for me to love her as Christ loves the Church? And she determined in her mind what love looks like, even as she never knew what love really looks like until she was transformed by the renewing of her mind as she began to align herself with God's Word.
Our churches are breaking with broken families, marriages ending in divorce at alarming rates as Christian women walk away from their homes and too often children. Far too many Christian women have bought into the "christian feminist views" that they can only be happy by looking out for themselves and never fully trusting  a man. The life of Grandma and Mom is no longer a desire or goal, but has been replaced with the need for "empowerment."
Do you realize that empowerment is the exact opposite of submission? That to be in power is to reject the clear teaching that wives are to "place themselves under" the leadership of their husbands as a sergeant places herself under her general, with Jesus as her Admiral and God her Commander in Chief. Yes, she willfully places herself under her husband's authority as that submission cannot be demanded or forced by him, but he can request that she take up the issue with her Commander in Chief. For to God she owes her complete obedience with no ifs, ands, or buts about it. For she and her husband are under God's command and one spouse's role is not contingent upon the other. Each is to live out their lives in sacrificial service to the other, not trying to seek empowerment, but love, service and unity in a one flesh marriage.
"Be sober-minded; be watchful. Your adversary the devil prowls around like a roaring lion, seeking someone to devour" (1 Peter 5:8). Coming to a church near you will be a sermon that in the pastor's mind is doing the right thing in trying to elevate women, but what he has failed to recognize is that women have always been the main part of the engine of the Church throughout history. And they have done so the same way Jesus did, by displaying a servant's attitude and serving the saints. Lydia and Phoebe were two remarkable women but there is no mention of them asking to be up in front of the Church or to lead men. Actually, apart from the Old Testament judge Deborah, we have no example of a woman in the Bible who leads men, and none who we know of who ever spoke a sermon or taught men in the Church. To do so would violate the commands of God given by the apostle for a reason… order in the family and order in the Church. Each one fulfilling the roll that God has given to us
Let's get it right, pastors. This is all we ask, that our pastors speak the truth of the scriptures and limit the introduction of hypothetical speculations, feminist talking points, and ignoring the clear instruction God's Word on this important issue. You cannot sacrifice clear and compelling verses of God's Word on the idol of feminism; women who want to take on the role of men in and out of the Church.
For many of the unlearned and ungodly, the appetite to be like a man is insatiable. If you do not believe me, start counting the number of churches that have started to have no male preachers or elders. This is the end game, the goal, the desire of the harlot as she rides the beast, that just as Satan seeks to overthrow the rule and reign of God, so too does feminism want to usurp the authority of man, to eat the apple, and to throw off the bonds of the curse when God says, "…and he shall rule over you." Yes, as Paul says, "it is in the Law." The whole of the Law where no woman was allowed to be a Priest or King, or serve in the temple of God. The only question left is will the remnant stay true to the Word and be faithful to God by walking in it?
Yes, we must fully embrace our sisters as equals in Christ, yet insist that in our homes and churches we do things God's ways designed with His order of things  to reap His blessings. The world has much to offer the carnal mind and flesh, but when you read the hundreds and thousands of those who follow this blog who live out what God teaches, they will tell you God's ways are so much wiser and better, and lead to joy, fulfillment, and peace. Nothing is more empowering than walking the Spirit of God. But to know this, one must give the Word a try and in faith, trust God fully at His Word. May God keep us holy, set apart from the world, even as we live in it… For His glory and His calling and His purposes, unashamed of the gospel of Christ.
Dear Pastors,
"If the trumpet gives an uncertain sound, who will prepare themselves for battle?" (1 Corinthians 14:8)
"Not many of you should become teachers, my brothers, knowing that such shall incur a stricter judgement" (James 3:1).
"Study to show yourself approved unto God, a workman that needs not be ashamed, rightly dividing the Word of Truth" (2 Timothy 2:15).
"If any man think himself to be a prophet, or spiritual, let him acknowledge that the things that I write unto you are the commandments of the Lord. But if any man be ignorant, let him be ignorant" (1 Corinthians 14:36,37).