All True Pastors are Pro-Life and Pro-Children
All True Pastors are Pro-Life and Pro-Children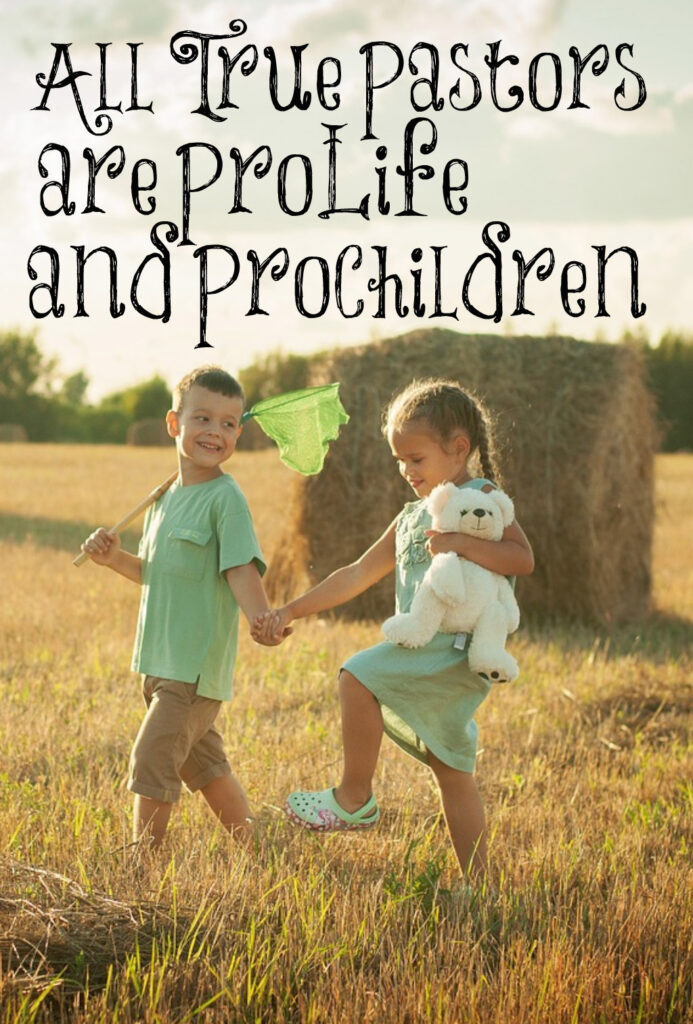 A few days ago, Congress passed a law that stated that babies who were born alive from a botched abortion, couldn't be murdered but must receive care from doctors. Every single Democrat (210) except two (one just voted present) voted against this law. This is how utterly depraved the Democrat party has become. They are the party of death. If you don't go to a church where the pastors and elders solidly stand for life, find a new church. Last week, our great pastor wrote this email to us:
Dear Church Family,
"Behold, children are a gift of the Lord, The fruit of the womb is a reward. Like arrows in the hand of a warrior, So are the children of one's youth. How blessed is the man whose quiver is full of them; They will not be ashamed When they speak with their enemies in the gate." (Psalm 127:3-5)
In our current world, the above passage from Psalm 127 would be foreign and alien to the thoughts of most people. Children are rarely, if ever, referred to as a gift or a reward in our culture. In fact, it is sadly often the case that children are seen as a burden or a hardship. But the Bible says otherwise. In Genesis 1:28, after God created man male and female, He then blessed them and said, "Be fruitful and multiply, and fill the earth." They were to have children and multiply upon the earth and this was to be evidence of the blessing of God.
In Genesis 22:17, God explains His blessing of Abraham in that He would greatly multiply his seed as the stars of heavens and as the sand on the seashore. In Leviticus 26:9, part of God's promise of blessing for Israel's obedience is that He would promised to Israel: "fruitful and multiply you." In Psalm 113:9, we are to praise the LORD because He is the One who "makes the barren woman abide in the house as a joyful mother of children." Over and over again in Scripture, we do see that children are a gift from God and a blessing to rejoice in.
I am also reminded that we must be faithful stewards of these little gifts God has given and seek to be those who bring up our children in the fear and admonition of the Lord (Ephesians 6:4). We must teach our kids about the Lord, diligently talking to our sons and daughters about His character, His ways, and His works (Deuteronomy 6:7-9). This is what our culture needs most. Strong Christian families who are devoted to the Lord, who have quivers full of children who are being raised to know God and make Him known to others.
This is how transformation occurs in a society, faithful families who seek to honor the Lord and walk according to the Spirit and in so doing are bright lights in an increasingly darkening world. As I think about our congregation and the increasing number of young families and growing number of children, I am so grateful to our Lord for His continuing grace to us. What a joy it is to observe young families worshipping together during our Sunday services, to hear the little voices of children singing praises to our God, and to see our youth taking notes and feeding on the Word of God. May God continue to bless our congregation in giving us many more children, and may we prove faithful to raise up the next generation of Christ followers.
Lo, children are an heritage of the Lord: and the fruit of the womb is his reward. As arrows are in the hand of a mighty man; so are children of the youth. Happy is the man that hath his quiver full of them: they shall not be ashamed, but they shall speak with the enemies in the gate.
Psalm 127:3-5