Am I Teaching Men Through Blogging?
Am I Teaching Men Through Blogging?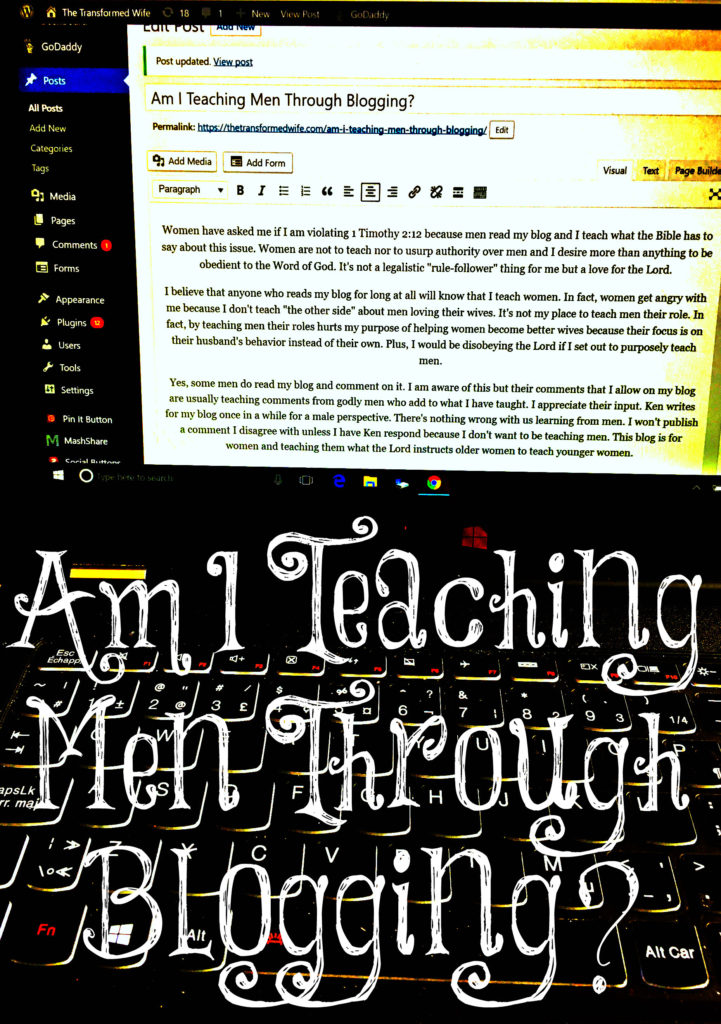 Women have asked me if I am violating 1 Timothy 2:12 because men read my blog and I teach what the Bible has to say about this issue. Women are not to teach nor to usurp authority over men and I desire more than anything to be obedient to the Word of God. It's not a legalistic "rule-follower" thing for me but a love for the Lord.
I believe that anyone who reads my blog for long at all will know that I teach women. In fact, women get angry with me because I don't teach "the other side" about men loving their wives. It's not my place to teach men their role. In fact, by teaching men their roles hurts my purpose of helping women become better wives because their focus is on their husband's behavior instead of their own. Plus, I would be disobeying the Lord if I set out to purposely teach men.
Yes, some men do read my blog and comment on it. I am aware of this but their comments that I allow on my blog are usually teaching comments from godly men who add to what I have taught. I appreciate their input. Ken writes for my blog once in a while for a male perspective. There's nothing wrong with us learning from men. I won't publish a comment I disagree with unless I have Ken respond because I don't want to be teaching men. This blog is for women and teaching them what the Lord instructs older women to teach younger women.
If a man writes me privately for advice, I always forward it to Ken. He has received numerous emails from men wanting marriage advice and has developed some strong friendships with some of these men. I refuse to give men advice about these things since I know it's not my place to do so.
I have stopped teaching the major doctrines of the Word for this reason. It's best to learn these from godly male preachers/teachers, in my opinion. All of the Prophets, Priests, Disciples, and Authors of the Bible were men and all elders and deacons (leaders of the church) are to be men so I am convicted to allow men to teach the main parts of the Word and let the woman learn in silence with all subjection (1 Timothy 2:11). And if they will learn any thing, let them ask their husbands at home: for it is a shame for women to speak in the church (1 Corinthians 14:35).
Women need to be in the Word for themselves, however, by studying, meditating, memorizing, and reading it daily since it is what transforms them. There are great commentaries for further research. I use a highlighter, pen, and notebook as I am studying along with my KJV Bible which I love the most, the 1828 Webster's Dictionary (I have an app on my phone) and biblehub.com for commentaries.
There's nothing that can replace personal study of God's Word and it will shield women from falling for false teachers. I recommend reading a gospel (Matthew through John), then Romans through Revelation, Psalms, and Proverbs over and over again since these are the most relevant for us today. Even if it's only a chapter a day, women, commit to knowing the Word for yourself.
I am in no way a preacher. I have no desire to stand in front of a body of believers comprised of men and women and speak. I just wouldn't be comfortable in doing this. I do love to teach and I love to teach women. I try hard to stay focused upon women's issues and roles and anything to do with the home and health. Of course, I use a lot of Bible to support what I teach but if women are looking for some good Bible teaching, I point them to some great male Bible teachers to learn from.
I realize that this is not a popular position and there are many women teaching the Bible. I am not standing in judgment of them because these are my convictions from studying the Word. If perfect sinless Eve who walked in the garden with God could be deceived and one of the reasons given for women not teaching nor being in authority over men was due to being deceived, I don't want to be responsible for deceiving the women who read my blog when it comes to the deep truths of the Word.
What is ironic is that when I used to teach doctrine, they were my most unpopular posts. It was always my posts on submission, being keepers at home, modesty, etc. that were the most popular. I believe women are hungry to know their God-given roles in life and I love to teach them. Why should I teach the meat of God's Word when there are so many godly men who teach it and so very few older women* teaching younger women what God wants them to know?
That they may teach the young women to be sober, to love their husbands, to love their children, To be discreet, chaste, keepers at home, good, obedient to their own husbands, that the word of God be not blasphemed.
Titus 2:4, 5
*I qualify as an older woman since I am almost 59 years old, have been married for over 36 years, raised four children, and am blessed with five grandchildren! The LORD is good.