Answer Not a Fool According to Her Folly
Answer Not a Fool According to Her Folly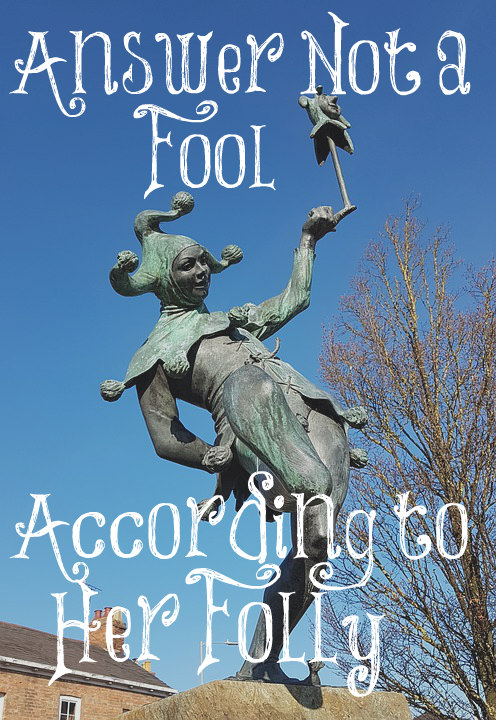 "Her body, Her Choice. Abortion is Valid. A baby didn't ask to be born! She absolutely has a right to do whatever she pleases with HER body. It does not have a right to grow inside a women who didn't ask to be there in the first place! It is an invasion of bodily autonomy!" (Bianca Lenarduzzi)
This was a comment under this post that I wrote on Facebook: "A woman doesn't have a right to do as she pleases to someone who is not her body. Her unborn baby has a separate brain, heart, and everything else. What a crock of lies to fight for abortion saying a woman has a right to do with her body what she wants. A baby is NOT her body!!!"
There is a GREAT deception over this land. Satan is the prince of the power of the air and many are falling for his deceptions. Bianca is greatly deceived. Her comment is foolishness along with hundreds of others under my post. It was so foolish that I didn't even respond to her since the Bible warns us to "Answer not a fool according to his folly" (Proverbs 26:4). What she wrote is folly. Folly: "Weakness of intellect; imbecility of mind; want of understanding; depravity of mind."
Unfortunately, the universities are training their students to be fools. They have rejected God, therefore, they have rejected wisdom. "Because that, when they knew God, they glorified him not as God, neither were thankful; but became vain in their imaginations, and their foolish heart was darkened. Professing themselves to be wise, they became fools" (Romans 1:21,22).
They have no clue what is right. They believe what is right is wrong and what is wrong is right (Isaiah 5:20). They despise God and His ways. All you have to do is look at the thousands of comments under my posts on Facebook to see the foolishness among many today.
When a culture no longer values the life of the unborn, it no longer values life. The only thing that matters to them is what they want to do which is to seek their own pleasures regardless of how it affects others. They will find no peace and their lives will end up being miserable, unless they repent from their unbelief and believe in Jesus Christ. Thankfully, His Word never comes back void, so I will continue to speak truth as long as the Lord allows me to do so. There are many in our culture hungry for truth amidst the lies they are being bombarded with daily. Continue to speak the truth to whomever will listen, women.
The fear of the LORD is the beginning of knowledge: but fools despise wisdom and instruction.
Proverbs 1:7