Are You a Crown to Your Husband?
Are You a Crown to Your Husband?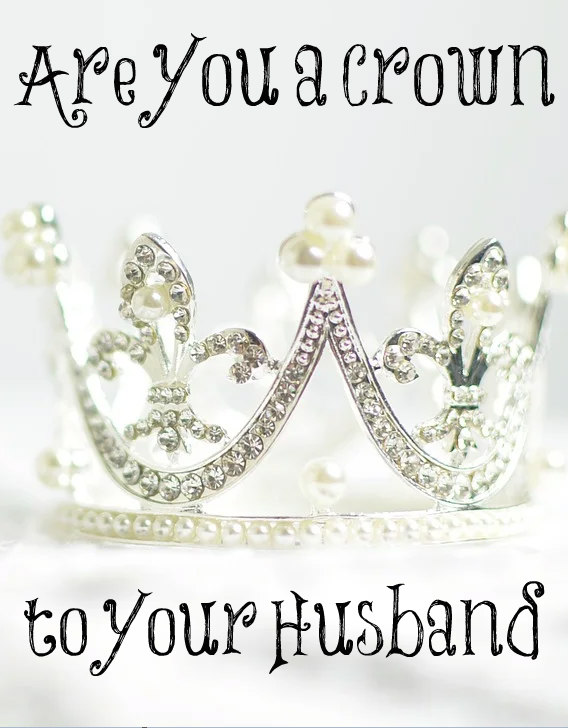 "A virtuous woman is a crown to her husband: but she that maketh ashamed is rottenness is his bones" (Proverbs 12:4).
"A virtuous woman is a crown to her husband,…. One that is loving and chaste, constant and faithful, obsequious [promptly obedient] and submissive to him; that is diligent in the affairs of her house, takes care of her family, brings up her children, and is an honour and credit to her husband.
"…but she that maketh ashamed; makes her husband ashamed, by her levity [unsteady] and wantonness [lack of self-control], her negligence and slothfulness, so that he is ashamed to be seen with her, or to be known that he stands in such a relation to her…
"…she is as rottenness in his bones; a constant grief to his mind, a pressure upon his spirits, a wasting of his body, and a consumption of his estate; she is, as the Targum has it, 'as a worm in wood,' which rots and consumes it." (Gill's Exposition of the Bible)
A virtuous woman is a crown to her husband. She is loving so she lives out God's definition of love found in 1 Corinthians 13:4-8: "Charity suffereth long, and is kind; charity envieth not; charity vaunteth not itself, is not puffed up, Doth not behave itself unseemly, seeketh not her own, is not easily provoked, thinketh no evil; Rejoiceth not in iniquity, but rejoiceth in the truth; Beareth all things, believeth all things, hopeth all things, endureth all things. Charity never faileth."
She is chaste. She is free from all obscenity. She is careful how she speaks, the words she uses, and the things she watches and reads. She is careful to walk in the Spirit and not in the flesh. She is faithful to her husband until death does she part. She knows that it is her privilege to satisfy him sexually and not to deprive him.
She is constant and faithful. He doesn't have to worry what kind of a mood she will be in since she is lead by truth rather than her emotions, feelings, or even her hormones and health. Her mind is stayed upon the Lord and His Word. She loves to glorify Him in all that she does. She is His servant and lives to please Him by serving her husband and learning what pleases him.
When her husband asks something of her, she does it as soon as she can, immediately if possible. She submits to his leadership since she knows this is how God has ordained it to be. She is a willing follower of her husband and wouldn't want it any other way. She doesn't try to manipulate or control her husband since she knows this is wrong. She is content in the role that God has given to her.
She is diligent in the affairs of the house. She loves to work hard in her home and is thankful for it. She loves beauty and understands that a clean and tidy home is beautiful no matter how simple it is. There are times when it gets messy due to small children but this doesn't bother her since she knows her children are more important than having a perfect home. However, she isn't lazy in her home keeping duties. She tries the best that she can to stay on top of them. She looks well to the ways of her household.
Taking care of her family is her first priority above everything else. She makes sure they are well fed with clean clothes before she takes on any other responsibilities. She knows she was created to be her husband's help meet and her children's mother so this is the ministry that she focuses upon. She puts her time, energy, and talents into being the best wife and mother that she can be. She knows that there are eternal rewards in doing this since this is exactly what God has called her to do.
She raises her children in the nurture and the admonition of the Lord. She trains, disciplines, and teaches them. She understands that teaching them the ways of the Lord is the most important thing that she can do for them since the greatest joy in life is to have children who walk in truth. She doesn't neglect this duty since she knows her children's eternal souls are at stake.
This is a virtuous women. Are you are crown to your husband, women? If you don't think it's possible, you are wrong. God tells you that you can do ALL things through Christ who strengthens you. He tells us that His commands aren't burdensome. It's a matter of taking every thought captive to the obedience of Christ and continually renewing your minds with truth.
Who can find a virtuous woman? for her price is far above rubies. The heart of her husband doth safely trust in her, so that he shall have no need of spoil. She will do him good and not evil all the days of her life.
Proverbs 31:10-12