Are Submissive Wives Second Class Citizens?
Are Submissive Wives Second Class Citizens?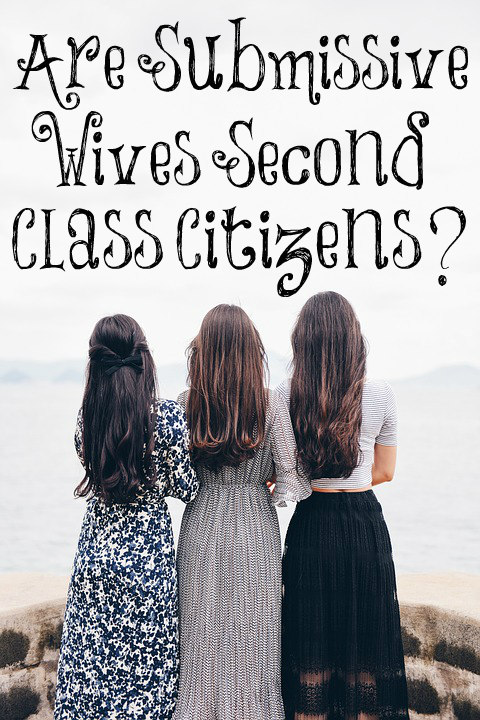 "It really makes me sad that the Bible says that women should obey their husbands. It's like we're second class citizens. It makes me feel like I wish I was never born. My husband is a good guy and I usually willingly obey him but what if he didn't want me to to something that I feel is the right thing to do?" This was a comment I just received on one of my posts written long ago. Unfortunately, it's not an uncommon sentiment from women when taught on the subject of submission.
Are women second class citizens since we are commanded to submit to our husbands? Are children second class citizens to parents to whom they are to submit? Are citizens second class citizens to the government to whom they are to submit? Are employers second class citizens to their bosses to whom they are to obey? Why is it only in the area of marriage that women think they are second class citizens? They've been deceived by the great deceiver, the father of lies. They don't believe God's will is best for them just as Eve didn't. They believe their way is better than God's way or their husband's way. "Hath God said…?" asked the serpent and most women in unison answer, "NO! God must be wrong! Women aren't second class citizens and must not submit!"
Therefore, they rebel against their husbands even if they are married to good men. They discount submission for the "what if…" just as this woman did. Oh, he might ask her to not do something that she "feels" is right. Do you notice the word "feel"? It's not based upon the Word of God but upon her feelings and "he might…" She and many women will use any reason or arguments as to why they shouldn't submit to their husbands.
Women, do you know that God's chain of authority is for our good? Yes, women are generally more gullible than men. Recently, my husband and I were out front with a few couples from the neighborhood chatting in the street together. Ken brought up that I had been deceived into thinking my brand new iPhone was "free" by the salesman. Then my daughter saw that we were being charged $25 more a month until the $650 phone was paid off! One of the wives said that she would have easily been deceived in this way, too, but said her husband never would have. My husband would not be either, but he was out of town when my phone broke so I needed a new phone and the guy assured me that my monthly costs wouldn't go up. I am wondering if the Apple symbol of the bite into an apple is a reminder to their salesmen that women are more easily deceived…
Men are for our protection, women, in more than one way. God created them to be our protectors as they are not usually as easily deceived as we are. Women were created to be soft, trusting, and nurturing in order to be home and raise children. Women coming out from under the authority of men has caused chaos!
I cringe every time I see women as policemen, firefighters, or in the military. They are dressed as men and act masculine but they aren't men! They have been deceived into thinking that they can do a man's job as good as men can but they can't. Men are the ones who are to be in the protective roles in culture. This doesn't make us second class citizens. It makes us women who should be thankful for their protection.
Instead of trying to figure out all of the ways we can get out of submitting to our husbands, let's begin submitting to them in obedience to the Lord. Let's allow them to lead us and our families in the way they want to lead even if we don't "feel" they are leading in the right way. We may be wrong, you know!
Even as Sara obeyed Abraham, calling him lord: whose daughters ye are, as long as ye do well, and are not afraid with any amazement.
1 Peter 3:6