Rack Up Debt, Sleep Around, and Get Tattoos
Rack Up Debt, Sleep Around, and Get Tattoos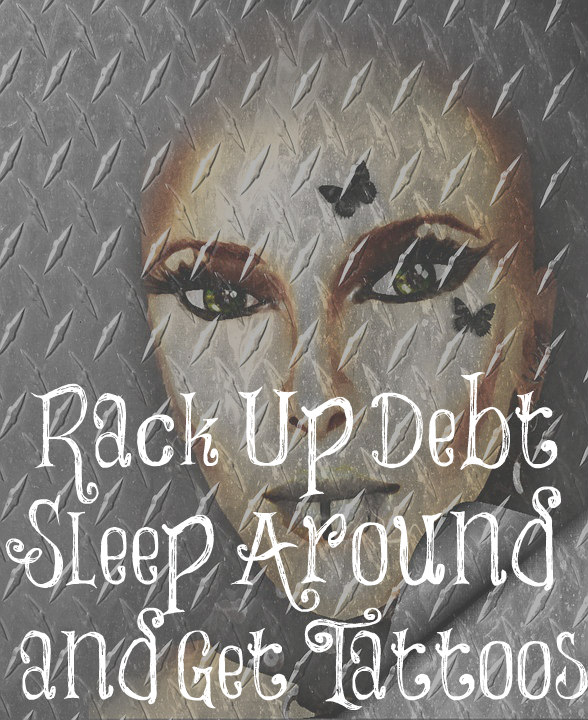 When my post Men Prefer Debt-Free Virgins Without Tattoos went viral, I didn't read many of the articles being written by Christians against me. There were too many and I just didn't want to know what they thought. Soon after I published the post, one of my godly friends shared one of these articles with me and made the comment, "It seems like she didn't even read your post!"
Throughout the months since that post, I will still get link backs on my blog from articles written against it. Once in a while, I will skim some of them. From what I gather, they would have rather me written a post telling young women that those who have racked up debt, slept around, and had tattoos can be completely forgiven by Jesus Christ and washed clean. "Where was the Gospel in that post?" they cried.
My post wasn't about the Gospel. Every post I write isn't about the Gospel. I am to teach younger women biblical womanhood, therefore, I was teaching younger women to think carefully before going to college and the debt they will incur, don't have sex before marriage, and don't get tattoos. Someone needs to be warning women about these things that are so prevalent in our culture.
"How do you know men prefer these things? Are there any studies that prove this?" I didn't need studies to write that post. I only used a bit of common sense to figure out that most men would likely prefer debt-free virgins without tattoos. I don't think many guys want to marry a woman with a ton of debt who has slept around with different guys and has tattoos all over. How difficult is this to figure out? After all of the hullabaloo over the post calmed down, I researched these things and found out that indeed, the majority of men do prefer to marry women as I described, as if this should be a shocking revelation.
Was it my goal to make women feel guilty who had a lot of debt, slept around, and had tattoos? No, but if I am going to teach truth, I will automatically offend some. Am I not supposed to teach women to be keepers at home because it will offend those women who are career women? Am I not supposed to teach women to be chaste because some women have slept around? Am I not supposed to teach women to be submissive to their husbands even though many women don't want to hear this? The answer to all of these questions is NO. How will the young women who don't have debt, haven't slept around, and haven't gotten tattoos know to not do these things if they aren't taught? This is why God commands older women to teach the younger women biblical womanhood. They need to know!
"Well, why did you have to use the 'Men Prefer…'? Back in my day and age when I was a younger women, most women cared about what men preferred. They wanted to get married and have children. They wanted to be attractive to good men who wanted to marry but maybe women aren't this way anymore. Plus, men have been so demonized in our culture that they aren't allowed to have preferences it seems. But no matter how much women don't want men to have preferences, men still will, just as women have preferences.
"God doesn't care about women being debt-free, virgins, without tattoos," some wrote. He doesn't? Where does it say this in the Bible? He's very clear that we are to FLEE fornication (all sex outside of the marriage bed – 1 Corinthians 6:18) and "Flee also youthful lusts: but follow righteousness, faith, charity, peace, with them that call on the Lord out of a pure heart" (2 Timothy 2:22). This is what God has to say about debt: "Owe no man any thing, but to love one another" (Romans 13:8) and that a debtor is a slave to its lender (Proverbs 22:7). Tattoos? I wrote an article about it called "Are Tattoos Sinful?" Just because "everyone" is doing something, doesn't mean that it's right or good.
God does absolutely forgive women who have slept around if they repent and believe in Jesus Christ. He forgives ALL sin when we call upon His name. But this doesn't mean I should not warn young women to live godly and righteous lives. God wants this of them since His ways are perfect. He's our Creator and knows what's best for us. It's best to live with as little regrets as possible and this is why we are warned to flee youthful lusts. There's a good reason for ALL of God's commands.
For this is the love of God, that we keep his commandments: and his commandments are not grievous.
1 John 5:3