Basing Beliefs Upon Experiences Instead of Truth
Basing Beliefs Upon Experiences Instead of Truth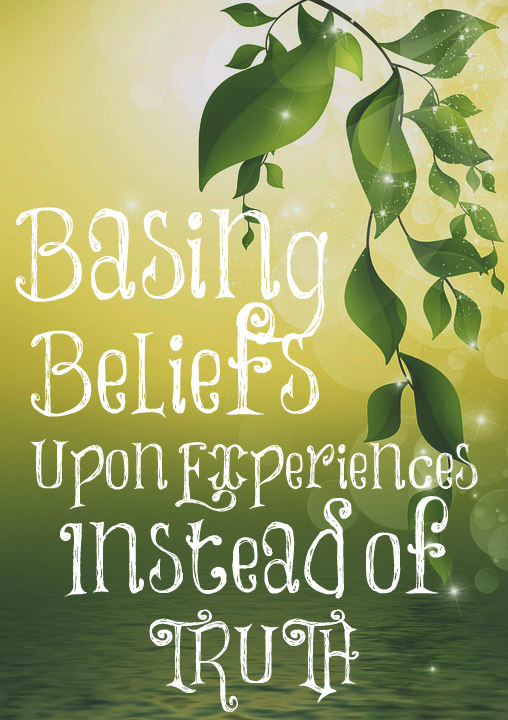 One reason given for women not teaching or having authority over men in the churches was that Eve was deceived (1 Timothy 2:14). I have been mentoring women for over 15 years. I have been writing for a blog for almost eight years. A troubling trend that I see among many women is that they tend to base their beliefs upon their experiences, emotions, and feelings instead of what is true. For instance, these are a few themes that women have commented to me on my blog or Facebook page.
"My husband physically abused me, therefore, women should not submit to their husbands and winning a husband without a word by godly behavior doesn't work because it didn't work for me."
"My children turned out great and I worked outside of the home full time."
"I was sexually assaulted in my past, therefore, all women who say they have been assaulted should be believed."
"So-and-so (a famous woman preacher) brings many to the Lord so women should be able to preach."
"This popular female blogger makes me feel so good about myself so she must be okay to learn from."
All of these things I have heard over and over again to dispute what I write and what is truth. Many peoople wholeheartedly believe these statements to be true, regardless of whether they are or not.
If a husband physically abuses his wife, he is either a very troubled man or an evil man. Not one woman that I have mentored who has been physically abused by her husband has told me that their husband is evil. They all say their husband is very troubled and needs help. I encourage them to call the authorities if they are being physically abused and even separate for a time until he gets help. BUT this doesn't make void God's commands for wives to submit to their husband's leadership and that women who are married to disobedient husbands are to win their husbands without the word by their godly behavior (1 Peter 3:1). God's ways are "good, and acceptable, and perfect" (Romans 12:2) so we must trust and obey Him! There are TWELVE verses that clearly states a wife's position under her husband. There's no guessing game here.
Yes, some women can work outside of the home and their children turn out great but this doesn't negate God's command for younger women to be keepers at home. It doesn't negate the studies that prove that children are more emotionally stable and secure who are raised full time by their mothers. It only takes common sense to understand that children need and want their mothers! Yes, it's a sacrifice that mothers make to stay home but it is well worth the time, energy, and sacrifice, since there is NO greater joy than to have your children walk in truth (3 John 1:4). Satan's goal is to kill, steal, and destroy. He loves to steal children away from the Lord. This is why mothers need to be home with their children full time to not only raise them up in the nurture and the admonition of the Lord but to protect them from the schemes of the evil one and from the wicked culture that we live in. "I will therefore that the younger women marry, bear children, guide the house, give none occasion to the adversary to speak reproachfully" (1 Timothy 5:14).
Some women have and will always be sexually assaulted by men. Some have even been sexually molested by their own fathers and it's tragic. BUT this doesn't mean that every single woman that claims sexual assault is being truthful. The facts must be studied and proven whether they are true or not. Yes, some women lie for their own gain. Yes, all women aren't truthful. In order to believe that women never lie, one must believe that women are sinless which they are not. "Judge not according to the appearance, but judge righteous judgment" (John 7:24).
Just because there are women preachers who seem to be very successful doesn't make what they are doing right. In fact, it's not right. It's against God's clear command that women are not to teach nor be in authority over men. They are to be silent in the churches and if they have a question, they are to ask their husbands at home. No, there were NO women preachers in the Bible since it's against God's will for them. Live your lives by truth instead of what you may think is right. "But I suffer not a woman to teach, nor to usurp authority over the man, but to be in silence" (1 Timothy 2:12).
There are many false teachers out there. Many of the "Christian" young female bloggers twist the word of God to make women "feel" good about themselves. The only truth that should make women feel good about themselves is understanding who they are in Christ, what He has done for them, all of their sins have been forgiven if they believe, and they will live eternally with Him. Our lives are to be lived as living sacrifices (Romans 12:1). There's nothing in the word about "me time" and spending time on our pleasures. No, it's about living a life that glorifies the Lord in all that we do. We are to also call out sin when it's clearly against the word of God, not try to make others comfortable in their sin since sin is destructive, and living in obedience to God is what we are called to do. "Beloved, believe not every spirit, but try the spirits whether they are of God: because many false prophets are gone out into the world"(1 John 4:1).
Don't live your life by your experiences, what's popular, what makes you feel good, or your emotions, dear women. Be in the word of God daily and renew your minds with truth. Ask the Lord for wisdom and He will freely give it to you. No longer be conformed to this world but be transformed by truth!
And be not conformed to this world: but be ye transformed by the renewing of your mind, that ye may prove what is that good, and acceptable, and perfect, will of God.
Romans 12:2