Being a Keeper at Home is Unproductive and Barbarous?
Being a Keeper at Home is Unproductive and Barbarous?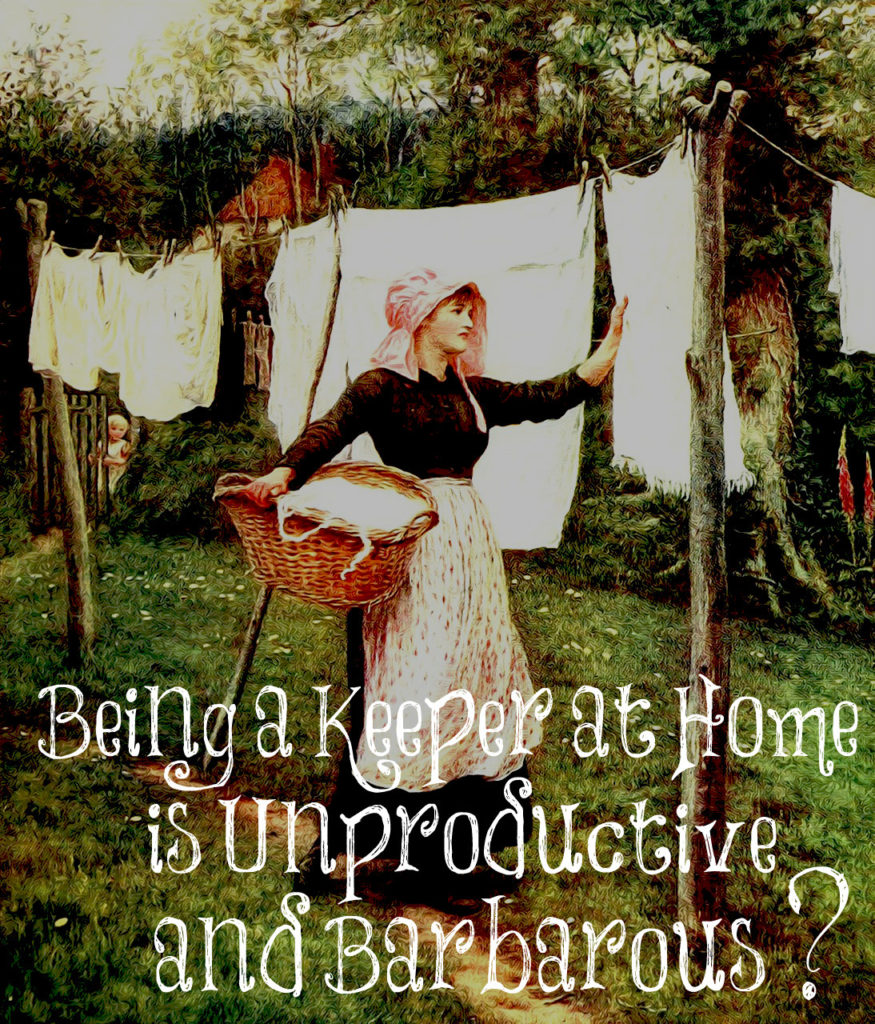 Do you know who proclaimed these words, that being a keeper at home is unproductive and barbarous? Vladimir Lenin, the founder of the Russian Communist Party, leader of the Bolshevik Revolution and architect and first head of the Soviet state, whereas God, the Creator of women, instructs them to be keepers at home. Once a people decide to do away with God and His Word, chaos and evil reigns as it does in communist countries and our country. You can argue with God's plan for women all you want but God's ways are always perfect for us for all time.
Here are two statements that Vladimir Lenin had to say about this topic.
"We must now say proudly and without any exaggeration that apart from Soviet Russia, there is not a country in the world where women enjoy full equality and where women are not placed in the humiliating position felt particularly in day-to-day family life.  This is one of our first and most important tasks…Housework is the most unproductive, the most barbarous and the most arduous work a woman can do. It is exceptionally petty and does not include anything that would in any way promote the development of the woman…The building of socialism will begin only when we have achieved the complete equality of women and when we undertake the new work together with women who have been emancipated from that petty stultifying, unproductive work…We are setting up model institutions, dining-rooms and nurseries, that will emancipate women from housework…These institutions that liberate women from their position as household slaves are springing up where it is in any way possible…Our task is to make politics available to every working woman." 1
Do you understand what this means, women? All of you who are fighting for "equality" and "equal pay" and the right to vote and leadership positions for women in politics and government are fighting against God and destroying countries. Nothing good has happened since women left their homes and their children in the hands of strangers at preschools and public schools for these to teach and raise. God wants women at home full time raising their children in the nurture and the admonition of the Lord, not strangers, and certainly not a godless government.
God designed women for a very important reason and purpose: to bear and raise the next generation. Do you understand that nothing you can do can compare to this if you have been blessed with children? All children need and want their mothers home full time making their homes places of beauty, security, and peace.
"The chief thing is to get women to take part in socially productive labor, to liberate them from 'domestic slavery,' to free them from their stupefying [idiotic] and humiliating subjugation to the eternal drudgery of the kitchen and the nursery. This struggle will be a long one, and it demands a radical reconstruction, both of social technique and of morale. But it will end in the complete triumph of Communism." 2
This is scary stuff and it's happening in our country right now and most of us have fallen for these lies. Rebel against the thought that being a homemaker is "domestic slavery" and find and show joy in doing the mundane but significant in God's eyes. The majority of women today, even Christian women, don't feel worthwhile if they aren't making money but God has never given the job of making money to women. There isn't one verse in the entire Bible that commands women to be the providers. He gave this to men:
 And unto Adam he said, Because thou hast hearkened unto the voice of thy wife, and hast eaten of the tree, of which I commanded thee, saying, Thou shalt not eat of it: cursed is the ground for thy sake; in sorrow shalt thou eat of it all the days of thy life; Thorns also and thistles shall it bring forth to thee; and thou shalt eat the herb of the field; In the sweat of thy face shalt thou eat bread, till thou return unto the ground; for out of it wast thou taken: for dust thou art, and unto dust shalt thou return (Genesis 3:17-19).
What is the women's job God has given them?
Unto the woman he said, I will greatly multiply thy sorrow and thy conception; in sorrow thou shalt bring forth children; and thy desire shall be to thy husband, and he shall rule over thee (Genesis 3:16). Her important job is to have children, raise them, and live in subjection to her husband as a keeper at home and looking well to the ways of her household.
These roles are perfect, women. These roles raise up godly offspring if done joyfully to the Lord. Love your role at home. Enjoying making your home a welcoming place of beauty and peace for all who live there. Stick close to the Lord's ways for you and be an example to a wicked culture. It wasn't God or even feminism who was behind the mass exodus of women from the home. It was the enemy of their soul. Nothing is new under the sun. The same Devil who persuaded Eve to rebel against God has never let up trying to persuade women from their God ordained roles. No one can replace you in your home.
Therefore, my beloved brethren, be ye stedfast, unmoveable, always abounding in the work of the Lord, forasmuch as ye know that your labour is not in vain in the Lord.
1 Corinthians 15:58
1. Lenin's Collected Works, 4th English Edition, Progress Publishers, Moscow, 1965, Volume 30, p. 4
2. Vladimir, Lenin. "International Working Women's Day speech", 1920