The Myth of Needing Two Incomes
The Myth of Needing Two Incomes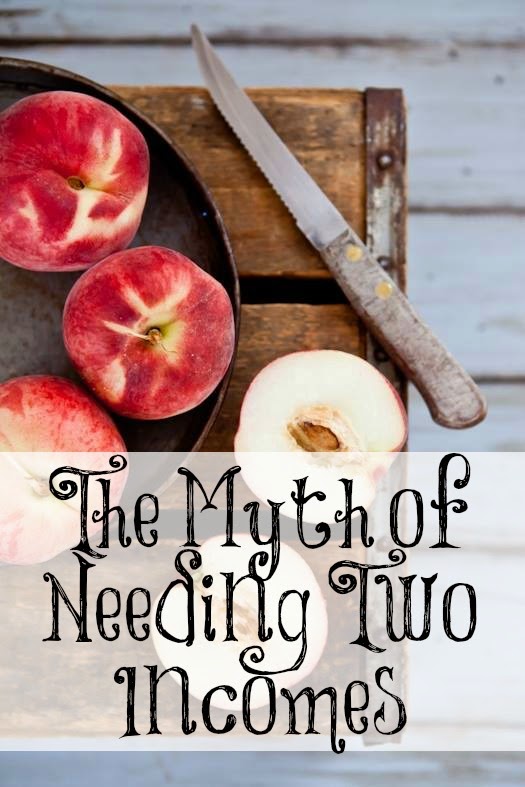 Happy Mama commented on one of my recent posts.  I thought it was so beautifully written that I would make it into a post.  I will let her words minister to you ~
Just commenting on some of the comments…It is sad to me that some people think that having two incomes is a necessity. You may need two incomes to keep up your current lifestyle, but you don't need two incomes. You just have to learn to live within your means, which may mean getting rid of a second car, living in an apartment not a house, learning to cook simple meals, buying second hand-only things that are really needed.
My husband is disabled and we live on his disability income. It is extremely financially tight, but I would never leave my role as a homemaker for more money. I have found ways to help us earn a few extra dollars (selling things online) that has blessed my family without leaving my role as homemaker. (The Proverbs 31 woman made money through her extra work at her home.) I completely accept we will always live in an apartment; we will always live humbly. But nothing is more important than caring for my home and family.
A simple humble life with my loved ones is better than any big paycheck. People are what make life great, not things. As long as your husband has an income, however small, you can live off it. Nothing is more precious to me than raising my children and caring for my family.
After reading Money Saving Secrets of the Amish,  I was really inspired by even the things I think of as necessities. The Amish were asked if they could spend extra money on some luxuries what they would buy. One of the Amish mentioned a salad dressing they really liked, but was only a special treat. One of the ladies mentioned Ritz crackers. Even many food items aren't necessities (I have always thought all food counts as necessities), but really if you look at how people who live the most humble eat ~ much of even the food bought and sold in America are luxuries. I was greatly encouraged to think more simply after reading this wonderful book, and it really made me think about what are true needs vs. wants, even with regards to food. Just wanted to share that too.
We need to get back to being unmaterialistic and living simply so we have time to enjoy the things in life that really make us rich!
She rises also while it is yet night, and gives food to her household.
Proverbs 31:15