Is God Raising Up Women to Preach?
Is God Raising Up Women to Preach?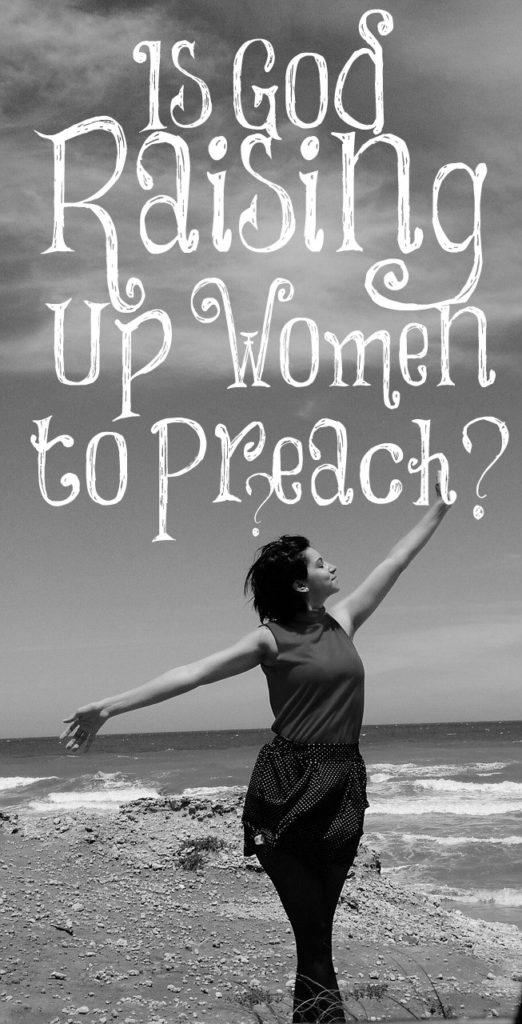 "Could it be that the state of American Christianity is that men have been neglecting their God-given responsibility for generations and now there are not many truly worthy men of God available so the Lord Almighty is raising up women who are seeking after His own heart just like He did in the days of Deborah?..I know without a doubt that there is now no longer male nor female, Jew nor Greek, because we all have full access to the Almighty God because not everyone is willing to enter through the narrow gate of Christ and living out his humility, love and sacrifice…Written scripture is a gift and very valuable tool to point to Christ, but it is simply that. We can't have a relationship with a thing although many people in church are dedicated solely to the pursuit of knowledge…However, the bible is truly not necessary as evidenced by the growth of the Body of Christ in parts of the world where bibles are either illegal or simply not available…One of the greatest three word sermons was given to and delivered by a woman. 'He is risen'. That's in the bible too."
This was a comment I received from a woman. I have heard all these arguments why women should be able to preach and teach the Word of God and why the words written my Paul are no longer applicable for today. There's nothing new under the sun!
Are men "neglecting their God-given responsibility" so God has to raise women up? No, I know of many good and godly men who are preaching and teaching the Word of God. Even if there weren't, this is not an excuse for women to disobey the clear commands of the Word.
What about Deborah? She was a judge over Israel who lived during Old Testament times. The Church wasn't even formed then since Christ had not been crucified and risen. The Church age began after this and the Apostle Paul and other writers of the New Testament explained to us how the Church is to function. They were clear that women are not to teach nor usurp authority over men and be silent in the church. They wrote that the elders and deacons are to be "the husband of one wife." They couldn't have been any clearer and they spoke by the inspiration of the Holy Spirit.
She is correct that there is no longer male or female when it comes to Christ's finished work on the cross. What this means is that all who believe, no matter what sex, race, or nationality, will be saved from eternal damnation. It doesn't diminish the roles that are clearly defined in the Word and for the Church, however. We still have different roles and they are good.
Then she discounts the authority of the Scriptures by calling it a "thing" and has decided to make up her own bible. God told us that His Word (the Bible) is living and active and sharper than a two-edged sword (Hebrews 4:12)! It is the same today as it was when it was written. Reading and studying the Word isn't only solely a pursuit of knowledge as she claimed, but a pursuit of wisdom as well. Then she further tries to discount it by saying that since some in the world don't have access to it, it must not be that necessary. Then why are so many trying to smuggle Bibles into these countries that have forbidden the Bible? Because they know that the Bible is God's unchanging Word and life-changing.
Finally, Mary Magdalene and the other Mary did not preach a sermon to the disciples, as many claim today. They were told by the angel to go and tell the disciples that Christ had risen. When we see something amazing and go tell other people about it, we are not preaching. We are sharing what we have seen. Many women use this as a justification that women should be able to preach. I have heard Joyce Meyer use this one! Women can share what they have seen but they are not allowed to stand in front of a church service and preach nor have authority over men.
 Let the woman learn in silence with all subjection. But I suffer not a woman to teach, nor to usurp authority over the man, but to be in silence. For Adam was first formed, then Eve. And Adam was not deceived, but the woman being deceived was in the transgression.
1 Timothy 2:11-14