Biblical Womanhood is Sound Doctrine!
Biblical Womanhood is Sound Doctrine!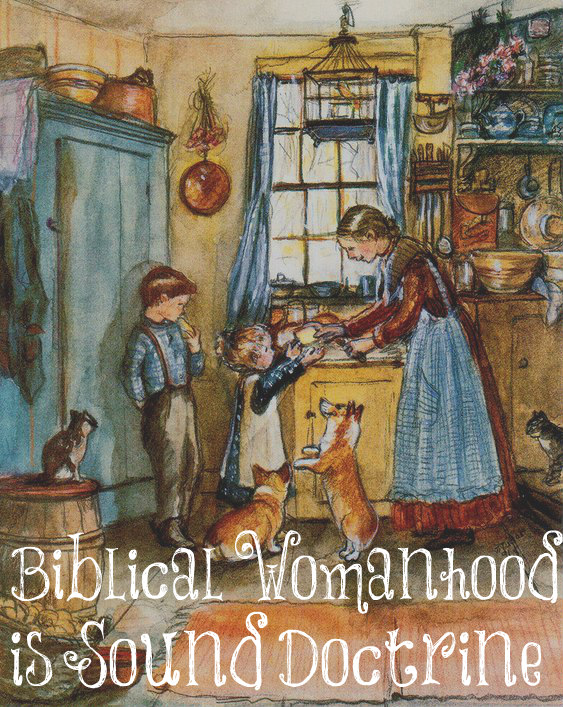 Many are continually angry with me when I teach women to be keepers at home and be obedient to their husbands, dress modestly and be virgins until marriage but guess what, this is all sound doctrine! "But speak thou the things which become sound doctrine…The aged women …teach the young women to be sober, to love their husbands, to love their children, to be discreet, chaste, keepers at home, good, obedient to their own husbands, that the word of God be not blasphemed" (Titus 2:1,3-5).
If you have a problem with any of these things, I encourage you to examine yourself to see if you are in the faith (2 Corinthians 13:5). If you are in the faith and love the Lord your God, you will want to obey what He commands because you know that His ways are perfect. This means that you will never drink alcohol if it causes you to not be sober. You will love your husband and children as yourself. You will be discreet and not do anything to draw undue attention to yourself. You will be chaste in your actions by fleeing fornication and all hints of it. You will be a keeper at home and raise your own children. You will learn what God requires of you and by His grace, you will obey Him. You will be obedient to your husband as you are unto God. You will do all of this because you would never want to do anything that blasphemes the word of God.
All of this is the doctrine that God has commanded that I teach young women so they don't blaspheme the word of God. Yet, many women have trouble with this. They give me all of their exceptions and "What ifs…?" They want me to change God's doctrine into my own doctrine. I don't want to do this. I want as many women as possible who love the Lord Jesus Christ to obey God's commands since I know they are best.
Does He want ALL women to be keepers at home? I think so. He doesn't make exceptions in His Word so I won't either. He knows this is the best place for them. He knows they are safest at home. He knows it's best for their children and marriages to be at home. Who are we to argue with Almighty God?
Does He want ALL women to be obedient to their husbands? Yes, even those whose husbands are disobedient to the Word. His instructions to them are in 1 Peter 3:1-6. Of course, His commands are above any husband's commands so a wife must obey God rather than her husband IF he asks her to do something wicked like abort her baby. But women need to be much more focused on being submissive to their husbands in everything rather than trying to figure out ways they can disobey this command from God.
In closing, I will continue to teach what God commands that I teach without watering it down to make exceptions. All of you are going to have to make the decision to obey God or not. You are going to have to prayerfully consider if you are a rare exception. Just remind yourself that God didn't give these commands to make you miserable, but because He's your Creator and knows what is best for you.
But speak thou the things which become sound doctrine.
Titus 2:1
*Picture by Tasha Tudor