Birth Control is an Implicit Attack on the Beauty of Life Itself
Birth Control is an Implicit Attack on the Beauty of Life Itself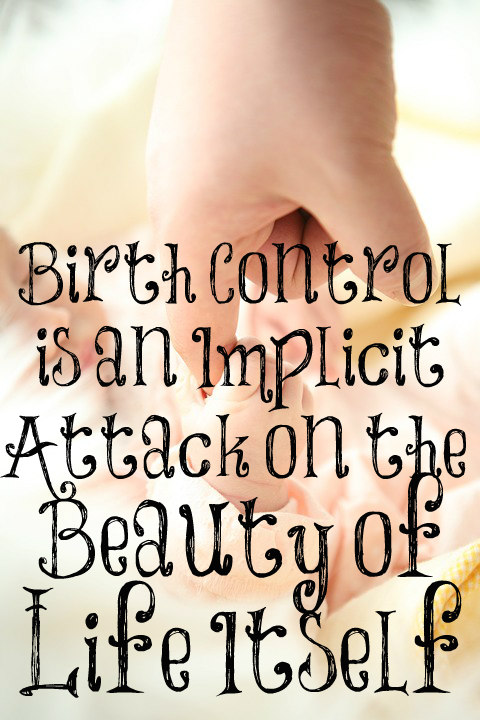 "The issue of birth control cuts to the core of the diabolical disorientation of the family in the Western world. When your daughter, sister, wife, or girlfriend swallows that pill, not only does she ingest all the artificial hormones that increasingly are linked to breast cancer and strokes later in life, she ingests our society's judgment of her worth…
"Birth control is inherently harmful in that it disrupts something that is good and performing according to its nature: fertility in women…But, fundamentally, the pill cancels the primary, unique, and healthy function of the female body. By taking what is objectively good and terminating it, even temporarily, the pill is injurious and ultimately unjust by its very nature.
"For women, for whom fertility is the harbinger of their greatest power (child formation), a cancellation of fertility attacks their very essences and being. In essence, it changes a woman…Birth control is an implicit attack on the beauty of life itself" ("Stop Putting Your Daughters on Birth Control" by Karolina Provokatsiya).
My mother never offered us birth control in high school. She taught us to save ourselves for our future husbands, so we did. We knew our virginity and future ability to have children within the bonds of marriage were something to treasure. We didn't give our daughters birth control but told them to save themselves and taught them the value of being virtuous, so they waited until marriage.
Too many parents aren't teaching their children, so their children wander aimlessly through their teenage years going along with the flow and having many scars to show for it. Many women have told me that their parents never told them anything about waiting for marriage or being virtuous.
For all who want to tell me that they HAVE to take birth control pills, I want to tell you that, no, you don't. The side effects are numerous and all the pill does is mask the symptoms. Go to a Naturopath and get to the root of your problems. Begin cleaning up your diet and eating whole, nourishing foods the way God created them to be eaten. Cut out sugar, junky oils, processed foods, and all of the other things that are health and gut destroying.
The pill can cause young women to be infertile. It can cause them to abort embryos (newly created human beings). It causes many other things and are toxic to the human body. It has led to the slaughtering of millions of unborn babies, because it has made babies disposable, unwanted, and inconveniences.
Stay pure until marriage and then welcome babies into your lives. Yes, they take a lot of time, energy, and patience but the rewards far outweigh the negatives. Never take your fertility for granted, young women. Those women who are infertile can tell you the pain and grief it causes to not be able to bear their own children.
Protect your fertility from a young age by not using any type of birth control, not having sex before marriage, eating healthy (get rid of plastics and anything that is hormone disrupting), and taking care of yourself. You do what is in your ability to do while living in obedience to the Lord, then rest in His providence for your life.
Thy wife shall be as a fruitful vine by the sides of thine house: thy children like olive plants round about thy table.
Psalm 128:3