The Bachelorette and the Purity Movement
The Bachelorette and the Purity Movement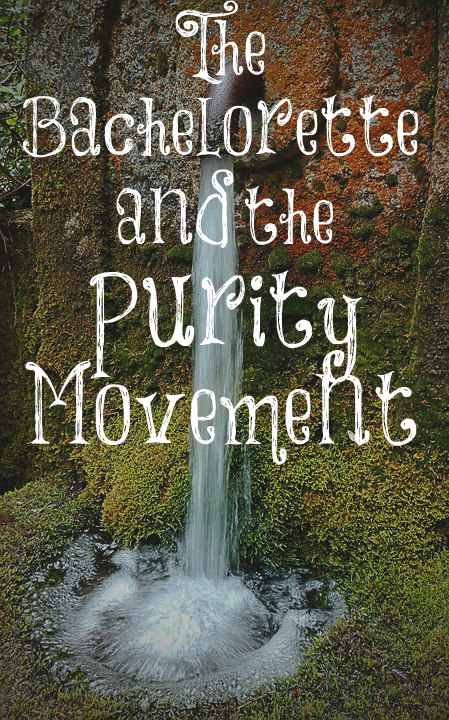 The Bachelorette, Hannah, and the Purity Movement, Josh Harris, have made big news recently. Here are a few great quotes about both of these that I have found recently and wanted to share with you.
"What do you expect when so many Christian churches have been preaching nothing but tolerance and love for so long, demanding nothing and offering false absolution in exchange for a few bucks in the plate? You can't understand Christ if you don't understand sin. Too many 'Christian-Lite' churches preach that sin doesn't even really exist, which is the same as preaching that God doesn't really exist, and the Christ's atoning sacrifice was pointless.
"Christ Himself demanded of one such woman that He forgave to 'sin no more.' What makes Hannah or anyone think that they can be saved in their sins after reading His words? The false teachings of false prophets. This priestcraft, as much as anything on the Left, has contributed to the erosion of our moral foundation. Shame on her pastors, preachers, and parents" (Written by an anonymous person).
"Many Christians (homeschoolers, in particular) are familiar with the Harris family — Josh's mother and father, Gregg and Sono Harris, were pioneers in the Christian homeschooling movement of the '80s and '90s and Josh's book advocating the view that dating should be avoided in favor of a courtship model sold more than a million copies . . .
"Many of us were understandably shocked and disappointed by Harris' apostasy (the Greek word means simply a defection or revolt). An individual whom many of us admired and learned from has chosen to forsake Christ and embrace the world — he's denounced the faith of his childhood, one that he has embraced very publicly over the last two decades. . . .
"Besides being a warning about dangers of Evangelicalism Inc.'s celebrity culture, these incidents also serve as a warning about how Satan prowls about like a roaring lion 'seeking whom he may devour.' Make no mistake: The prince of this world revels over each and every one of these stories" (Paula Bolyard).
"I had not heard the term 'purity culture' until the last couple of weeks but I'm already of sick of hearing about it. It is just a boogeyman term and a proxy term useful for attacking Christian ideas of sexual purity. The biggest complaints seem to be around the idea that there is shame associated with fornication, lust, and other sexual sins. But that shame is good. People attacking it are really just interested in moving the shame from these sins to those who are against them. It wasn't purity culture that caused people harm, it was their sin." (Joseph Spurgeon)
Nathan's response to Joseph's comment: "Good word. It's amazing how people can take something like purity and turn it into a bad word. Puritan, puritanical, purity culture. The world hates purity. If people have a problem with legalism, call out legalism, not purity!"
This know also, that in the last days perilous times shall come. For men shall be lovers of their own selves, covetous, boasters, proud, blasphemers, disobedient to parents, unthankful, unholy, without natural affection, truce-breakers, false accusers, incontinent, fierce despiser of those that are good.
2 Timothy 3:1-3