But Women Don't Want to Be Silent!
But Women Don't Want to Be Silent!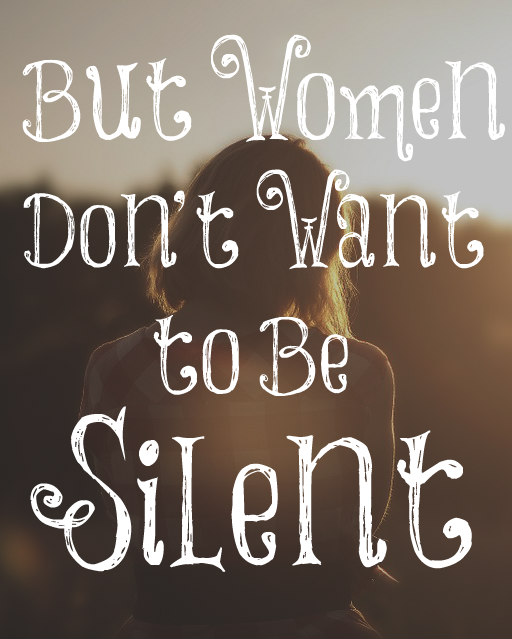 One brave woman on Facebook is continually speaking truth on her newsfeed. One day she wrote:
WHO HAS A PROBLEM WITH THIS SCRIPTURE?
1 Corinthians 14:34-35 ~ 34 – Let your women keep silence in the churches: for it is not permitted unto them to speak; but they are commanded to be under obedience as also saith the law. And if they will learn any thing, let them ask their husbands at home: for it is a shame for women to speak in the church.
Of course, more than a few feminists had a big problem with these verses.
"A scripture taken out of context too often! It does NOT mean that women are not to preach, there are many WOMEN who HAVE been called to preach!!!!"
This women was then provided with multiple verses showing her error in thinking but finally she responded without using any Scripture in any of her arguments this way: "Hmmm, looks like you women on here are the ones who should remain silent!!!! Look who started this post in the first place! Maybe you should study where it says to not touch the anointed or since you love to take scripture out of context, throw the judging scripture at me while you're at it! You started this to start a debate!" Whatever that means. If they can't back up what they believe, they shoot the messenger, as I am well aware of, since it happens to me often.
Then a wise woman named Amanda wrote the following and nailed it:
Let's look at the qualifications of a pastor (bishop) as laid out in 1 Timothy 3…
This is a true saying, If a MAN desire the office of a bishop, HE desireth a good work.
A bishop then must be blameless, the HUSBAND OF ONE WIFE, vigilant, sober, of good behaviour, given to hospitality, apt to teach;
Not given to wine, no striker, not greedy of filthy lucre; but patient, not a brawler, not covetous;
One that ruleth well HIS own house, having HIS children in subjection with all gravity;
(For if a MAN know not how to RULE HIS OWN HOUSE, how shall HE take care of the church of God?)
Not a novice, lest being lifted up with pride HE fall into the condemnation of the devil.
‭‭1 Timothy‬ ‭3:1-6‬ (emphasis added).
Doesn't seem a woman can fulfill all those requirements, can she?
Just because our lukewarm society has decided it's okay to give women a "license" to preach (which, by the way, we don't see in Scripture anyway), that doesn't mean it's okay by God's standards.
Women saying they should be able to preach/lead over men reminds me of JEZEBEL, which calleth HERSELF a prophetess!
Notwithstanding I have a few things against thee, because thou sufferest that woman Jezebel, which calleth herself a prophetess, **to teach** and to seduce my servants to commit fornication, and to eat things sacrificed unto idols.
‭‭Revelation‬ ‭2:20‬