Career Grandmothers Make Young Mothers' Lives Harder
Career Grandmothers Make Young Mothers' Lives Harder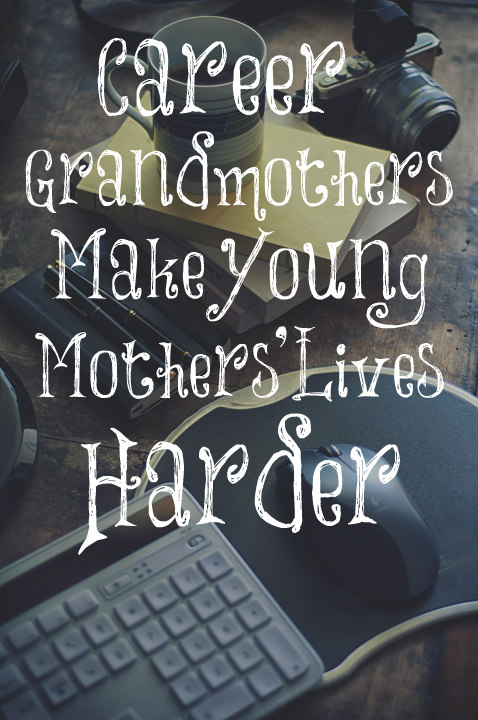 You are probably asking, "How in the world do career grandmothers make young mothers' lives harder?" I will tell you. Many people will encourage older women that after their children are grown, they are free to do as they please. They can finally do something for themselves! They can go back to college, pursue careers, travel, or do whatever they want but is this God's will for them?
In 1 Timothy 5:10, we are told what older widows (those over 60 years old) should be known for these things: "Well reported of for good works; if she have brought up children, if she have lodged strangers, if she have washed the saints' feet, if she have relieved the afflicted, if she have diligently followed every good work" (1 Timothy 5:10). I don't see a career mentioned in this verse.
Then we see in Titus 2:3, 4 what the aged women are to be known for: "The aged women likewise, that they be in behavior as becometh holiness, not false accusers, not given to much wine, teachers of good things; that they may teach the young women…" In these two verses, we can see God's clear will for older women. Their lives need to be spent helping and serving others not pursuing their own passions and pleasures.
Young women today are lonely. They are suffering because the older women in their lives are not available to help them. Young mothers in past generations had plenty of help from the older women in their lives around them. There was community. They weren't lonely and when they needed help, they could call on one of the older women in their lives to help them. It's not so anymore. Many of the young mothers' mothers and mothers-in-law have careers, therefore, they aren't available to help them when their children are sick, they are sick, or they are simply exhausted and need a break.
As an older woman, I want to spend my life making the young women's lives in my life easier. I help them when they are sick or they need someone to shop, clean, or cook for them. I babysit for them. I do whatever I can to help them in any way that I can. They need my help. (I am not saying this to brag about myself. For many years, I lived to be served rather than to serve. I was very selfish. Ask those who are close to me. Now, I have found the joy in living to serve rather than to be served as Jesus modeled to us. It's only Christ's transforming power that has made me this way. I take no credit whatsoever.)
My mother was available for me. She helped me immensely and I will always appreciate her help. In fact, my children thought of her as their second mother. She was very involved in their lives and she made my life easier and better. I am so thankful that she never went out and pursued a career that kept her away from us. I believe God intended for Christian mothers of all ages to remain as keepers at home. In this way, they are available to raise children full time when they are young, show hospitality to those who need it, care for the sick and needy as they grow older, and do whatever they can to make others' lives easier.
Even as the Son of man came not to be ministered unto, but to minister, and to give his life a ransom for many.
Matthew 20:28