Training Your Children to Obey
Training Your Children to Obey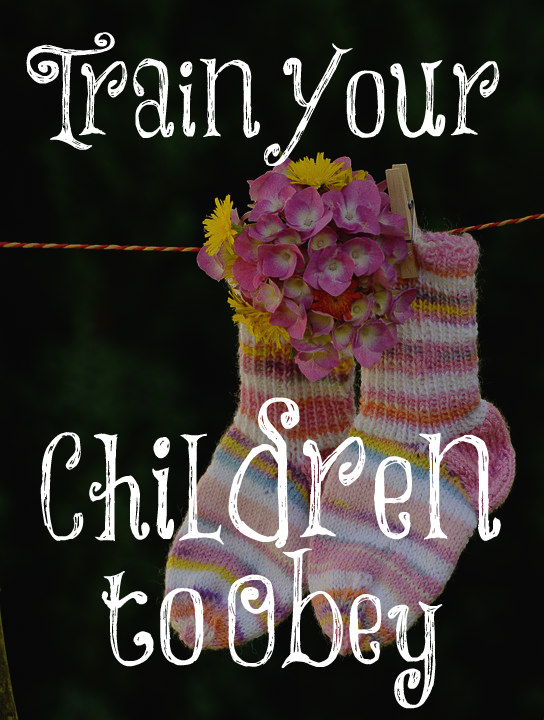 Training children in the way they should go is not an easy task. It takes a full-time mother who is willing to sacrifice her time and energy for her children. It is not for the selfish or the me-centered. A mother must be intentional about how she is raising her children. I have seen too many mothers fail to teach their children to obey them when they were young and these children grow up to bring their mothers great heartache and shame. It's a difficult task, mothers, but so rewarding in the end.
When you are training your children to do the right thing, make sure that when you are speaking to them you have their full attention. Make them look you in the eyes, then tell them what you want. "You are not to touch that. Do you understand me?" Make them answer the question and then repeat the command. Remind them of the consequences if they touch it again (disobey you) then have them repeat the consequences. Yes, this can seem laborious but it pays off quickly. The key is consistency and following through on the consequences. If you look them in the eyes and have their attention, they will be much more apt to obey you. They know you mean business.
If they choose to disobey you, follow through with the consequences and they must be painful whether it be a swat on the bottom or taking away a privilege. "Now no chastening for the present seemeth to be joyous, but grievous: nevertheless afterward it yieldeth the peaceable fruit of righteousness unto them which are exercised thereby" (Hebrews 12:11). The "chastening" must be "grievous." The child must hate the pain of the consequences more than he loves the joy of disobeying. As you discipline and train your children to obey you, you are giving them the priceless gift of self-control and self-discipline. Disciplined children grow up to be disciplined adults. There MUST be consequences each time for wrong behavior. Be diligent in this, mothers.
After they have been disciplined, make sure they make restitution for their disobedience. If they took a toy away from a sibling, make sure they give it back and apologize. If they said a bad word to someone, make sure they apologize for the bad word. If they sinned against you by disobeying you, make sure they ask for forgiveness from you. This will clear the slate for them and teach them to be sorry for their sin.
Once they have done this, make sure to give them a lot of love and affection. They need to know that you are disciplining them because you love them so much. Many children aren't loved enough to be disciplined. Some mothers feel like it would be mean to discipline their children. Young women, it's not easy to discipline children but it's what God calls you to do. He disciplines us for our good! We can do no less for our children. I can tell you from experience, if you are consistent in your discipline of your children, child raising will bring you pleasure. We rarely had to discipline our children after they were three to four years old. Thankfully, my husband and I were on the same team and knew we wanted to raise disciplined children. Any behavior that was obnoxious or annoying, we dealt with swiftly. We wanted others to enjoy our children, too.
The rod and reproof give wisdom: but a child left to himself bringeth his mother to shame.
Proverbs 29:15
Children must not be left to themselves. If you are expecting daycares workers or school teachers to train your children in the way they should go, you will be sorely disappointed and your children will not bring you nor others joy.