Husbands Create the Wives They Have?
Husbands Create the Wives They Have?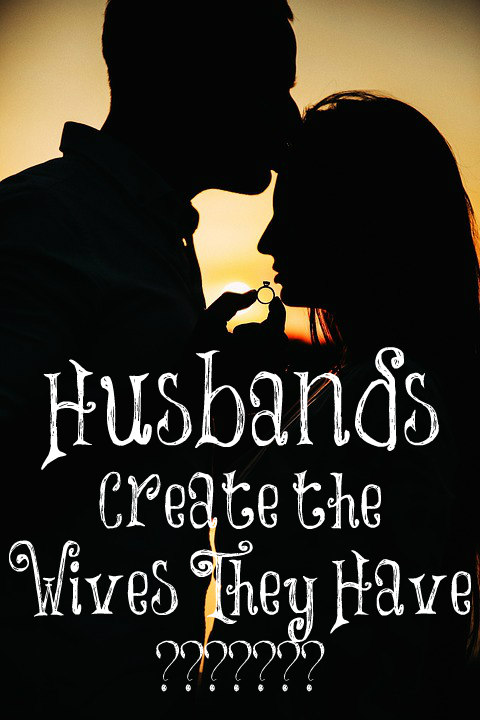 A woman wrote, "If a husband ever says, 'You're not submitting!' I would say, 'Bad leadership!' The husband always initiates! If he is loving her to death, I promise he will have a submissive wife. Husbands create the wife they have. If you're mean and angry all the time, that's what she will become. You're the leader. If you speak tenderly and serve her, she will be your reward. Serving and honoring you." Did she speak the truth?
Where in the Bible does it say that a husband cannot tell his wife that she is in sin? Nowhere. In fact, husbands are commanded this: "That he might sanctify and cleanse it with the washing of water by the word" (Ephesians 5:26). If he is to teach her the Word of God, then he has every right to tell her when she is disobeying God's Word. Those in authority have a right to tell those under them when they are doing something wrong. No, this isn't bad leadership.
Where in the Bible does it say that the husband always initiates? Nowhere. In fact, in 1 Peter 3:1, we are told that wives who are married to husbands that are disobedient to the word, they are to win them by living in subjection to them with godly behavior. The wife in this situation is initiating by loving her husband even if he is not acting in a lovable way. Telling wives that the husband always initiates sets them up for miserable marriages. These types of expectations never help wives have a better marriage. We love, are kind, patient, and serve our husbands whether or not they do the same for us, since we are only accountable for our own behavior.
Does the Bible tell us that if a husband is loving his wife to death that he will be promised a submissive wife? NO! We know husbands who are good and kind men who are married to rebellious wives. They work hard to provide a living then come home to clean the house since their wives aren't doing so. No matter how much they try to love and serve their wives, their wives continue to live in rebellion. Why do you think there are verses in Proverbs about contentious and quarreling wives? It's due to many women wanting control and quarreling with their husbands for control. Women need to be taught to be submissive since it doesn't come naturally, no matter how much her husband loves her.
Husbands create the wives they have? No. They have nothing to do with creating their wives. It's more the parents who have created the wives the men marry. It's the choices the wives have then made that create who they are. Putting the burden on men to create the wives they have is simply not biblical. From what I have seen, it's most often the wives that set the tone for their husbands and homes. The Bible agrees. "Every wise woman builds her house but a foolish plucks it down with her own hands" (Proverbs 14:1).
If a husband is mean and angry, does this guarantee that the wife will become mean and angry? If he speaks tenderly and serves her, does this mean she will speak tenderly and serve him? People who are mean and angry sometimes become this way because of what they experienced in their childhoods. Divorce will cause this. Lack of discipline, care, and training will also cause this. Being modeled parents who are mean and angry will usually make their children this way. A mean and angry man who marries a kind and loving woman doesn't mean that the wife will become like him. Her mean and angry husband will cause her much sorrow (Don't marry mean and angry men, young women!), but it's no guarantee that she will become this way especially if she is a godly woman who is filled with the Holy Spirit.
Often, a husband can become mean and angry if he is feeling disrespected by his wife. If she is consistently telling him how to do things, if she gives her opinion too much and acts like her opinion is always the right one, if she's not listening to what he says but instead is always trying to correct, control, and/or challenge him, then he is not feeling loved by her. Men feel loved when they are respected. She may not know she is disrespecting her husband in subtle ways but each time she doesn't listen when he is talking, mocks his opinions, acts like a Miss know-it-all, and tells him how he should be living his life, she may be giving fuel for his meanness and anger.
What this woman wrote is a commonly held belief. Many want to place all of the blame for bad marriages on men. Wives can't change their husbands and the more they try, the worse their marriages will become and men can't create their wives either. Most women marry their husbands thinking of ways their husbands need to change. Give up your controlling ways, women! Instead of placing all of the blame for bad marriages on men, let's be responsible for our own behavior since it's the only thing we really have control over and refuse to put the burden upon our husbands to "create" us.
But let it be the hidden man of the heart, in that which is not corruptible, even the ornament of a meek and quiet spirit, which is in the sight of God of great price. For after this manner in the old time the holy women also, who trusted in God, adorned themselves, being in subjection unto their own husbands.
1 Peter 3:4, 5