Careers for Women Came from the Ungodly, Heathen World
Careers for Women Came from the Ungodly, Heathen World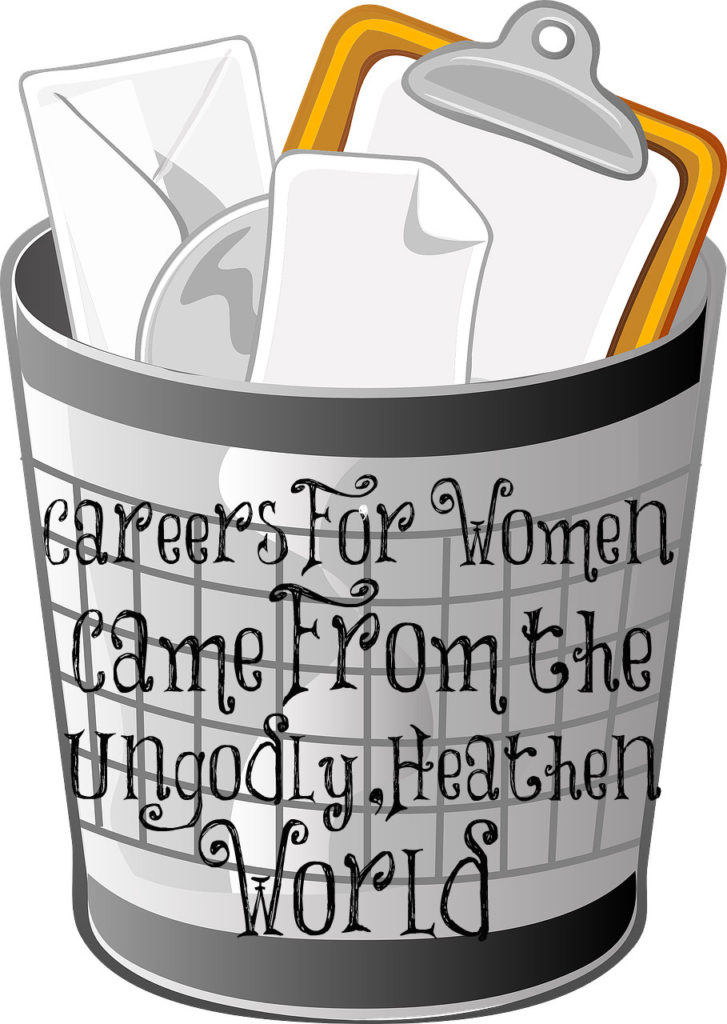 This post is from a YouTube by Traditional Catholic Faith and Morals. It is biblically accurate and worth sharing. I took snippets out of it so it's not the entire video.
A stay at home mom is often viewed by career women as being a slave, a victim, and having no life.
Many feminists view children as a nuisance, a hindrance to personal success; thus, many blinded women have chosen not to get married, not to bear children and not to guide the house. These ideas are evil.
I will therefore that the younger women marry, bear children, guide the house, give none occasion to the adversary to speak reproachfully.
1 Timothy 5:14
God never intended for women to pursue careers at the expense of motherhood. God intended for women to be keepers at home.
To be discreet, chaste, keepers at home, good, obedient to their own husbands, that the word of God be not blasphemed.
Titus 2:5
God wants young women to be keepers at home – baking, cooking, sewing, doing laundry, teachers of her children, taking care of family business, and being a help meet to her husband anyway she can. That's why God created the woman – to help her husband.
And the LORD God said, It is not good that the man should be alone; I will make him an help meet for him.
Genesis 2:18

The idea of a woman having a career came from the ungodly, heathen world and not from the Scriptures. God never intended for women to be executives, cops, helicopter pilots, lawyers, realtors, soldiers, etc.
Notwithstanding she shall be saved in childbearing, if they continue in faith and charity and holiness with sobriety.
1 Timothy 2:15
Modern apostate society treats women just like men, as a consequence, women now act like men.
Many people see no harm in women pursuing professional careers, but when it comes down to reality these types of women act and think like men.
They are decisive, strong-willed, tough, loud mouthed, demanding, dominant and lack the biblical traits God desires in a Christian woman.
She is loud and stubborn; her feet abide not in her house.
Proverbs 7:11
(Yes, this is a verse concerning prostitutes but many women are prostituting themselves on the idol of feminism and unfortunately, many are sexually promiscuous and acting like prostitutes as well.)
A career woman is very far from what God intended for her to be.
She looks well to the ways of her household, And does not eat the bread of idleness.
Proverbs 31:27
Feminism is a "social movement" that demands it all. It makes us like men. It makes us infertile, frustrated, unhappy, and empty inside. There is no true happiness in feminism. It is against our own nature!
Women will only find true freedom when they believe in Christ and submit their lives to God's holy law.
For the time will come when they will not endure sound doctrine; but after their own lusts shall they heap to themselves teachers, having itching ears; and they shall turn away their ears from the truth, and shall be turned unto fables.
2 Timothy 4:3, 4