Not One Bible Verse Instructs Women to Have Careers
Not One Bible Verse Instructs Women to Have Careers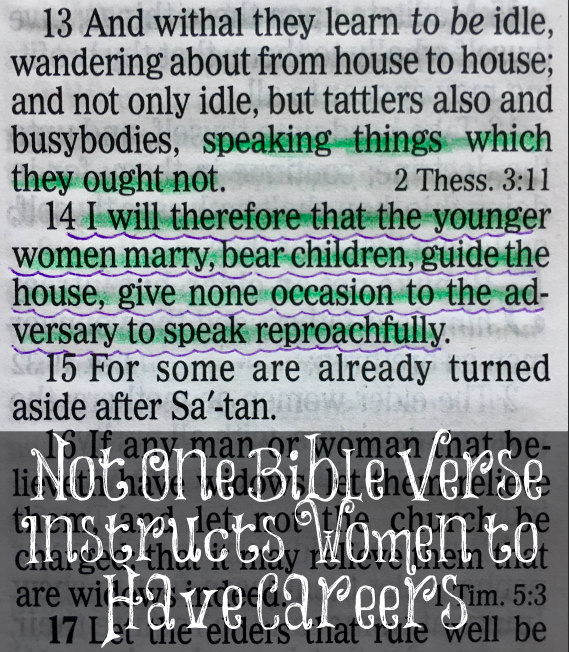 Of course, careers for women came from a godless, heathen world! There is nothing in the Bible that encourages or instructs women to leave their homes for hours every day, their children with strangers to raise, and go to a job. If there is one, I have never read it. Yes, there are some women in the Bible who made things in their homes and sold them like Lydia and the Proverbs 31 woman but not one left their home all day long with their children in the care of others and worked for a boss for five days a week.
Yes, some were midwives but they were at home unless they were delivering a baby. They didn't keep office hours that kept them away from their family for hours every day. Priscilla worked alongside her husband making tents but again, this wasn't in a factory where she had to be away from her home all day long. She was being a help meet to her husband. Deborah was a judge in Israel but it doesn't say anything about her holding regular office hours, working for a boss, and nothing about her having children but she was referred to as the Mother of Israel.
Are older women, as written in the Bible, to be known for their careers? No! They should be known for bringing up children, lodging strangers, washing the saints' feet, relieving the afflicted, diligently following every good work (1 Timothy 5:10) and teaching the younger women (Titus 2:4). There's nothing about them having careers.
Widows are not commanded to go out and pursue careers. Their families are the ones who should care for them and if the widow doesn't have family, then the churches are to care for the widows. (Notice 1 Timothy 5:4 states who in the family should care for widows; "children or nephews" not "children or nieces" – the female children would most likely be married and have husbands who would provide whereas the nephews should help provide, not the nieces.) This is how God set it all up for the provision of women.
Men are the ones in the Bible that God commands to be the providers. This is God's perfect will from the beginning of time and He reminds us that His commands are not burdensome. Nothing is impossible with Him and if He wants women home with their families, He will provide a way. He instructs us to ask for wisdom and He will give it freely!
There are several problems I see with women having careers, even when they are single. After spending all the time and money in pursuing their career, it's difficult to give it up once the children come along, if and when they do. Also, many husbands like the money their wives make and don't want them to stop so they insist on their wives keeping the job even when it becomes a strain on the wife. Married women who don't have children still come home exhausted after working all day. They don't have the energy to care for their homes or husbands like they would like to do, unless they are high energy women.
I believe one of the main causes of divorce today is due to women having careers. Women put all of their time and energy into their careers and neglect their husbands. They were created to be their husband's help meet but they fail to do what God has called them to do because they can't do everything and are too tired and exhausted to be helpers to their husbands. This is a recipe for failure and marriage is important to the Lord so it should be a priority for us; for marriage is an example to a lost world of Christ and His Church! Plus, when women have careers, they know that they have the freedom to divorce their husbands since they aren't dependent upon their husbands for provision but God created wives to be dependent upon their husbands. This is a good thing, contrary to popular opinion.
Women who have careers typically have to work for a boss and the boss is usually a man, therefore, she is living in submission to a man who isn't her husband which is not God's plan. Plus, women don't have the physical makeup that a man has and God created women with a more sensitive and emotional nature in order to be home with their children and/or caring for others, not out in the workforce.
What about single women who never get married? God's instructions to them are to be holy in body and spirit. No, they don't have to live underneath their father's authority their entire lives. I know there are some who believe this but I don't see this being instructed in the Bible although for protection and provision it is a good idea. She does need to know about the dangers of pursuing a career in case she does eventually get married.
But what about the women who do remain single their entire lives and don't get married? What if careers are causing many more women to not get married since they don't "need" a man to take care of them? What if this pursuit by women for careers makes them unattractive to men since they become forceful and independent? God's plan from the beginning is for men and women to marry. He created men to need a help meet.
Colleges and universities don't help women acquire meek and gentle spirits. Quite the contrary! They teach them to be strong (apart from the Lord), independent (they don't need a husband), speak their minds, and stand up for themselves which is completely opposite of what the Lord wants for women. They don't teach them to be gentle, submissive help meets to their husbands or how to raise godly offspring. Neither do they teach them anything about godly womanhood; no, not even the Christian colleges and universities since they push careers on the women.
There are many things women can do who aren't married without getting a job. Culture tell us that there's only option for young women today but it's not. The young, unmarried Duggar and Bates women take courses on-line, serve their families, go on mission's trips, assist midwives, serve their communities, find ways to make money from home, and many other things that help others instead of pursuing careers which take them away from their homes. This seems the way it should be, in my opinion.
Women working have taken many jobs away from men. Men NEED to work. God created them to have jobs and this usually defines them, whereas women define themselves by their relationships. Men don't have to take off time when they bear children, their children get sick (if they have a wife at home), and they don't feel guilt leaving their children all day long like women do because women know deep down that they are the ones who are supposed to be home with their own children.
I believe all godly women need to live their lives as if they may get married and have children some day. The worse thing would be to pursue a college education, amass a large debt, and place this burden upon their husbands when they get married, thus continuing to have to work after having children to pay off their debt. This is insanity to me! There are too many women that tell me they want to come home but are unable due to debt, their living style is too high, or their husbands want them to work because they make a large salary.
Finally, we are to live our lives according to God's Word, not culture's path. Young women, prayerfully consider the path you want to take. I encourage you to study God's Word (all of the verses pertaining to godly womanhood) and make your decisions from doing this instead of watching the way our society's women are going which has only led to the destruction of our culture. Children grow up to be much more productive members of society when they are loved and nurtured by their mothers during their childhood.
Please, don't ask me about women being nurses (Do you know how hard it is for women to be on their feet for twelve hour shifts?), teachers, dental assistants or having careers such as these. I can assure you that not all of the women in the world are going to go home full time by reading this post or my blog. There will always be plenty of female nurses and teachers since there are many women who have no desire to be home full time, many more who are not believers so they don't care about God's will for their lives, and others who are not convicted that they should be home for their families and not have careers. There's no need to hyperventilate about it!
Thankfully, I am not the judge of the world. I am only teaching my convictions based upon what I have read in the Word and obeying what the Lord has instructed older women to teach younger women, namely, to be keepers at home so they won't blaspheme the Word of God which is a terrible thing to do.
Behold the fowls of the air: for they sow not, neither do they reap, nor gather into barns; yet your heavenly Father feeds them. Are ye not much better than they?
Matthew 6:26
Labor not for the meat which perishes, but for the meat which endures unto everlasting life.
John 6:27