Choose Your Redeemer in Your Suffering
Choose Your Redeemer in Your Suffering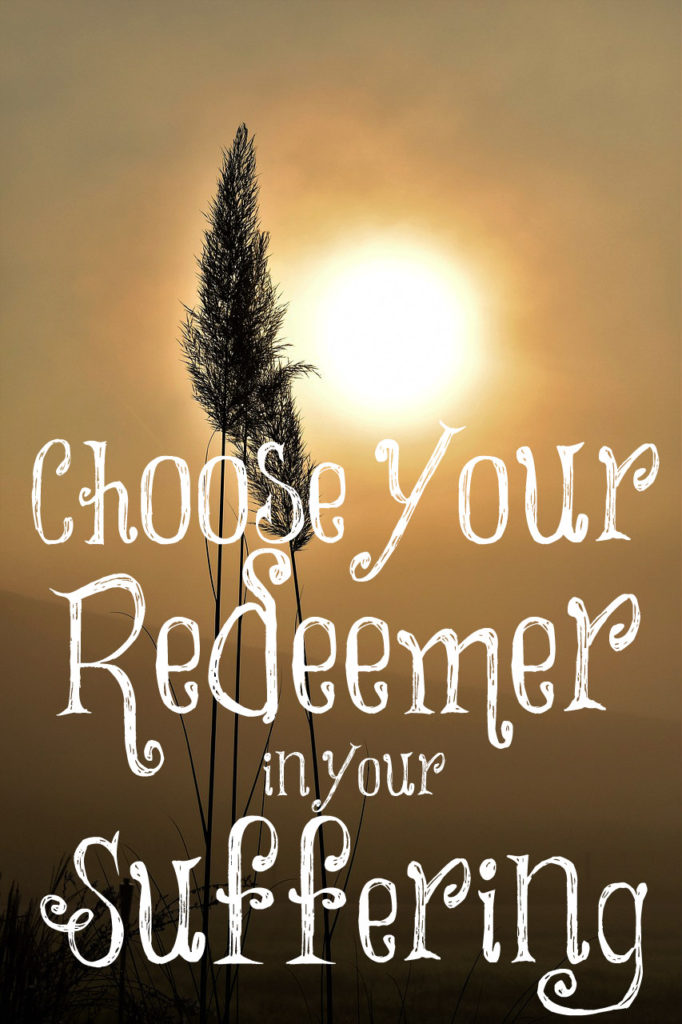 Bad things happen in this life. Evil things happen. Many question the goodness of God because of these things. Babies are diagnosed with leukemia. Women who want so badly to have children are infertile. A diagnosis of cancer shortens a life. Where is God in all of this and how should we respond in and through our sufferings?
In a book called The Made From Scratch Life by Melissa Norris, Melissa tells of a time when she lost a baby and her Fallopian tube because of an ectopic pregnancy. While she was mourning this loss, her pastor's wife called to comfort her. She had delivered a stillborn baby years earlier.
"She could have chosen to wallow in her pain, to become bitter, or to blame God. Why would a loving God allow these things to happen? But she'd made a choice to love, to believe God had good things in store for her. I had the same choice. I could choose to hand all the pain to Him and see how He could redeem it, or I could let it continue to hurt me. I chose my Redeemer. In choosing him, I was transformed."
All of us will go through suffering in this life. We will be the ones who choose how we handle our suffering. Will we curse God or understand that suffering is a part of His plan for us? Job said in the midst of his pain and suffering, "Though he slay me, yet will I trust in him" (Job 13:15). He lost everything yet continued to trust in God.
Then we look at the life of Joseph and how his brothers sold him into slavery. He went through many sufferings yet when he met up again with his brothers many years later, he was able to say, "But as for you, ye thought evil against me; but God meant it unto good" (Genesis 50:20).
As many of you know, I have suffered through a lot of physical pain but through all of it, I never questioned God. Why not me? I know I don't deserve anything, yet alone health, so I trusted that God had it all under control. When I felt desperate because the pain was so deep, I would quickly remind myself that the joy of the Lord is my strength and I can do all things through Christ who strengthens me.
I have always believed God at His Word. "And we know that all things work together for good to them that love God, to them who are the called according to his purpose" (Romans 8:28). I believe 100% that this verse is true for believers. It may not work out for good the way we consider good but it will work out for good the way God considers good and He is a much better discerner of good than we are.
I could have easily died when I was 45 years old when I was in the ER with a sodium level of 110 when normal sodium levels are 137 and 147. I was told that level of 110 are death levels but God spared me. Soon after this happened, I began mentoring young women in the ways of biblical womanhood. I know life is fragile and I want to use the rest of my days for Him and His glory. I choose to believe God. I chose my Redeemer and have been transformed. Yes, pain transforms you when you use that pain to seek the Lord and allow His Word to permeate your mind.
Read 1 Peter if you are suffering and in pain. Camp out in this book and memorize it. You will see how suffering is good and a part of God's plan for us. No one grows from a easy and pain-free life. We grow in godliness through our suffering and it is good.
But the God of all grace, who hath called us unto his eternal glory by Christ Jesus, after that ye have suffered a while, make you perfect, stablish, strengthen, settle you.
1 Peter 5:10