The Mother is the One Supreme Asset of National Life
The Mother is the One Supreme Asset of National Life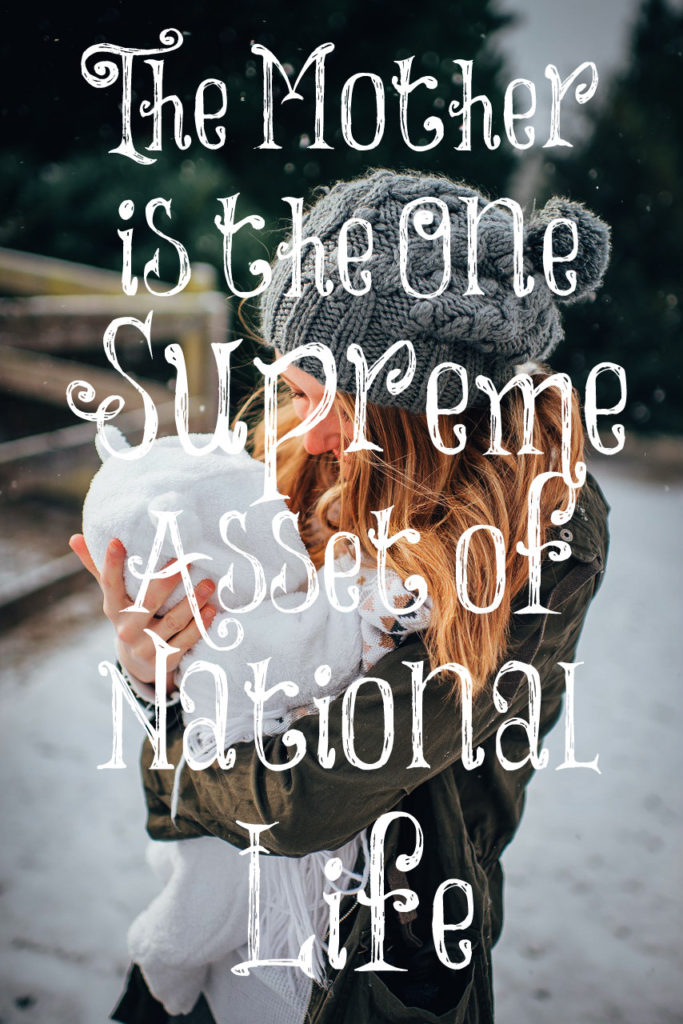 You would think I was evil for teaching younger women to be keepers at home and that mothers should be home for their children full time. This topic makes many women angriest, by far, of all the things that I write. They must not believe children are better with their mothers. They must not trust God enough to provide for them if they come home.
Many believe they find satisfaction and fulfillment from a career. They think widows still should work full time even though their poor children have lost their father. Now, they must lose their mother to a full time job? They don't understand that children who are raised with their mothers are emotionally more stable and secure in life. They believe a mother giving more time to a career is more important than giving more time to their own children. I don't get it.
Is this cruel of me to have concern for the children? How about the marriages of these working women since the husbands usually are the ones that are neglected the most? Lastly, what about the mothers who are exhausted from trying to work full time, take care of their homes, and be with their children. Do I not care about them? Of course I do.
One woman wrote me and told me to stop teaching women to be keepers at home because no one is listening and no one cares. Another woman wrote an entire post on her blog about how far off I am for teaching this. Well, I will stand before God someday and He is the only one that I will have to give an answer for what I teach women.
Women write me and tell me they are home full time with their children now from reading my blog and they are thankful. Others have told me they are praying that their husbands will change their minds and allow them to come home full time. (I will never understand why some men want someone other than their wives, the mother of their children, to raise their children.) Some are asking the Lord for wisdom in finding a way to make some money from home. Yes, women are listening and some care. It makes sense compared to the nonsense they've been listening to their entire lives.
"I want my daughters to grow up to be doctors, lawyers, or whatever they want." Yes, if this is what you want your daughters to grow up to be and have a stress-filled life with a lot of debt, go for it. After many years in school, then college, then medical school, and finally residency, they will be in their 30s most likely.
While you are having a daughter who is a doctor, I would much rather have a daughter who is having children and is home full time with them. Children are more valuable to me and to the Lord than any career can be. Any career can be filled with someone else but being a mother to a child can not be. Our values have been completely mixed up today.
As President Theodore Roosevelt said, "The mother is the one supreme asset of national life; she is more important by far than the successful statesman or businessman or artist or scientist." Presidents of old felt this way, whereas President Obama said this while he was in office: "In a speech in Rhode Island in October, President Obama offered his views about child care in a society where many parents have to make difficult choices: 'Sometimes, someone, usually mom, leaves the workplace to stay home with the kids, which then leaves her earning a lower wage for the rest of her life as a result. And that's not a choice we want Americans to make'" as if her earning power is more important than being home with her children.
Go back to where the Bible calls mothers to be and realize your importance there.
She openeth her mouth with wisdom; and in her tongue is the law of kindness. She looketh well to the ways of her household, and eateth not the bread of idleness.
Proverbs 31:26, 27