Christianity Gives Women Moral and Cultural Guidance
Christianity Gives Women Moral and Cultural Guidance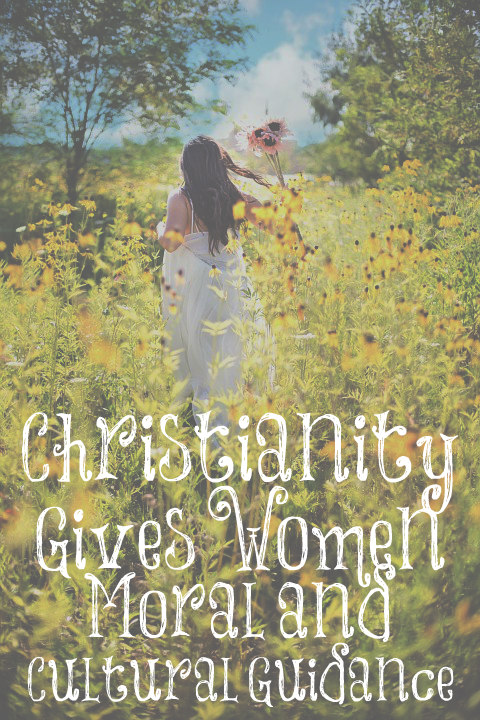 "All men prefer debt-free virgins with no tattoos and no weird piercings. It is not just men who actively practice Christianity. There are obvious biological reasons for this. But Christianity is needed to give women moral and cultural guidance. Without such guidance and without being led by good men, they easily give in to their most base desires and whims and end up being unmarriageable." (Recent comment on my debt-free virgin post)
There's a good reason that God commands that the older women teach young women biblical womanhood. There's a reason that God commands that believers marry believers, explains that the husbands are the head of their wives, and commands wives to submit to their husbands in everything. Every command from God is good! Look how far women, even those who claim to be Christians, have fallen. Feminism has not been taught by godly, older women or by husbands who love the Lord. No, it was taught by women who hated God and His ways.
Many women fight vehemently against what I teach. Check out my social media sites if you don't believe me. Daily, I am taken to task by women, called names, slandered by them, and they even go after others who comment on my Facebook page. They falsely believe that what I teach is "dangerous." They believe that submission is abusive, that being keepers at home is bondage, and that wanting to be married is simply plain wrong. They don't hate me. They hate God and His ways.
Then there are many female leaders/preachers who claim to be Christians who never teach the concepts of biblical womanhood. They have fallen into the social justice and/or feminist movement and think that fighting for the "rights" of some is what they have been called to do. They use their large platforms to spread the gangrene of false teachings and lead women farther down the path of error away from biblical womanhood.
Young women desperately need guidance from older, wiser women. The churches are mostly failing in this area. The older women are failing. They aren't obeying the clear commands of God.
What about "being led by good men" as the author of the comment wrote. I am sure this repulses most women but there are good reasons that God has given men the authority positions even in the marriages. Authority means to lead. This is why it's so important to marry a good, godly man, not the bad boy as many women have done.
The aged women likewise, that they be in behaviour as becometh holiness, not false accusers, not given to much wine, teachers of good things; That they may teach the young women to be sober, to love their husbands, to love their children, To be discreet, chaste, keepers at home, good, obedient to their own husbands, that the word of God be not blasphemed.
Titus 2:3-5