Men Prefer Debt-Free Virgins Without Tattoos
Men Prefer Debt-Free Virgins Without Tattoos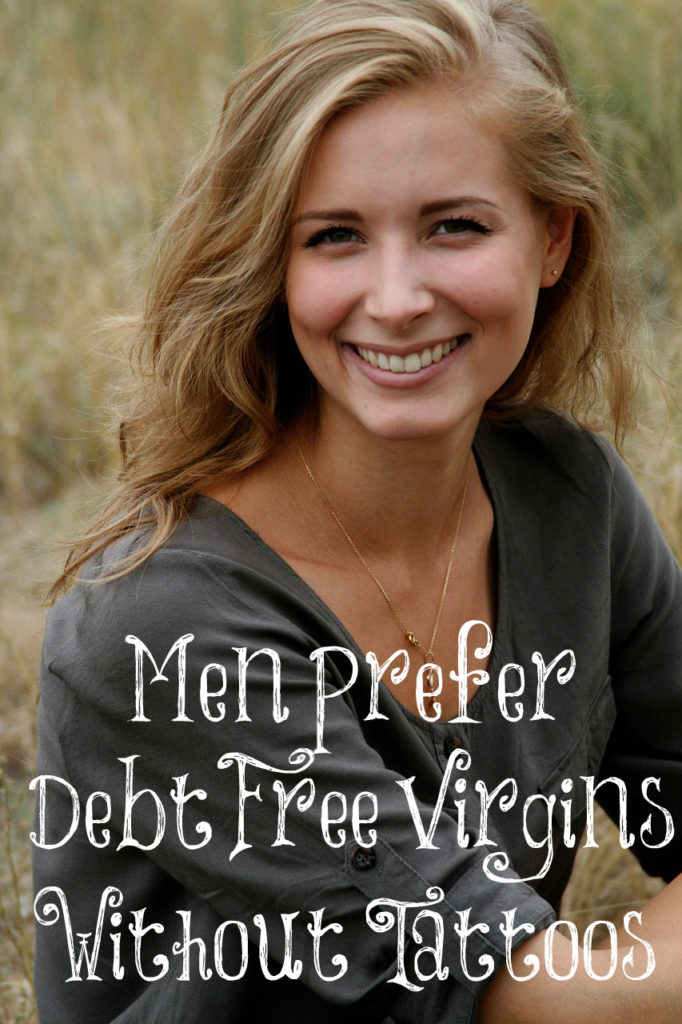 Do you know how much more attractive debt-free virgins (without tattoos) are to young men? Unfortunately, there are so few of these types of young women anymore because of the high costs of college (debt) and sexual promiscuity even from those within the church. As believers in Jesus Christ, we need to live in a way that is pleasing to the Lord because His ways are the best. He calls debt a burden and urges us to live lives of sexual purity.
There are many reasons why Christian young women should carefully consider whether or not they go to college, especially if they want to be wives and mothers someday. Secular universities teach against the God of the Bible and His ways. It's far from what God calls women to be and do: it teaches them to be independent, loud, sexually available, and immodest instead of having meek and quiet spirits.
One woman wrote to me and gave her opinions on why women shouldn't go to college. (Her opinions are in quotes.)
"Men don't want to marry a women with debt. Most of this debt comes from college. They would also prefer a woman who still lives at her parent's house that has not had other relationships. Do those two things and you will be highly sought after." I'm not sure about men only preferring women who still live at their parent's house and have had no other relationships since some young women have no choice but to live away from their families and some have had their hearts broken by men they thought was "the one." I completely agree that most men don't want to marry a woman with a load of debt! This isn't right to bring into a marriage. Plus, the Bible tells us that the "borrower is the slave to the lender" (Proverbs 22:7). Who would willingly choose to be a slave?
"If they go to college, they are unlikely to stay home raising their children to pay off the debt and use the degree they spent years on." I have seen this in many young women's lives, sadly. Strangers raising their precious children while they struggle to pay off their debt by having a job away from home.
"The husband will need to take years teaching his wife the correct way to act, think, and live since college taught them every possible way that is wrong." Unfortunately, most young Christian women won't listen to their husbands since they've not been taught to live in submission to them nor have they ever heard of this verse about being quiet in church: "and if they will learn any thing, let them ask their husbands at home" (1 Corinthians 14:35). However, it's the older women who are called to teach the younger women biblical womanhood (Titus 2:3-5) and most husbands have never seen it modeled in their lives so they wouldn't know what to teach.
"They will start having babies later in life. That is if they can still conceive naturally." Is college worth having fewer children? I will never understand how women prefer careers over having warm, cuddly babies. Never take your fertility for granted, young women! Children are gifts from the Lord that keep on giving.
"They lost a handful of years of experience learning to cook large meals and learning how to work in the garden. College kids don't cook. If they do, it's typically for themselves." Young women learn nothing about biblical womanhood nor what it takes to run a home when they go to college. They don't learn to serve others, either. They learn the ways of the world, selfishness, and feminism instead; all which make a good marriage unattainable.
"The list goes on. Churches don't talk about it. They support the college kids (really adults) and the 'working' mothers." It greatly offends working mothers whenever I teach women to be "keepers at home" (Titus 2:5). Yes, God's truth convicts but most don't want to be convicted about their lifestyle, so they become "offended" instead.
"It's very rare to find an 18 year old woman that continues to work and live at her parent's house until she meets her husband. It's pretty much a joke to all who do that." It's actually protection for young women to live under their father's roof (if he is a good father) until they get married, if they are able, and there's nothing wrong with doing this. Universities are definitely not safe places for women!
"Your posts sound crazy to anyone who does not believe the Bible is true. Most girls have not been taught the Bible from their fathers (Ephesians 6:4) nor have young wives learned it from their husbands (Ephesians 5:26; 1 Corinthians 14:35). This part is important. Instead of learning it from their parents or their husbands, they seek out books, movies, or female preachers on how to interpret the Bible which leads them down the wrong path."
Young women, be wise in the path that you choose to walk on. Keep a long-term vision of your life and how you hope it will be someday instead of acting upon all of the "what ifs…?" that many in our wicked culture will throw at you. Trust God with your life, study the Word, and take the narrow path that leads to life. Stay virgins until marriage, out of debt, and don't get tattoos! Strive to be virtuous women.
Who can find a virtuous woman? for her price is far above rubies.
Proverbs 31:10
*Follow up post for Christians.
***For those of you who are NOT debt free virgins without tattoos, there is hope for you! Your value and worth don't come from your past (what has been done to you or what you have done). No, your value and worth come from who you are in Christ and what He has done for you. If you are a believer in Jesus Christ, your sins are washed away, you are cleansed, forgiven, made a new creature in Christ, and now, walk in newness of life! God is in the business of transforming lives!