Commands to Godly Women with Strong Warnings
Commands to Godly Women with Strong Warnings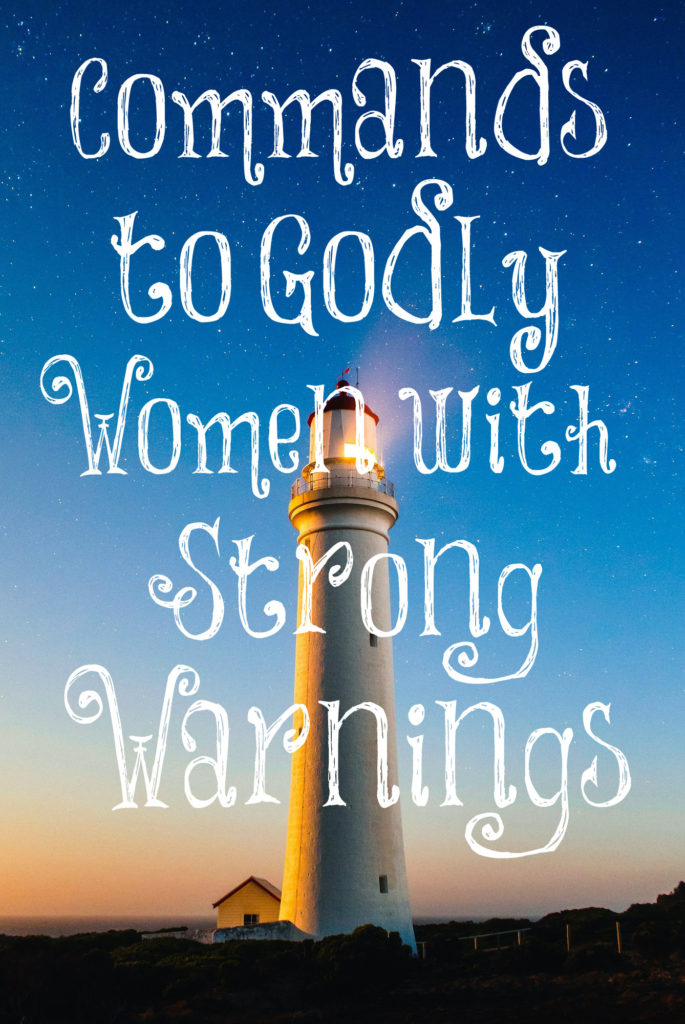 There are few times in the Bible that has a strong warning after a command. Look at these two verses closely and examine the strong warning after each.
"I will therefore that the younger women marry, bear children, guide the house, give none occasion to the adversary to speak reproachfully" (1 Timothy 5:14) The command is for younger women to marry, bear children, and guide the home. The warning is to give none occasion to the adversary (the Devil) to speak reproachfully.
"The aged women likewise, that they be in behaviour as becometh holiness, not false accusers, not given to much wine, teachers of good things; That they may teach the young women to be sober, to love their husbands, to love their children, To be discreet, chaste, keepers at home, good, obedient to their own husbands, that the word of God be not blasphemed" (Titus 2:3-5). The commands are to the older and younger women on how they should live their lives and the warning is that the Word of God be not blasphemed.
God is serious about how godly women live their lives as you can see from these commands and warnings. Other things that blaspheme (speak evil against) the Word (Christ – John 1:1) or against the Holy Spirit (Luke 12:10) are those who dishonor and oppress the poor (James 2:6, 7), and "For the name of God is blasphemed among the Gentiles through you, as it is written" (Romans 2:24).
What does all this mean? From Barnes' Notes on the Bible: "That is, your conduct is such as to lead the pagan world to blaspheme and reproach both your religion and its Author. By your hypocrisy and crimes the pagan world is led to despise a religion which is observed to have no effect in purifying and restraining its professors; and of course the reproach will terminate on the Author of your religion – that is, the true God. A life of purity would tend to honor religion and its Author; a life of impurity does the reverse."
God gives clear directions on how women who love Him are supposed to live their lives in honor of Him. Can you see how much this culture hates and despises God's ways and so many Christian woman have fallen for their lies and deceit not realizing that they are blaspheming God's Holy Word? Yes, the world hates God and I am consistently ridiculed for teaching His Word but when they see Christian women willing to live out their lives in obedience to Him, these God-fearing women are witnessing to a dying culture the power of a Living God. We should not want to give the enemy of our souls any reason to speak reproachfully or blaspheme His Word if we love the Lord Jesus. Our greatest desire should be to live for Him completely. You need not guess what He wants for you, women. It is clear in these verses. Now, go about living your life in obedience to Him which brings glory to Him.
The fear of the LORD is the beginning of knowledge:
but fools despise wisdom and instruction.
Proverbs 1:7