Continually Under His Mother's Care
Continually Under His Mother's Care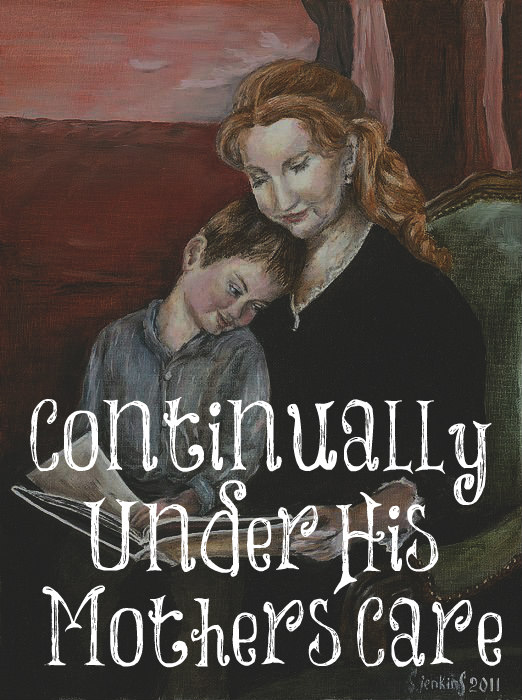 Hudson Taylor (1832-1905) was a great missionary to China and his son, Howard Taylor wrote a book about his father's life. A friend of mine gave me a chapter from the book titled "Nurture and Admonition." Hudson's parents were godly who were very intentional about raising their children. I am going to give you a few snippets from this chapter on what Howard said about Hudson's mother in order to encourage you in raising your children. His parents produced exceptional children!
"For at no time is there greater capacity for devotion or more pure, uncalculating ambition in the service of God than in early childhood when the heart is full of love to Christ.
"The mother's gentle discipline had much to do with the happiness of Hudson's childhood, and gave rise to more than one situation that was long remembered. In all her dealings with the children, she was reasonable and consistent. She made few rules, and avoided unnecessary commands. But they well knew that what she said she meant, for she never gave instructions she was not prepared to see carried out. Happy are the children so trained in habits of obedience to their earthly parents that they learn almost instinctively to obey and honor God.
"One chief advantage of Hudson Taylor's advantage of his childhood was that he was so continually under his mother's care. [The father worked hard to make enough money but they had to be very careful.] This necessitated careful economy in everyday matters. Household expenditure was reduced as far as possible, luxuries were unknown, and active, practical habits were the order of the day. The children were well drilled in thoughtfulness for others. But above all they grew up in close contact with their parents, as children never can in a house with many servants, or if they are sent to school.
"The mother was their companion from morning till night. She it was who worked with them, taught them, and was the sun and center of their little system, radiating light and love without end. This accounted largely for the influence she exerted over her little people. It was second nature to obey her, and she was always there to encourage or restrain. She was a woman of few words and unusual tact, with a quiet way of saying and doing things that was very effective."
 They were diligent in training their children to read their Bibles and pray. Every day, the children did this for half an hour. "They needed it just as much as older people, and in their childish way came to realize that no one can be good and happy all day long without the heart-to-heart fellowship with the Lord." The father had devotions with the children after a few meals every day too. Teaching them to know and love God were their highest priorities. The father didn't want to send them to Sunday School because he didn't want to relinquish to anyone else the privilege of teaching his children the things of God.
Hudson Taylor's mother taught her children the power of self-control and being able to say "No" to themselves. When you teach your children self-control, you are giving them a gift that will keep on giving! They also taught their children the value of money and that "honest work is necessary if it is to be obtained." She kept a neat and orderly home and taught her children to do likewise. "A place for everything and everything in its place was the working rule of the household."
She is a wonderful example of biblical womanhood. I love reading about women who loved God and His ways.
Train up a child in the way he should go: and when he is old, he will not depart from it.
Proverbs 22:6
*Painting by Svetlana Jenkins