Lot's Family Versus Noah's Family
Lot's Family Versus Noah's Family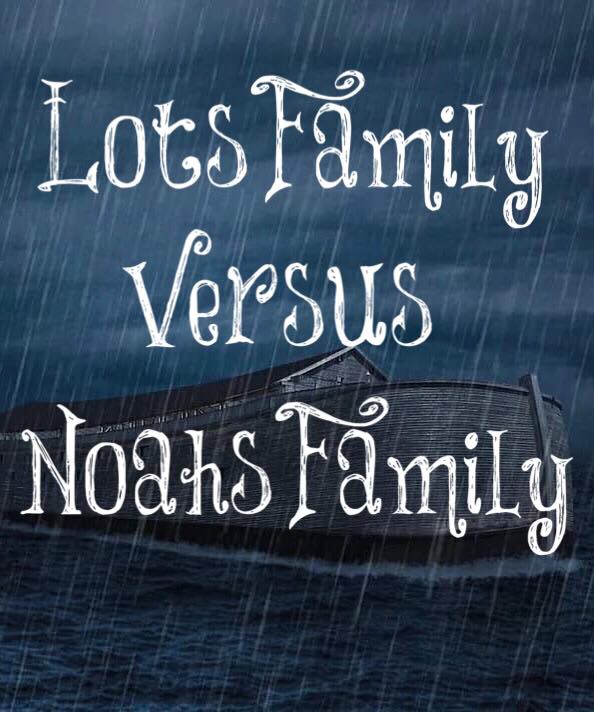 Both Lot and Noah lived in wicked cultures and God destroyed both. Let's look at both of their families and how their wicked culture influenced them.
When two angels came to warn Lot about the coming destruction and they went into Lot's home, ALL the men of the city, young and old, came to Lot's home because they wanted to have sex with the two angels. How did Lot answer them? "Behold now, I have two daughters which have not known man; let me, I pray you, bring them out unto you, and do ye to them as is good in your eyes: only unto these men do nothing; for therefore came they under the shadow of my roof" (Genesis 19:8). From this verse, we see that the daughters were virgins yet Lot was willing to give them to these wicked men to do as they please! Unbelievable.
The angels smote the men with blindness and then asked Lot if he had any family to warn of the coming destruction. Lot hurried to his two sons-in-law who engaged to his daughters but they mocked Lot. (They weren't married yet but in that time, they called those who were committed to marriage their sons-in-law.)
When the angels gave him one last warning to get out, Lot "lingered" (Genesis 19:16) so the angels had to grab the hands of Lot, his wife, and his two daughters. They were all warned to not look back but, of course, Lot's wife looked back and was turned into a pillar of salt. The angels wanted him to escape to the mountains but he wanted to escape to a little city. He ended up in the mountains since he feared the city. Then the daughters got him drunk and both bore children by him.
This is what God thought about the earth before the Great Flood. "And God saw that the wickedness of man was great in the earth, and that every imagination of the thoughts of his heart was only evil continually" (Genesis 6:5) But "Noah was a just man and perfect in his generations, and Noah walked with God" (Genesis 6:9). He had three sons. God gave Noah clear instructions on how to prepare for the coming flood by building an ark, so Noah obeyed immediately and began building an ark.
"But with thee will I establish my covenant; and thou shalt come into the ark, thou, and thy sons, and thy wife, and thy sons' wives with thee" (Genesis 6:18). Noah was told to take two of every species and he obeyed everything God commanded him to do. "And Noah went in, and his sons, and his wife, and his sons' wives with him, into the ark, because of the waters of the flood" (Genesis 7:7). They all willingly went into the ark. Everything on the earth was destroyed.
The differences between these two families couldn't be more stark. Yes, Lot was a righteous man (2 Peter 2:8) but he didn't raise his family to be nor was his wife. They didn't trust God. They were lured by the evil in their cities. None of them wanted to leave and his wife looked back. She didn't want to leave. Nothing about the story of Lot shows us that he was a righteous man but because God tells us that he was, we must believe it and this is why God saved Lot out of the fire and brimstone.
Noah was a righteous man. We can tell by his immediate obedience and trust in God. What he was asked to do was much more difficult than what Lot was asked to do. I imagine that Noah was mocked and ridiculed daily as he built this monstrosity of a boat on dry land. I am sure they mocked his God and his family, yet he continued to obey God. His wife, his sons, and his daughters-in-law went willingly on the ark when they were told to do so. There was no lingering or longing for the culture they were in. No, they trusted God and God saved them from His wrath.
Which family are you going to model your family after? Are you teaching your children to long for the things that this culture longs for and participate in the things it participates in, or are you teaching them to be separate and long for God and His will for them? Are you teaching them to disobey you by not being consistent in disciplining them when they don't, or are you teaching them to obey you the first time you ask them to do something? If you aren't teaching them to obey you, they will most likely grow up to not obey God, and if you are teaching them to obey you, they will most likely grow up to obey God.
Teach your children the beauty of God and His ways. Teach them to long for the new earth and not crave the things this world has to offer. Tell them that God's boundaries are for their good and for their protection. They aren't to keep them from enjoying life; for "every good gift and every perfect gift is from above, and cometh down from the Father of lights, with whom is no variableness, neither shadow of turning" (James 1:17). Model your family after Noah's family, not Lot's.
And if it seem evil unto you to serve the LORD, choose you this day whom ye will serve; whether the gods which your fathers served that were on the other side of the flood, or the gods of the Amorites, in whose land ye dwell: but as for me and my house, we will serve the LORD.
Joshua 24:15