Dear Evangelical Biden Voter
Dear Evangelical Biden Voter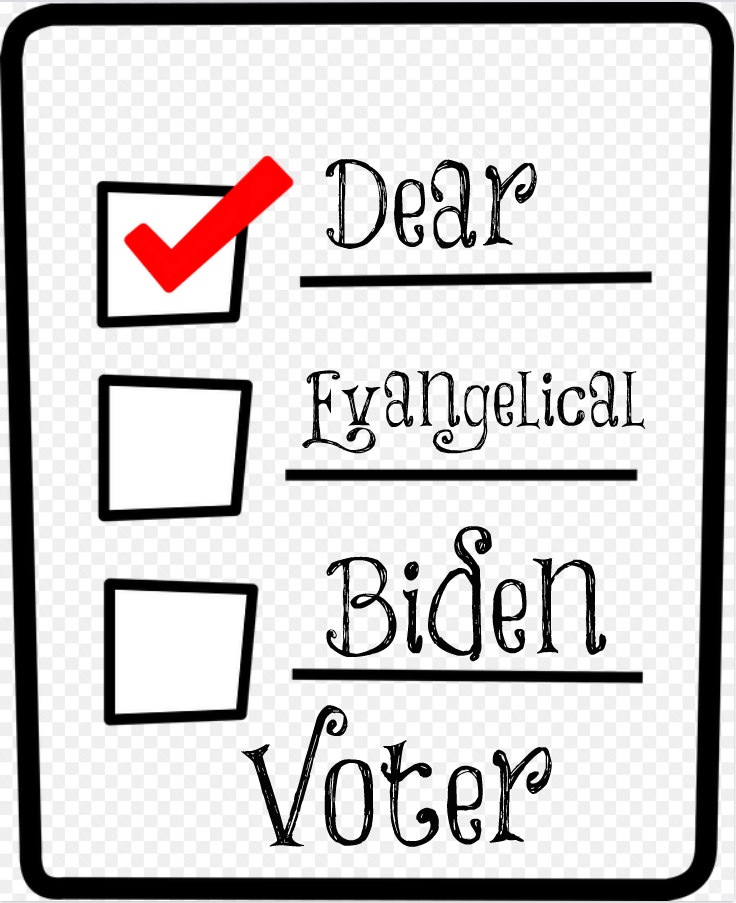 Written By Ken Alexander
The vast majority of Evangelical voters voted once again for President Trump to lead our country forward for another four years. The numbers voting for Trump in 2020 were a shocking 10 million more voters supporting him than in 2016, yet more shocking is how Biden came out ahead by 7 a.m. after what appears to be a long delay in counting votes in the key states. Some Evangelicals voted for Biden and we are struggling to understand why?
We are also curious to know how many Evangelical women used their vote to disrespect their husband's wisdom and leadership by voting against him. Sure, God's will be done, but it should be recognized that God's will often comes to pass by the disobedience of His children as was regularly seen with Israel. Now in the end times, the lukewarm Church is leaving their first love of the Word of God and siding with the world's immorality, feminism, and allowing public schools to rip our children out of God's Kingdom.
What compels a Christian to see anything in Joe Biden and his left-wing socialist VP of redeeming Christian value over the proven record of the defense of Christianity that President Trump has consistently shown us for four years? Were you so disappointed with Trump's personality and behaviors that you wanted to throw him out and replace him with a sewer of anti-Christian immorality?
You must have forgotten that Democrats tried to shut down pastors from teaching some parts of God's Word, and forcing abortions and same sex employees into 501c Christian organizations until President Trump signed the Religious Freedom Restoration Act.
Democrats are the side that loves supporting the millions abortions in the US, even up to late term, or just after birth to murder babies.
Democrats are the ones who want to stop supporting Israel and claimed that peace in Israel could not be advanced. Trump is getting peace accords signed.
Democrats are the ones rioting in the streets and increasing crime by 33 percent in liberal cities while calling for defunding the police.
Democrats are opening the door to the evils of socialism in the USA: Free stuff for all! Yeah, right… ask the Cubans, Venezuelans, and Russians how that worked.
Democrats will "cancel" you if you use your right to free speech to support conservative ideals… attack you, force you to resign your job, protest in front of your place of work, or home, so you will no longer support President Trump.
Democrats say "Black Lives Matter" then allow looting black businesses and do little to curb black on black crime. They encourage then slaughter of 290,000 precious black babies a year. To them, only some black lives matter, mainly those who are in trouble with the law. Are you blind to all that President Trump is trying to do for the black community and why so many people of all color love him and voted for him this year?
Democrats control the media, FB and Twitter and are censoring conservatives so that Biden could win. You are blind if you cannot see these dangerous truths that are swallowing up your freedoms.
Trump handed the Dems their greatest defeat in putting three justices on the Supreme court who believe in God, Justice, and the Constitution. Just this alone was enough for every Christian to vote for Trump in terms of accomplishments, but he delivered so much more!
It makes us angry that there were a few like John Piper who helped you lose your mind at the thought of Trump's ego outweighing all he is doing for America without recognizing that wisdom demands we choose the greater good over choosing the proven evils that Biden's party represents. And did you forget that you also voted against a godly VP in Mike Pence for a most radical socialist? Why were you so blinded?!
You willfully handed the reigns of America to a party who will advance the greatest of America's sins: Do you really want your daughters competing in sports with boys then forced to shower with them?  There are great evils that will come full force from the Democrats of which you seem so blind. Please recognize that it is the Democrats who have spent decades running cities like Chicago, Detroit, Baltimore, Philadelphia, and San Francisco into the ground. Every horribly run city where the poor are so terribly mistreated is run by Democrats and now you want them running our country?
I know, you want me and other Christians to "make peace" with you and our fellow Democrat Americans once the election is over. We always try to live in harmony with our Democrat friends but we can not abide by regular rioting and the curtailing and deprivation of our constitutional rights. And if this is the beginning of the end where we are to be persecuted for our faith and stand for America, then so be it. We will stand strong in opposition while maintaining our Christian values to try and win as many souls as we can before it is too late.
So what was it that caused you to vote for Biden or to abstain from voting?
Did you cave in to the pressure of your college indoctrinated children to try and keep the peace in your family?  Did you focus on a man instead of his policies and accomplishments towards your own values? It's not to late to repent.  Soon God will take the Church out of this world leaving it for the anti-Christ to rule until God says: "ENOUGH!" Then when His wrath is full, He will send Christ again as the Conqueror riding in on His white horse with a sword in His mouth to smite His enemies.
And who are His enemies? Not Democrats or Republicans, but those who choose evil in this world and those who hold the truth in unrighteousness by not being willing to stand with God against evil. Show us where the Democrats champion righteousness or God's ways. What are we missing?
Know you not that the unrighteous shall not inherit the kingdom of God? Be not deceived: neither fornicators, nor idolaters, nor adulterers, nor effeminate, nor abusers of themselves with mankind, nor thieves, nor covetous, nor drunkards, nor revilers, nor extortioners, shall inherit the kingdom of God. And such were some of you: but you are washed, but you are sanctified, but you are justified in the name of the Lord Jesus, and by the Spirit of our God.
1 Corinthians 6:9-11