Hard Times Produce Realist. Good Times Produce Feminists.
Hard Times Produce Realist. Good Times Produce Feminists.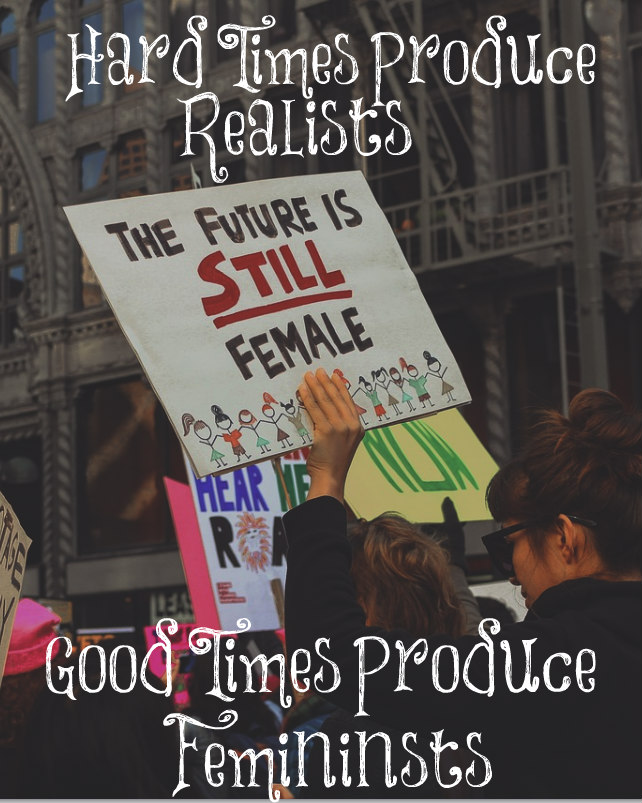 Written By Christiana at Make Women Biblical Again
Feminism would largely vanish if technology suddenly disappeared, and we were back to breaking our backs and working by the sweat of our brow for every bite we ate.
There's a reason that the feminist movement didn't really take off until well after the Industrial Revolution. Before that, no woman would have been so daft as to truly believe that "a woman needs a man like a fish needs a bicycle."
Only in a post-Industrial Revolution world can women afford to be so arrogant and independent as to naively think that they don't actually need men.
It's like when a child gets to be too big for his britches. In his delusional mind, life would be better if he were left to his own devices and didn't have oppressive Mom and Dad around all the time. But he's never actually lived life on his own in the real world and doesn't seem to grasp that even the basics such as his bed, clothing, transportation, three square meals, and the roof over his head are not "givens." He doesn't appreciate his parents, because he's never been in a situation where he realized that he desperately needed them. He's taken them completely for granted.
I think our touchscreen, press-of-a-button, rather artificial and fictitious modern life is just one of the reasons that women have lost touch with reality and lost appreciation for men in the process. Technology is fragile and it's a façade. It largely shelters us from just how brutal work is and from realities like predator and prey. Women who have lived off of the land in the wild, harsh, and unforgiving middle-of-nowhere tend to know better.
Of course, the implications of this are astonishing, too. How utterly selfish that womankind would treat men like trash and fail to value them for who they are only until realizing that men were a helpful commodity to themselves. And we say it's women who are objectified and devalued? Kingdom women ought never to approach this embarrassment.
But let it be the hidden man of the heart, in that which is not corruptible, even the ornament of a meek and quiet spirit, which is in the sight of God of great price.
1 Peter 3:4