God Prepared Me For This Ministry
God Prepared Me For This Ministry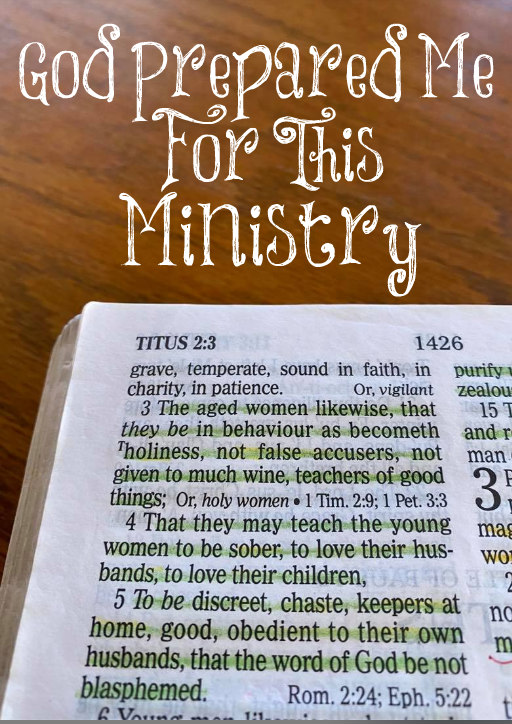 God prepared me for this ministry throughout my life, I believe. From First Grade through High School, I didn't have any close friends. Girls were cruel to me. If I thought I had a close friend, she would turn around and slander me behind my back. My mom became my best friend since she was kind and encouraging to me during those difficult years.
When I married, I knew little about being a godly wife. I loved the Lord and His Word but for some reason, I never had learned about being a godly, submissive wife nor knew what that even looked like, so I made all of the mistakes that most women make in marriage. I can relate to them and try to help them understand that what they are doing is wrong. It's tearing their homes down like I did instead of building their homes up.
Then when I was 30 years old, I because very sick and it lasted for 30 years. I am still not in great health due to my brain tumor but I am not bed-ridden and in horrible pain like I was for many years. Through suffering, you learn quickly that our flesh is frail and life on this earth isn't all there is, thankfully. God molds us into His image through our sufferings. We don't cling to this earth as we did before. Our minds are more on the heavenly than the earthly. Having almost died several times keeps one's perspective clearer too.
People often write to me to encourage me because they see all the hate that is spewed at me on a continual basis. They want me to keep writing and not be discouraged. I will keep writing as long as I am able to do so and I am not discouraged! I think all of those years being treated so poorly by *friends* helped me to learn how to deal with backlash. I don't allow it to steal my joy or my ministry. It's a part of living in a wicked generation who hates truth.
Truth never comes back void. Young women today NEED the truths found only in God's Word. They are lost and aimless. Many have written to me and told me that they used to "hate" what I write and would even mock me but now they love it. They have tasted of the LORD and seen that He is indeed good. God's Truth produces beautiful fruit. Yes, there will always be many who hate God and His ways but greater is He who is in us than he who is in the world. They are being used Satan's agents, and we must not fear them. For God has not given us a spirit of fear but of love and of power and of a sound mind (2 Timothy 1:7).
The aged women likewise, that they be in behaviour as becometh holiness, not false accusers, not given to much wine, teachers of good things; That they may teach the young women to be sober, to love their husbands, to love their children, To be discreet, chaste, keepers at home, good, obedient to their own husbands, that the word of God be not blasphemed.
Titus 2:3-5