Dissipating Her Husband's Substance
Dissipating Her Husband's Substance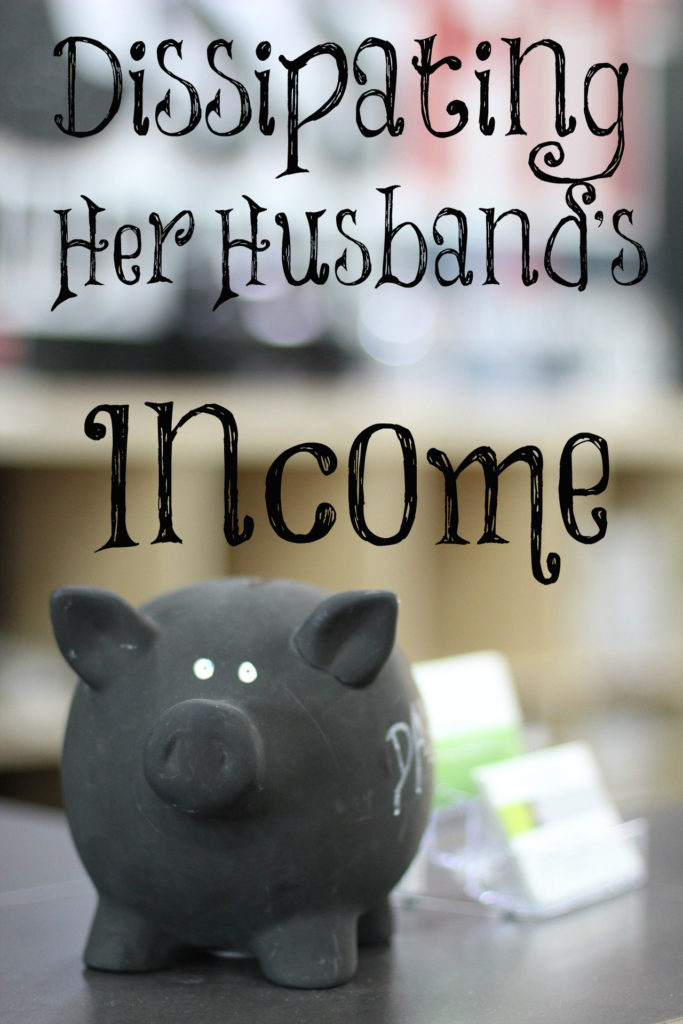 A virtuous woman is a crown to her husband: but she that maketh ashamed is as rottenness in his bones (Proverbs 12:4). "Solomon seems to intend by this appellation, a woman who has all the perfections of her sex; wisdom, modesty, prudence, virtue, and, above all, economy and good management; and by her who maketh ashamed, he means the contrary; and particularly a woman who dissipates her husband's substance in expensive follies; in the same manner as he called a libertine a prodigal son, a son that causeth shame." (Benson Commentary)
Many women today are spendthrifts. They are continually going shopping and spending money or scouring the Internet for things to buy. The average woman makes 301 trips to the store annually, spending close to 400 hours a year shopping. This amounts to 8.5 years spent shopping during a typical lifespan. They are not content with what they have and must have more and more. A friend of mine just had dinner with a man whose wife was rottenness in his bones. She didn't like the color of the Hummer he had bought her and wanted a new one. She spent all of his hard-earned money and was never satisfied. He was a broken and miserable man. Unfortunately, these types of stories aren't uncommon in today's materialistic society.
There are other women who go deep into debt by going to college and taking out big loans. Then when they marry their husbands, the husbands have the added burden of trying to pay off their wives' loans, plus these same women want expensive wedding rings. Women, this isn't using wisdom! We don't need an expensive college education, the latest fashions, expensive haircuts and manicures, spa days, elaborate vacations, new cars, perfectly decorated homes, eating out often (Americans now spend more money on dining out than groceries), etc. if all these mean we are dissipating our husband's income. We must not be rottenness to their bones but strive to be virtuous women who are a crown to our husbands instead, for godliness with contentment is great gain.
Here are some examples of virtuous wives who live contentedly within their husband's income and are a crown to them.
 Laine lives within her husband's income and has learned to be content with little. She found joy in living carefully and frugally while praying for wisdom often. "Every paycheck, I do my best to put a little away. Even if it is only a little, it is a savings. We have a savings account, a retirement account where a sum is taken out of my husband's salary each month, and an emergency account for emergencies. There is desirable treasure and oil in the dwelling of the wise, but a foolish man squanders all that he has (Proverbs 21:20).
I do my best to keep our electrical and water bills as low as possible. When we were in an electrical crisis and our bill tripled overnight, we went into a very small, hip high refrigerator with no freezer and shut down our water heater. …We had to heat our water to bathe and to wash dishes. It was rough for awhile, but I was able to keep us on our budget. (She admits that they had to truly sacrifice to get out of debt and this is an example of a sacrifice they made, no hot running water for a time.)"
Here's another woman who was a crown to her husband by living within her husband's income. "I make my own cleaning products, personal care products, and most condiments. I would also add that we have a child with multiple severe food allergies, and I do buy our staple foods in organic versions and make all my own baked goods, treats, etc. from healthier ingredients.
We have SLOW Internet, no cable. No smartphones. No fancy gadgets. We do have newer vehicles, one that we are still paying on, and my hubby just bought a motorcycle for its fuel efficiency for his commute. We have a small backyard flock of chickens for egg and for meat."
Then there are all of the women who I have asked how they have been able to stay home and live within their husband's income. One woman responded, "For me, the most important change for making it on one income was mental. When I quit practicing law, I kept finding a quote that the path of Christianity is one of 'downward mobility.' Trusting that there is greater peace, joy, and fullness of life with less money/stuff/conveniences was key for me. Also, I personally don't make my own laundry soap, can, thrift, etc. That is WONDERFUL for those who do, but tips like that would've scared me off the one-income idea. I say this just in case someone is reading this thinking, 'Obviously, we can't live on one income because I can't do all of that!' Those of us brought up to be career women have a hard enough time with the transition! But there are lots of ways to save money that don't require Mom to be a domestic creative genius. We eat out pretty infrequently, drive older, long-paid-off cars, no cable or up-to-date electronics, 'vacation' only by visiting family, etc. I miss nothing that I used to spend money on, and find family life so much richer than financial wealth!"
It is your choice: do you want to be a crown to your husband by living carefully within his income or rottenness in his bones by spending more than he earns?
Who can find a virtuous woman? for her price is far above rubies. The heart of her husband doth safely trust in her, so that he shall have no need of spoil. She will do him good and not evil all the days of her life.
Proverbs 31:10-12