Do NOT Be a Red Letter Christian
Do NOT Be a Red Letter Christian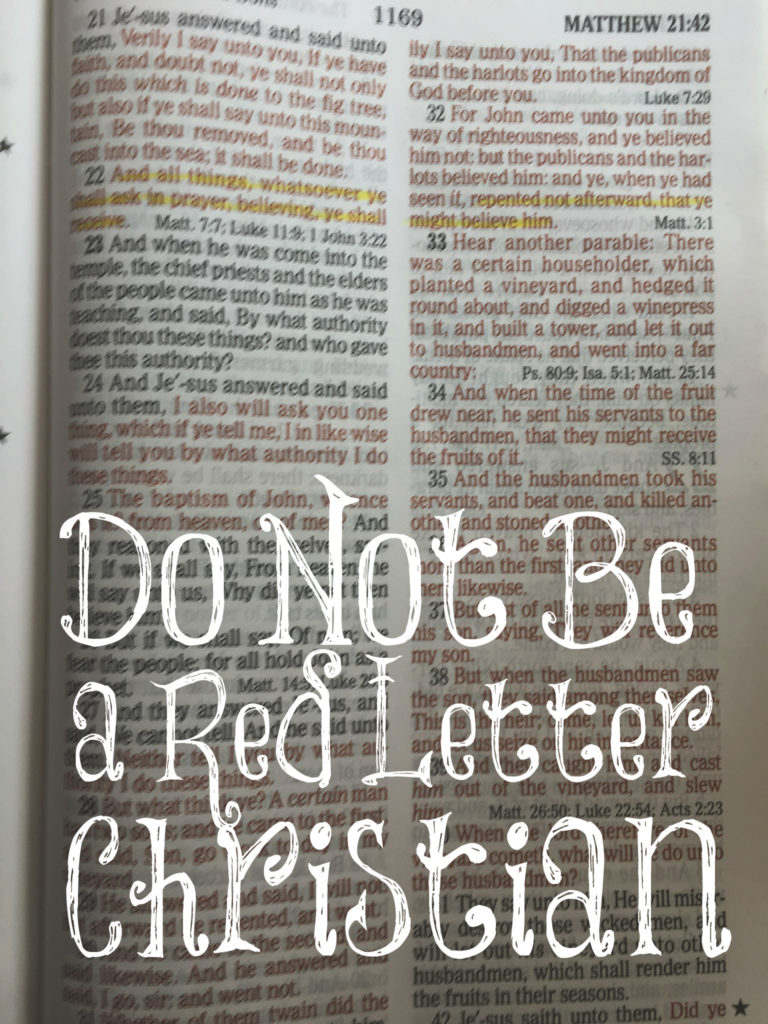 Beth Moore tweeted this the other day: "My basic take on life thus far: If tons of folks say one thing and Jesus says another, I'd pretty well go with Jesus on it." Sounds good, doesn't it? But later, she clarified what she meant by writing: "No, I was not subtweeting the apostle but I would like to say something here. I believe wholeheartedly that ALL Scripture is inspired by God. Authoritative. Truth. But the persons themselves – Paul and Jesus – are not equals. I know this is hard for some to swallow, but Paul is not our Savior. Paul would be horrified, I believe, by the way he has been deified."
This is a very slippery slope, dear women. I know too many people who have begun elevating the words of Jesus in the Bible over Paul's words and end up walking away from the faith altogether. I know no one who has deified the apostle Paul, do you? I do know that his words are as valuable as Jesus' words since the Holy Spirit used Paul to write what he wrote (2 Timothy 3:16).
Do I deify Paul's words as some probably, like Beth and other female preachers, believe? After all, he's the one who teaches women to be silent in the churches and it's shameful for them to speak in the churches. They are to dress modestly, be shamefaced, and have meek and quiet spirits. Women are not to teach men nor be in authority over them in the churches. They are to submit to and obey one's husband and be keepers at home. Of course, many women gladly stand behind Jesus' words but not Paul's since Jesus never said any of these things. The red letters are absent these admonitions to women.
Most female preachers prefer Jesus' words to Paul's words. In fact, most of them ignore a lot of what Paul wrote. If they taught Paul's words, they would see that they are in disobedience, not to Paul, but to God Himself. There are few, if any, female preachers who teach biblical womanhood, as the Word of God commands. They teach everything but this. They can't teach women to be keepers at home because they're not keepers at home. This is why I am not a fan of female Bible teachers at all. Most fail to teach what God has commanded they teach.
James White wrote this about Beth's tweet, "All egalitarians end up diminishing Paul's authority. It is a necessary step, even if taken in slow, little movements."
Another man wrote, "Being a 'red-lettered' Christian is dangerous. You're on a path towards liberalism, if you're not already there yet."
And another, "Actually, I'm having trouble pinpointing anything that Paul said that Jesus would have disagreed with. Could y'all maybe point me to something?"
Please be careful whom you learn from, women. There are many teachers who are teaching things contrary to Scripture for their own benefit. Measure everything you hear by the perfect Word of God.
All scripture is given by inspiration of God, and is profitable for doctrine, for reproof, for correction, for instruction in righteousness.
2 Timothy 3:16