God Clearly Delineated Between the Sexes
God Clearly Delineated Between the Sexes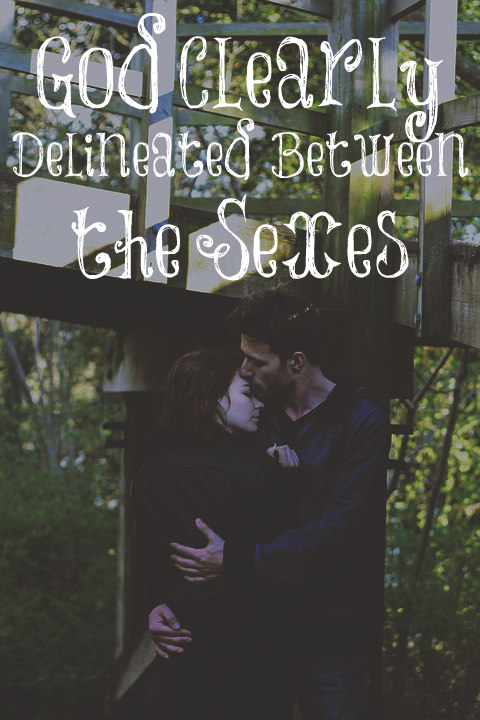 All throughout God's Word, we see the different roles between the sexes. God didn't hide this from us but clearly delineated between the sexes! He chose men to be the leaders throughout His Word. He created Adam first. Then He chose men to be the Patriarchs, Priests, Prophets, Kings, the forerunner of Christ (John the Baptist), Christ Himself, the Disciples (Apostles), the Authors of the Bible, Elders, and Deacons.
As I have been reading through 1 Timothy, something else stood out to me. Women are commanded to adorn themselves in "modest apparel, with shamefacedness, and sobriety, and good works" (1 Timothy 2:9, 10), plus "learning in silence with all subjection" and not teaching nor usurping authority over the man, but to be in silence (1 Timothy 2:11, 12). These instructions are specifically for women, but I also found the discussion of widows very interesting.
In this discussion of widows, it is only concerning female widows. There's no discussion about men who have lost a spouse. Why is this? Is it because women are naturally created to be cared for by men? Women want to use widowhood as a way to justify women having careers, but let's examine the Word of God to see what He has to say about it.
The first people commanded to care for the widows are the "children or nephews" (1 Timothy 5:4). Did you notice that it wasn't "children or nieces"? It's because all throughout the Word of God, it was the men who are the providers and protectors of families and culture.
What about an older widow? Is she supposed to go out and get a job to support herself? No! The Apostle Paul never once recommends this to young or old widows. "But if any provide not for his own, and specially for those of his own house, he hath denied the faith, and is worse than an infidel" (1 Timothy 5:8). Therefore, family members, specifically the male family members, are to provide for their families and mothers if they are widows.
What is an older widow to be known for? Is she to be known for having a career and making a paycheck? "Well reported of for good works; if she has brought up children, if she has lodged strangers, if she has washed the saints' feet, if she has relieved the afflicted, if she has diligently followed every good work" (1 Timothy 5:10). Older women and widows are to be known for acts of service and helping others. This is our ministry! Society has suffered greatly since older women have left this ministry to join in the workforce.
What about the younger widows? Certainly they will be admonished to go out and get a job! "I will therefore that the younger women marry, bear children, guide the house, give none occasion to the adversary to speak reproachfully" (1 Timothy 5:14). God didn't want them to be "idle, wandering about from house to house; and not only idle, but tattlers also and busybodies, speaking things which ought not" (1 Timothy 5:13). God's will is for women to be protected and provided for my men. They are never called to leave their homes for a job to provide for themselves.
I understand that this isn't popular in today's culture. Women can have careers and make their own money. They can be completely independent from men. If they lose their job, they can receive social security from the government. If a wife loses her husband, she will receive financial compensation from the government. The churches and men are no longer needed to support widows because of our social construct but we should never live our lives based upon our culture but upon the Word of God which never changes.
As for God, his way is perfect: the word of the LORD is tried: he is a buckler to all those that trust in him.
Psalm 18:30