Don't Throw Your Love Away
Don't Throw Your Love Away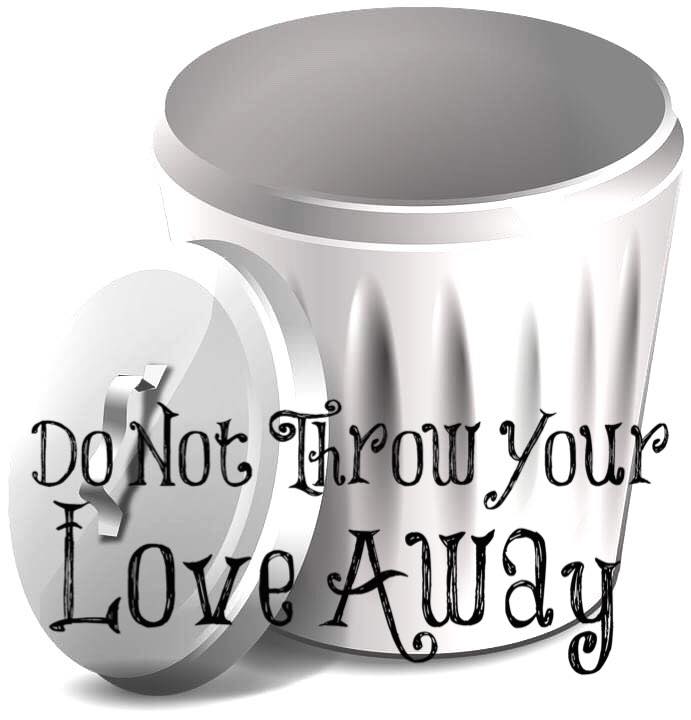 Written by Ken
Far too many throw their love away.  I am not talking about having sex before marriage which has nothing to do at all with love but selfishness. No, true love is when you make a commitment to share true life for a lifetime with another. True love is the commitment to seek the best interest in another in good times and in bad. True love is a deep and abiding intimacy where you know and are known completely by the one you love. Then all of the sudden disaster strikes and creates a crossroads in your marriage. Do you stay or bolt for the door?
In the past few years writing for and watching this blog and actively participating in Christian men's groups online, it is heartbreaking to see how many couples are in trouble. We have had the opportunity to coach many of them and to see some wonderful couples turn around and have success, but we have just as many or more stay in the limbo of suffering and bitterness, while others have thrown away their love.
It's not always that the grass is greener on the other side. Many times a wife walks away from the man she vowed she would "love until death do us part" out of a sense of survival. She has bought into the lies of society that tell her that she can be "independent" and her husband is weighing her down. He actually expects things from her like staying within budget, keeping a decently clean home, and God forbid if she has to cook and do laundry. I wish I could say that all of the wives were at least terrific at loving the children and caring for them, but unfortunately, even this is a problem in some cases.
For the men, it is almost always porn. Looking at artificial, make-believe pictures and videos that show some of the vilest acts of mankind and this poor guy is hooked. His brain is addicted to a screen… imagine that, it's not even real, just a computer screen that he makes love to every night while his poor wife cries herself to sleep longing for his embrace. He has the world of every type of beautiful body and sex act at his fingers times, yet he keeps digging for those few little nuggets that really turn him on. Deeper and deeper he goes into his sin and bondage as depression and despair set in.
Recently, I heard from a man a miracle story where he had been stirred awake in bed to see his wife on her phone. He flopped his arm over towards her and to his surprised, she took it and embraced it. He reached over and they were in a full embrace. The details were vague, but the bottom line was that the embrace led to intimacy for the first time in six years. The next day, clean up began with openness, vulnerability, and compete accountability including blocking "friends" and putting filters on the computers. Porn had wreaked havoc on this marriage, but one flopped arm, and another arm reaching back, and the train of marriage that was off the track for so long was heading forward once again.
My appeal to you who are struggling in your marriages is to never give up on love. If love, particularly the love of God, is a commitment to seek the best for our spouses in good times and in bad, how can we ever give up… no matter what! Oh, there may be a few marriages that cannot make it because one spouse or the other is truly evil, but if both spouses are claiming the name of Jesus and going to church each Sunday, you are being deceived and unfaithful if you walk away from your vows, your commitments, and your love. Especially, if you have a bunch of little blessings running around your home. Love your children enough to reach out your arm in hope that even now, six years later your spouse will grab a hold and embrace it, leading to a miraculous turn around in your marriage.
I know, some of you will say, "But what about an affair?" What about it? Just because your spouse was unfaithful to you and his or her vows does not mean that you must be unfaithful to yours in return. Remember, "til death do us part."
I am not saying that a spouse should get a "get out of jail free card" if they have violated your trust and the marriage bed. But decide to deal with your hurt another way to keep the bitterness at bay. I know of five to six men and women who each have had secret affairs on their spouses, then years later their spouse had an affair. I am astonished when I have said to one of them, "Well, you have to look at this fairly as you too had an affair years ago that she does not know about." You would have thought that I was the enemy in those moments as their anger flared. Fortunately, most of them got through it and their marriages are even better today then they were before the affair as full and complete honesty, vulnerability, and accountability have become the norm.
There are ways to try to affair-proof and porn proof your marriage. It begins by having regular sexual intimacy. Setting up regular times, two or three times a week, for connecting. If you can, every morning before you get out of bed or evening, read a chapter of the Bible together and pray for your family, friends, and circumstances together shoulder on shoulder. Then pull your wife on top of you, men, and give her a back and body rub that she will enjoy. You don't have to always have sex to have meaningful intimate moments skin to skin, cheek to cheek, laughing and sharing life together. It only takes seven to ten minutes in the morning or evening to begin to affair-proof your marriage.
Lori and I have been married going on 40 years, and if you read the stupid trolls and haters, I have had multiple affairs. Lori regularly is told that I am having an affair with a brunette in my office, and they don't seem to understand that my office has been in my home for the past 33 years and the only brunette secretary I have ever had is my bride. So you, you caught us. We have had a life-long affair together and I dread the day our affairs ends. We are completely connected to each other in mind, body, and soul. It wasn't always this way, if you know our story, but we have always been faithful to each other.
It's not that neither of us had our opportunities to be unfaithful. I cannot imagine a decent looking, in shape couple, where the husband travels 30-40 percent of the year that, at times, could not give into temptation and sin. And had one of us sinned against God and the other, would that have lead to a divorce? No way! It is not in our DNA, the DNA of Christ to be unfaithful to our spouse, even if they are first unfaithful to us. We cannot even imagine the disaster this would have caused in the lives of our children/grandchildren, and as it turns out, our own lives. No, if we were going to get divorced, an affair is probably only third on our list of hardships and difficulties that could have split us apart if only Satan could have gotten his ugly hooks into us.
When God asks you, "Choose you this day whom you will serve," is your answer, "As for me and my house we will serve the Lord" (Joshua 24:15)? Will you serve the God of your flesh in having an affair, or making your computer into your lover? Will your idol be self and selfishness, withholding love and intimacy out of a desire to repay sin with your own sins, anger, bitterness, or will you put on Christ Jesus and His love, grace, and forgiveness 70 times seven times?
Take it from us, two fellow believers who are further done the path of life then many of you are, that if you will just be true to God and true to your own vows, you too can find the marriage of your dreams coming true before yours eyes as you stay faithful to God's commands and promises. But if you want to do things your way out of hurt, pain, or spite, expect nothing from the Lord except for His discipline to allow you to suffer the consequences of your own sins.
I know there are many who will read this today with regrets that they were part of throwing away one of the most precious gifts God has given to mankind, marriage to one love for a lifetime. For you, we can only point you to the cross where each of us, yes, even us who have grieved our spouse in many ways, said and have done some terrible things in life and marriage. We too must place our sins at the foot of the cross in 30 A.D. That is where all sins belong, past, present and future, and where Satan can no longer use them to accuse us. We have been delivered from our sins to the spotless Lamb who became sin on our behalf that we may be saved.
But we are saved for what? To squeak out a life until eternity begins, still feeding our fleshly desires and holding onto anger, bitterness, and upset, or choosing this day to walk in the newness of life that God has promised to each and every one of His children? Are you a child of God? Is the Spirit of Christ in you? If you are uncertain, then reach out to a friend, a pastor, or to us and allow us to share with you the salvation that only Christ can give.
But if you claim with certainty that you love the Lord Jesus and you are a child of God, you need to stop right now in your tracks with whatever sins you are doing against your spouse. Go to them and repent and ask them to help set up accountability for your nagging, your lack of submission, your anger, your bitterness, your slavery to porn, or any other sins that so easily beset you. Our spouse can be our greatest spiritual helper if we only let them into those dark areas of life that have been off limits to even God, and now we are to step out in the light of day. Where two souls can now journey together to the great healing that God gives His children, if they will only be honest and open with Him, and choose this day to serve Him with all their heart, mind, and soul.
Marriage is probably the one greatest thing any of us can get right in this life as it flows into family, and ultimately becomes the Church, the body of Christ. Don't allow Satan and sins to stop you from achieving the most important goal of your life, to become one with your spouse, to know him or her, and to be fully known, to be naked and yet not ashamed. This is God's desire for you, but will you reach out and grab an arm and begin the journey to healing? Or will your marriage be another statistic on the mountain heap of broken hearts, with many of them the children of divorce.
God's ways are best. God's ways are good. God's ways work. Love them, do them, and reap the many blessings that only He can give us. We certainly have had our troubles, but we praise God He allowed us one day to reach out, and the other reached back. And the embrace is now never-ending.
Let thy fountain be blessed: and rejoice with the wife of thy youth.
Proverbs 5:18