Feminism Leads to Vile Affections
Feminism Leads to Vile Affections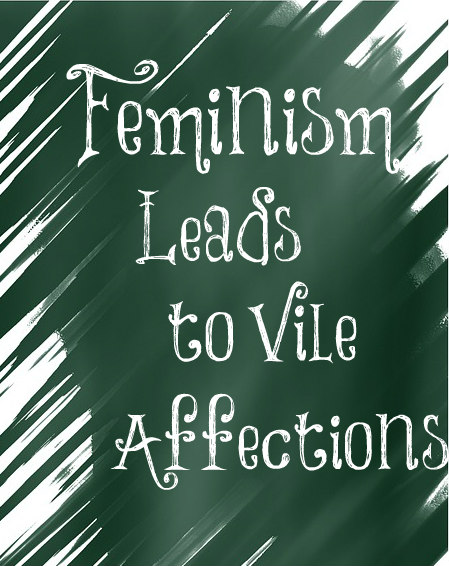 "For even their women did change the natural use into that which is against nature" (Romans 1:22).
"For even their women – that sex whose priceless jewel and fairest ornament is modesty, and which when that is once lost, not only becomes more shameless than the other sex, but lives henceforth only to drag the other sex down to its level" (Jamieson-Fausset-Bible Commentary).
The natural use of the female body is to have sexual relations with a man (her husband) and bear his child, then nurse the baby. Feminism taught women to rebel against this from the very onset and now, many women are far from the natural use that their bodies were created for and many men no longer want to marry.
Once women decided that marriage is bondage but still wanted the benefit of marriage (sex), they threw off their clothing in order to entice men. As time went on, they felt used by men and decided that marriage, motherhood, and homemaking weren't for them. Now, as we can see, lesbianism is exploding just as it did in Sodom and Gomorrah. Feminism leads to lesbianism.
"In relation to men, women have helped make men what they are now. By not respecting ourselves and by showing everything and giving everything for free and without commitment on the part of the man, we have made and continue the cycle of men using women as prostitutes without having to pay, men who don't commit, and men who think that girls who get attached are the problem.
"If all women carried themselves with dignity and demanded respect, and women started changing the way they view modesty, men would have no choice but to change as well" (Carla Coleman "Unseduced and Unshaken").
Christian women, we must not go down the path our culture is taking. There is nothing good about feminism. It was created to rebel against God's plan for women. Dress modestly for the Lord, yourself, and the men around you. Your nakedness is for your husband alone. Remain a virgin until marriage. You will never regret it but you will regret it if you don't. God is our Creator and His commands are for our own good and to bring glory to Him.
"In a sexually charged world, sexual purity is countercultural…Chastity does not happen by accident; it is a discipline of life founded on a knowledge of and belief in God's Word and His loving intent for us, supported by accountability to an insightful community…it really is God's best for us, the best from the one who wants to protect us from objectification, who wants us to be cherished, who wants us to know the joy of living dignified, holy lives and the true joy of desire. We cannot break God's rule of chastity without wounding our souls" (Linda Haines).
Thus saith the Lord, Stand ye in the ways, and see, and ask for the old paths, where is the good way, and walk therein, and ye shall find rest for your souls. But they said, We will not walk therein.
Jeremiah 6:16