Marrying a Virgin is No Big Deal?
Marrying a Virgin is No Big Deal?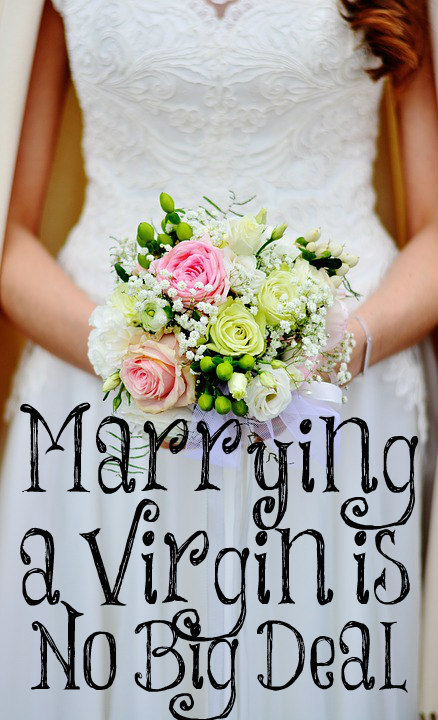 You would think from the reaction (even from Christians) from my viral post, Men Prefer Debt Free Virgins Without Tattoos, that marrying a virgin or not is no big deal. After all, there are few virgins, anyway, so what does it matter? Once one is forgiven, it's all washed clean, right?
For one thing, God, our Creator, tells us that it matters. He commands older women to teach younger women to be chaste. This means to remain virgins until marriage and then faithful to one's husband after marriage. If it matters to God, it should matter a whole lot to us!
Sex isn't just a little and insignificant activity as our culture has tried to make it. It's not just a physical act between two people with no consequences. No, it's deeply spiritual. In the act of having sex, a new life can be created. This is supposed to only happen in the bonds of marriage – two becoming one flesh. Sex, my friends, is spiritual and meaningful. It's not some inconsequential act between a man and woman.
We need to begin teaching the young people to wait for marriage. Their virginity belongs to their future spouse alone. It's not something to give away freely. Most who give it away freely, struggle in marriage with sex. Teach your young daughters that they will want to save themselves so that when they meet a godly man, they can stand before him and tell him that they have saved themselves for him. Teach the same to your son – to wait patiently for a godly wife. Yes, promiscuity hurts men deeply, too.
Here is a comment from a man who made the mistake of marrying a woman who wasn't a virgin. Yes, it can leave many scars. A woman who commits her life to Jesus Christ and is truly transformed by Him can find some healing but there are usually still scars from past sins she's committed; for God tells us that one who commits fornication, sins against their own body. Many young women are infertile or have STDs from their promiscuous younger years.
"I forgave my wife for her pattern of fornication that she claimed was prior to her salvation. She cried and begged for my forgiveness. I forgave her and, thanks to nonsense I had heard preached in church, I foolishly assumed that was all behind us.
"On our honeymoon, her intimacy issues reared their ugly head. One week in, I felt tricked and trapped by my faith. Her 'intimacy anorexia' has made my life excruciating. She apparently was not repentant in the least; she just knew that she needed to appear that way to get me to marry her. She is currently bankrupting me in divorce court and has kept me from my sons for most of two and a half years of their lives so far.
"I made my sons swear to me that they will only marry a virgin, and that they themselves should keep themselves virgins to deserve one. Of all the stupid things I've done in my life, marrying a non-virgin has cost me ten times more than all the other mistakes combined. Learn from the ruin of my home.
"Also, please pray for my wife's repentance. She doesn't fear for her soul, but I do. Right now, she and the kids are on vacation with her entirely immoral family, and they're probably telling 'virgin jokes' again to try to undo what I've taught my sons."
Marriage is honourable in all, and the bed undefiled: but whoremongers and adulterers God will judge.
Hebrews 13:4