Feminism Shouldn't Get All of the Blame
Feminism Shouldn't Get All of the Blame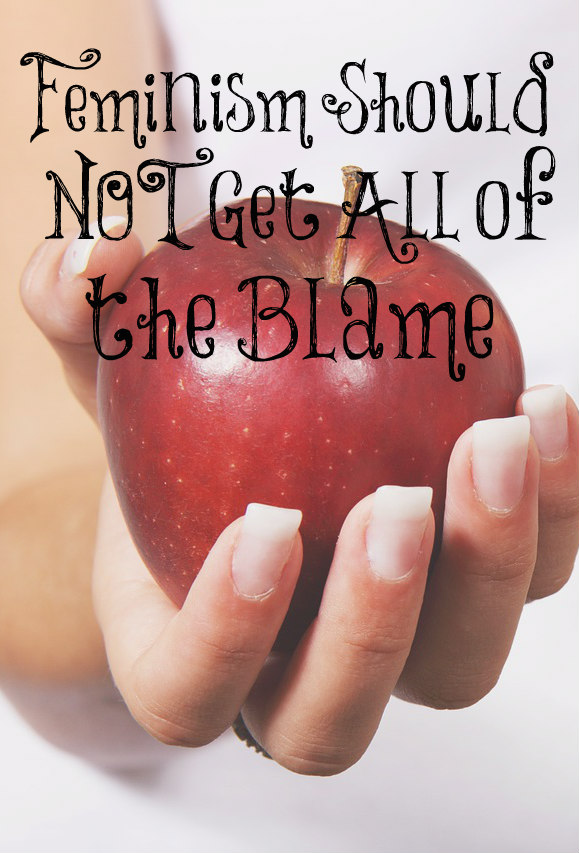 Feminism shouldn't get all of the blame as to why many women are the way they are these days. After all, Eve was the one who went against God's will and ate the forbidden fruit. She rebelled against the authority in her life and went her own way. Let's just call it what it is – sin.
The Bible was written LONG before feminism reared it's ugly head. In His Word, we are given verses about quarrelsome and contentious wives. We are told that a wise woman builds her home up and a foolish one tears it down with her own hands. We are also told that finding a good wife is far above rubies and are asked, "Who can find a virtuous woman?" (Proverbs 31: 10). Godly, virtuous women are rare, but there will always be a remnant.
I am sure all throughout the generations since time began, women wanted to rule their husbands as we are told in Genesis 3:16. Our natural desire certainly isn't wanting to please and serve our husbands. No, our desire is to control them. If you are as old as me, our grandmothers didn't grow up in feminism. They knew they would probably marry young, have children, and guide their homes. Divorces were rare, but many marriages probably weren't considered "happy."
Many women simply stayed married because they depended upon their husbands to provide and protect their families. They needed their husbands. I bet in their old age, they were thankful they stuck it out together since studies have proven that the majority of couples who divorce would have been happier five years later had they stayed married rather than divorcing.
Feminism did do away with this need for husbands. Women are now taught to be strong, independent, and free. They can do it all alone and even slaughter their unborn babies in their wombs. They can seek higher education and have careers, thus fulfilling their "dreams." Little knowing that careers don't satisfy anyone long term. God created women to have children and He wants them to raise their own children. In our old age, we then have grandchildren to hug and cuddle with.
I believe the foundational problem with women these days is the lack of older women teaching the younger women what God commands that they teach them in Titus 2:3-5. What popular female Bible teachers are teaching these things on a consistent basis? Very few. The second reason is that few young women were modeled a godly marriage by their parents but this again stems from older women not teaching younger women biblical womanhood.
If you are serious about learning about biblical womanhood and becoming the woman that God wants you to be, I encourage you to buy my book Biblical Womanhood: A Study Guide and learn all about it from God's Word. Yes, you will need a Bible handy. There's nothing better to convict, challenge, and give you the strength to obey than to study Gods Word for yourself.
Unto the woman he said, I will greatly multiply thy sorrow and thy conception; in sorrow thou shalt bring forth children; and thy desire shall be to thy husband, and he shall rule over thee.
Genesis 3:16