Most Women Don't Prepare to Be Keepers at Home
Most Women Don't Prepare to Be Keepers at Home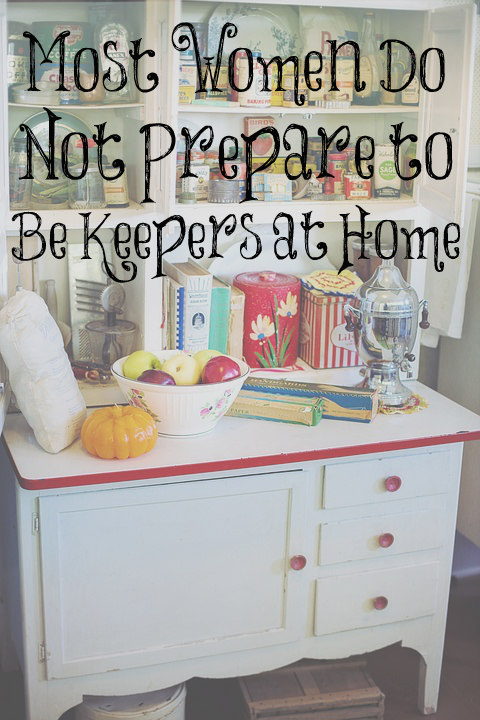 Undoubtedly, whenever I write about women being keepers at home and raising their own children, I receive comments from women about how wrong I am to teach this and then proceed to give me all of the exceptions as if their exceptions negate truth and what is best for the children. Here is a case in point from my Facebook page:
Krystal Rasmussen wrote: "What does it say about women in the workforce? Well Lori, some of us have no choice. If I want my daughter to have food, I have to work. If I want a roof over our heads, I have to work. If I want her to have clothes, I work. I don't have the luxury of staying at home. Do I want to be home with her? ABSOLUTELY. But can I? No way."
Amanda Wright responded to her: "Why can't you? Specifically? One of the things I've found interesting on this and similar pages is how many women say they 'absolutely' would choose to be home with their kid(s), but they *can't* and so stop shaming them! Comments similar to yours – who will pay for their food, shelter, clothes?! But while there *are* exceptions, most women in your situation got there because: 1) no one told them being a wife and mom was a career goal; 2) they got themselves in college or credit card debt or both; 3) they are unmarried single moms; 4) they married someone who was not on board for them to be a SAHM and won't support their desire to do so.
"Again, this is not unilaterally accurate, but it is *often* accurate. I have many friends now who I would have laughed at as an unwise, foolish teen and early 20's – when I was focused on career goals, money, and achievements of that mind, these friends were learning from experienced mentors how to budget for a family on a sole income, how to sew, how to garden/can, how to clean house, how to maximize nutrition and natural remedies, how to homeschool a wide variety of ages, and more. They knew they wanted to be wives and homeschooling mothers, so they lived at home to save money, studied for their desired 'career' of running a home, and saved every dollar from cleaning jobs or nanny-style work. They went into their marriage (all are happily married with good men and many children) equipped for their role, and a helpful chunk of money to boot.
"Thankfully, the Lord opened my eyes and I was able to course correct in my early 20's! But I had debt to overcome and other things that made it SO HARD to be a SAHM, yet we did it, because my husband was determined. However, we went without many things for a few years. Now we are truly blessed, but I am teaching my daughters to follow the example of these other women in their early years! Women who 'absolutely' want to be staying home should be sharing Lori's advice like *crazy* to the younger generation, because getting to stay home full time with their babies absolutely IS POSSIBLE if they will take advice from wise older women such as her. And you – be prayerful and talk to your husband and do all you can to make it happen! ?"
I will therefore that the younger women marry, bear children, guide the house, give none occasion to the adversary to speak reproachfully.
1 Timothy 5:14