Christian Men Going Their Own Wrong Way
Christian Men Going Their Own Wrong Way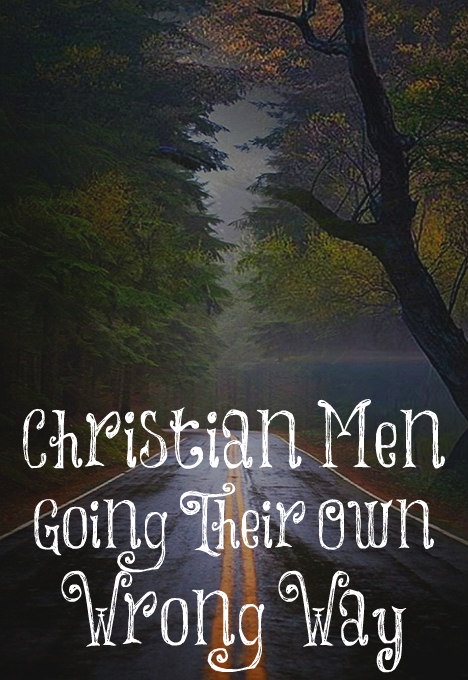 Written By Ken
Fortunately, the Coronavirus, so far, has only one main mutation that we know of, but the Feminist virus that has found the Church appears to have many. There are many victims as Feminism has infiltrated culture and the Church, from husbands, wives, and children. Even grandparents are not immune to the effects of this unrelenting virus as families are torn apart. But one of the offshoots of the virus are husbands who are victims are trying to coach other young Christian men to go their own way and no longer marry.
If you have spent any time in the comment section of this blog, you see these victims and the virus carriers. Yes, we know and understand their plight all too well having listened to many men share their sad stories of  "Christian" wives abandoning them and their families, figuratively and literally. It is not unusual that once or twice a week, I hear from another man how his wife has the virus and how she has pushed him and any thoughts of treating him as a husband out the window to go her own way.
Many men live as islands in their own "Christian" homes, praying and pleading with God through their tears that their wives would come to their senses and choose to once again have a marriage with them. All the while, the children have no idea that Mom will not touch, be kind to, nor sleep with Dad, or listen to anything he tries to tell her. She is in control and sick of him. No man will control her or compel her to do anything she doesn't want to do, so she gives her minimum to the relationship.
The divorce comes and it is ugly. Neither side is immune to a lying spouse when it comes to divorce and the divorce courts don't care. Just split the property, split the kids, and the one who has done the heavy lifting of earning more, usually the husband, gets stuck with alimony and child care, and too often loses custody of the children by decree or by practicality. It's tough to work full time to provide alimony and watch the three children.
No-fault divorce is an utter travesty for the many who fought for their marriage, but lost the moment their spouse filed the papers. Almost everything in divorce and family court has a built-in bias against the man, so if you are a man who is the victim in the whole charade, you walk out bitter and bit by the MGTOW bug. Why ever marry again to put oneself through such misery, and why not warn other men to just go their own way too without the risks of a wife in their lives?
I am regularly counseling these men who are fighting for their marriages and my advice to them is always the same. They need to try and win their wife back by doing all things Christian in their homes and marriages and not fall into Satan's trap of becoming part of the problem. Satan wants the offended spouse to lash back and to distance themselves. Return evil for evil, but this is not the Christian way of doing things. They, as men of God, must never give up hope until their wife is remarried, and then they are to move on and be at peace with her as best they can.
Most importantly, when they are victimized, they cannot then take on a new virus of bitterness and spread it to others. They must return to what they know is true, God's Word, and stand firmly upon it. And what does God say about marriage?
"And the Lord God said, It is not good that the man should be alone; I will make him an help meet for him" (Genesis 2:18).
"Let marriage be held in honor among all…" (Hebrews 13:4).
"He who finds a wife finds a good thing and obtains favor from the Lord" (Proverbs 18:22).
"And the two shall become one flesh. So they are no longer two but one flesh. What therefore God has joined together, let not man separate" (Mark 10:8).
"Two are better than one, because they have a good reward for their toil. For if they fall, one will lift up his fellow… if two lie together, they keep warm, but how can one keep warm alone?—a threefold cord is not quickly broken" (Ecclesiastes 4:9-12).
Marriage is a good thing, but yes, it can destroy a soul to give one's love away only to have it trampled upon by a spouse.
Marriage is very good, and is the union that best fulfills God's purposes here on earth. I now look at my own marriage going on 40 years and think about the destruction to my heart and soul that would have come had my wife thrown our love away on divorce. Through tears, I pleaded with the Lord that He would open my eyes, and in turn her eyes, to see the viruses we carried into our marriage and to cure us. That the hurt little girl that was inside my once adorable bride would be willing to let down the walls of her defenses to allow me to speak truth into her "I am sure I am right" heart and mind. Yet, for far too many years, nothing seemed to get through to her to cure her of her virus.
Just as in this great disease facing us today, the cure is often more than one medication until the final antidote arrives. Christian men and women, you can help stem the tide of the diseases of rebellion in your homes if you will adopt the medicine of "doing all things Christian" in your own life, actions, and reactions to your spouse. You can show by your actions and your love that you want to work on your marriage and make it a godly, loving one even if he or she is not yet ready to come out of their Box of self-justification to play with you, pray with you, and be a spouse to you.
But the true antidote with no side effects for all marriages and the victims of marriage is a Serpent hung on a pole in the desert of your times. That same brazen serpent that the Children of Israel were told to gaze upon when they were bit by the vipers to assuage the sting and cure the bitterness of an unlovable spouse is Christ Jesus.
There's a true story told by Michael Pearl of a researcher who lived in the Mohave Desert raising many venomous snakes so that he could provide antidotes to hospitals for those stung by an exotic breed. He was away from home one day and his child somehow got stung by one of these snakes and his wife rushed him to the hospital. By the time the Dad arrived, the doctor greeted him in the doorway to tell him that there was no hope for the son, as they did not have any of the antidote at the hospital. His son would surely die.
The Dad in tears cried out, "No he won't, no he won't!" But the doctor put his arm around him and told him again that there was no hope.
"No, you don't understand! I have been bitten by almost every snake there is and I have lived. Let him have my blood. My blood can save him!"
Within minutes, the father was laying beside his son with his blood flowing through his little child's veins, and the child lived. The man who had been bitten by every snake became the man who could provide the antidote for all the sins of the world, if only we will look upon Him on the cross and freely receive the gift of grace that God gives to all who will believe in Jesus Christ, the Suffering Servant and King.
You, victim husband or wife, and you, child or grandparent, when will you look upon Jesus and receive in your body the blood of the Christ, is it flowing freely through you to every nook and cranny? Will you allow that same blood that saved you for eternity save you now from anger, despair, frustration, and bitterness that is eating you alive from the inside out?
Oh, if only difficult wives and husbands would find this antidote before they divorce, as my wife and I did some 15-20 years ago when we found our new lives in Christ. We were Christians and we had received the antidote necessary for salvation and a life in eternity. But we had not come to realize that the same God who saved us for heaven, will save us today, this moment and for a lifetime from sin in the here and now. Sins that we commit, and sins that others have committed against have all been placed on a cross in 30 A.D. and all that is left for us to do is to go to that cross and lay our burdens and bitterness down so that the blood of Christ can fill up those parts of us that still do not fully belong to Him.
Okay, you victim, do you want victory over the harm that has come to you and over the bitterness of lost love and betrayal? Or do you, like too many victims, prefer to try and punish the one who victimized you by harming your own sense of well-being, peace, and joy by continuing to blame them without being able to move on into the wonderful things God has in store for your life?
Victory over bitterness requires the same antidote applied by the Believer for all sins which is simply to believe God at His Word and rest in the fact that the road you may have been on was not one you signed up for, but God can turn our misery into our ministry. It is time to prove out your faith as real. Show that the God, who can forgive us all our sins, is the same God who lives in us in Christ Jesus and allows us to forgive others with God's grace and goodness. More so to live with optimism towards marriage because God calls it good, and there are many wonderful Christian women out there who want to share a marriage God's way. There will always be a remnant. Learn from our mistakes and trust that God will lead you to the one in whom you can invest your lives in return for their never-ending love. God tells us true love believes to the end.
Can you say with me today that there is no thought, or sorrow, no angry bitterness that has beset you, or is off limits to the One you call Lord of your life? Stop allowing Satan to drag you into the mud of the past and move forward into the things that God has in store for His precious children who walk by faith, not by sight. Our past hurts no longer need define us, even as the scars of His hands may be upon us. We are a child of God. We are New Creatures in Christ and from this moment forward the past is gone as we are alive in Christ Jesus.
So you who are hurt, broken, and victims of a man, or a woman, or of marriage, we get it. But we hate it when you post your hopelessness and disrespect for the other sex because of your past bitter experiences. This blog is about hope, love, joy, and peace. Yes, it too tries to point out the evils of the many viruses of sin that disease God's people, but we always try to point you back to the antidote of the blood of Christ, and plead with you, wherever you are in your marriage, or out of marriage, to not live your lives based not on your experiences but on God's Word and in the Spirit of Christ.
Please ask yourself, "Am I doing all things Christian in my life and relationships?" and "Am I walking in the Spirit of newness of life each day?" If you can say "yes" to these two things then God has made you this guarantee, and all you have to do is believe it.
And we know that all things work together for good to those who love God, to those who are the called according to His purpose.
Romans 8:28